Greetings from the Bontragers! I'm Lovina's oldest daughter, Elizabeth, and I'm taking over for Mom this week. I'm not an excellent writer like Mom is, but I'll give it a try anyway.
Mom underwent some surgery this week. Depending on how the surgery turns out, she may need to stay a night or two. We hope and pray everything goes well. Times like this make a person stop and think. Perhaps I take my mom for granted sometimes. She's always there for us: for me and for her family. God has blessed us with an amazing mother. Mom—thank you for just being you!
Today baby Abigail and I spent the day at my parents' with Mom, my sisters Susan, Verena and Loretta, and my brother Benjamin. Abigail gets lots of attention from them—lots of hugs and kisses. She's starting to notice everything around her and also starting to coo. She smiles when we talk to her.
Our world changed tremendously when Abigail arrived. She wrapped her daddy around her little finger instantly! It was love at first sight for us. We feel blessed!
While I was laid up after her birth, my family came to help whenever they could. Sister Verena spent the first two weeks here. Husband Timothy has also helped out a lot. He canned the applesauce and grape juice for me. I suppose my canning is finished for this year. Mom always says it's nice to see the empty jars fill up for winter, and now I know what she means.
It was a beautiful fall day yesterday, so in the early afternoon I decided to quickly do laundry. I wasn't done hanging it out on the lines when Timothy came home, and so he finished it for me. I left some bath towels and Tim's work pants hang out overnight. They were too wet to bring in.
It's a bit more challenging keeping up with the household chores now with Abigail, but I love every minute of it! I must say, though, time has a way of slipping by so quickly now. Sunday was Abigail's second time going to church services. It's different having to dress a little one before we go away!
Abigail had her first bath in a baby bathtub last week. She really enjoyed it—kicking, splashing, and all smiles. Tonight she'll receive her second bath—this time her daddy will be giving it. She's been wearing several of my cousin Marilyn's dresses that Aunt Emma gave to her.
Crystal and Izzy (our house dogs) are starting to warm up to Abigail more and more. Izzy acted okay with her when we brought her home, but Crystal went through a jealous spell. Crystal has been my shadow from day one, and I suppose it was just hard for her to accept Abigail at first.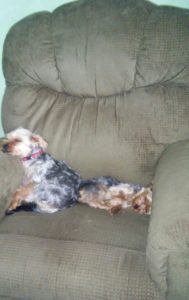 On October 1 hunting season opened. We enjoy our venison steaks. Timothy makes the best on the grill! We don't need too much venison meat this year, as we still have meat left over from the one-half beef my parents gave us last winter.
Timothy had his twenty-eighth birthday on October 18. He wasn't too thrilled about being another year closer to thirty! On October 20 it was nine years ago that he fell twenty-one feet, leaving him with a badly broken back. He has come a long way since then.
Our garden is almost ready to be left alone for the winter. We just need to pull the carrots yet. Temperatures have been dropping during the nights. This morning we had a low of 30 degrees. Brr! Winter weather will be here before we know it.
Before I bring this to a close, I'd like to thank all the readers and friends who took the time to send a card or baby gift! We really appreciate it! May God bless you for your kindness.
Timothy and I plan to make homemade pizza for Mom and Dad's and my family's supper Friday night. We'll surprise them! Try this pizza crust.
Best wishes to all!
Pizza Crust
1 cup warm water
1 tablespoon yeast
2 tablespoons sugar
2 tablespoons vegetable oil
1 teaspoon salt
2 1/2 cups bread flour
Mix together water, yeast and sugar, and let mixture stand for 10 minutes. Add oil, salt and flour and mix well. Let dough rise in bowl in a warm, draft-free area until doubled in size.
Press into greased 16 1/2- x 12 1/2-inch baking sheet. Add toppings of your choice. Let rise a bit more while oven preheats. Bake at 350 degrees about 30 minutes or until crust is golden brown.
 Lovina Eicher is an Old Order Amish writer, cook, wife and mother of eight. Formerly writing as The Amish Cook, Eicher inherited that column from her mother, Elizabeth Coblentz, who wrote from 1991 to 2002. Readers can contact Eicher at PO Box 1689, South Holland, IL 60473 (please include a self-addressed stamped envelope for a reply) or at LovinasAmishKitchen@MennoMedia.org.