The wedding day of Timothy and daughter Elizabeth (August 14) is now past. We had a few sprinkles of rain early in the morning and then nice weather the rest of the day. After everything was over and cleaned up, we had a thunderstorm and more than an inch of rain. We were thankful that it waited to rain until all was over.
It was hard to believe this day was finally here after so much preparation to get ready for it! Joe's cousin Samuel started grilling the 350 pounds of chicken at 4:00 a.m on Friday. Around 6:30 a.m. the cooks started arriving to get the food prepared. Wedding services were held at our neighbors', Joas and Susan's. Timothy, Elizabeth and their four witnesses—Mose, Susan, Ernie and Martha (Tim's sister and her husband)—left to go to the neighbors soon after 7:00 a.m.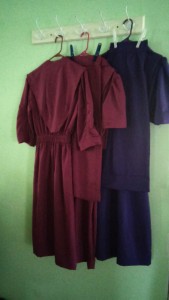 Elizabeth likes the color burgundy and Timothy likes purple, so the wedding colors were those two colors. Elizabeth got married in a burgundy-colored dress with a white cape and apron. The grooms always wear a black suit and white shirt, as do the witnesses. Susan and Martha wore purple dresses with white cape and aprons. Family members wore a shade of rose, and the table waiter girls wore another shade of raspberry-colored material. Timothy's mother and I wore dresses of a dark plum color, and some of the helpers wore purple. The cooks all wore dark gray. The men and boys all wore black pants and vests with white shirts. Timothy's nephews wore rose-colored shirts and sharkskin-gray pants. His nieces wore rose-colored dresses.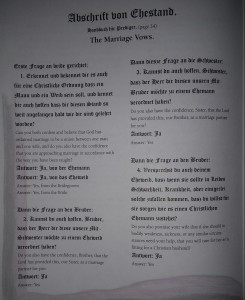 Around 11:30 a.m., toward the end of the service, Bishop Leroy asked Timothy and Elizabeth all the marriage vows, which they responded to with yes. There are six questions that are asked. Then everyone is asked to stand for a prayer for the couple. After the prayer the bishop takes the hand of the bride, places it in the hand of the bridegroom and pronounces them man and wife.
After the service ended around noon, everyone came to our house for the noon meal. We estimated that there were more than 500 people here for the noon meal. Our menu consisted of barbecued chicken, mashed potatoes, gravy, noodles, dressing, corn, cheese, lettuce salad, homemade bread, butter, strawberry jam, angel food cake (with frosting and Danish dessert topping), dirt pudding, mixed fruit, and cherry, pecan, and peanut butter pies. We made 25 of each kind of pie. Candy bars were passed around after the meal. The same menu was served at night, but smoked sausage and ice cream were added to the meal. We served around 575 for supper.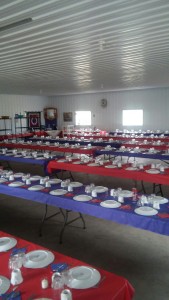 Timothy and Elizabeth opened their gifts in the afternoon. They have a lot of nice gifts to add to their new home. The gifts are usually household items such as kitchen items, towels and bedding, and some give things like tools and shovels for the groom. Money is given by some who aren't sure what to give, which is also nice because the bride and groom can go buy what they didn't get.
There is a lot more to write about the wedding, so I'll share more in future columns. We are having to adjust here at home without Elizabeth here. We really miss her, and the children also miss her dogs, Izzy and Crystal. Verena has moved her things into Elizabeth's bedroom. It's surprising how empty the house feels with one of the children not here.
I have to thank my friend Ruth for all her help over this wedding. She was here to go and get whatever we ran out of or forgot. She took me shopping, one trip after another, to get the many groceries needed for this wedding. She also did loads of laundry for me when we had rainy weather. She washed all the towels and dishcloths after each meal. I don't know how I can ever repay her. A true friend indeed! Thanks so much, Ruth!
Also, a thank you from Timothy and Elizabeth to all the readers who so kindly sent cards and gifts.  They were greatly appreciated! God bless! God's blessings to Timothy, Elizabeth and all you readers.
Here is the recipe for pecan pie that we served at the wedding.
Pecan Pie
6 eggs, beaten
1 1/2 cup light corn syrup
1 1/2 cup sugar
1 teaspoon vanilla
1 teaspoon salt
1 teaspoon butter, melted
1 cup water
2 cups pecans, whole or crushed
Mix together all ingredients except pecans. Pour mixture into a 9-inch unbaked crust. Sprinkle pecans on top. Bake at 350° for 10 minutes, then reduce heat to 300° and bake until pie is set. Makes two 9-inch pies.
Lovina Eicher is an Old Order Amish writer, cook, wife and mother of eight. Formerly writing as The Amish Cook, Eicher inherited that column from her mother, Elizabeth Coblentz, who wrote from 1991 to 2002. Readers can contact Eicher at PO Box 1689, South Holland, IL 60473 (please include a self-addressed stamped envelope for a reply) or at LovinasAmishKitchen@MennoMedia.org.