School doors opened yesterday, September 6, throughout the county. It seems quiet around here with Joseph, 14, Lovina, 12, and Kevin, 11, all back to school. The bus is here around 7:00 a.m. We are so glad the pickup time is later this term. Joseph milks our cow Bessie in the morning, and then showers and gets ready for the bus.
It was a nice day last Friday for Mose's brother Joe and Mary's wedding. It was nice and cool in the morning, which made it bettter for the cooks.
My job was to help with mashed potatoes. For the noon meal we made twelve eight-quart kettles of mashed potatoes. For the evening meal we had three twenty-quart kettles of mashed potatoes. They had a larger group of people in the evening. After everyone had eaten we had a ten-quart kettle left over. The potatoes were easy to mash using the Bosch mixers that the wedding cook wagon has.
On the menu were mashed potatoes, gravy, dressing, barbequed chicken, corn, lettuce salad, butterhorns, butter, and strawberry jam. Dessert was apple crumb, pecan, and peanut butter pies, date pudding, and lime fruit salad. Ice cream was served with the evening meal as well.
Kevin's eleventh birthday was the day of the wedding (September 2). Since we were there we waited to celebrate his birthday until Labor Day. We had cupcakes instead of a cake. We gave him a youth bow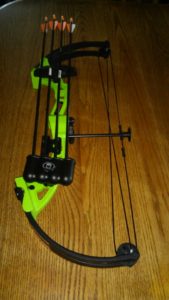 for his birthday. He is glad to be able to target practice with Mose and his brothers. Daughter Lovina is really interested in their bows. It looks like we will have another hunter in the family. She wants to take the hunter's safety course sometime. She is an outdoors girl like Susan. If we can't find her she is usually out in the field petting the horses and ponies.
Joe put in eleven hours at the RV factory yesterday. Since they were off work on Monday for Labor Day they will have to put in longer hours this week. With this hot humid weather Joe is ready to call it a day when he gets home from work.
Joseph and Lovina picked the jalapeño, serrano, Hungarian wax, and sweet banana peppers from the garden. I have to get those canned. We like to stuff and grill the sweet banana and Hungarian wax peppers. We stuff them with cream cheese mixed with shredded Colby cheese, and wrap them with bacon. Our family just loves them.
One night Joe made a chili soup outside in the kettle while Mose grilled chicken. We are glad when we don't have to get supper in the house on these hot evenings.
Mose and Susan took Joe and me out for supper in town one evening just as an appreciation for us letting them live here. We enjoy having them here and when Tim and Elizabeth come home to join us for a meal, it makes everything seem complete.
Loretta spent Labor Day at her special friend Dustin's house with his family.
I'll share the recipe for butterhorns I received from a friend. Enjoy! God bless!
Butterhorns Rolls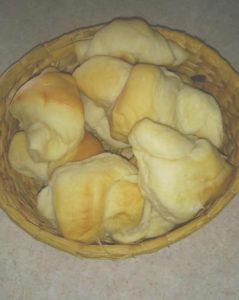 1 tablespoon yeast
1 cup warm water
1/2 cup sugar
3 eggs, beaten
1 teaspoon salt
1/2 cup margarine or butter, melted
4 1/2 to 5 cups flour
Blend yeast with water and 1 tablespoon sugar. Add eggs, rest of sugar, salt, and margarine. Add flour and mix well. Put in greased bowl and refrigerate overnight. Roll out like pie dough, cut
in pie-shaped pieces and roll up. Dip in melted margarine or brush lightly with margarine. Let rise 3 hours. Bake at 325 degrees for 15 to 20 minutes. If you leave in refrigerator several days, punch down each day.
Lovina Eicher is an Old Order Amish writer, cook, wife and mother of eight. Formerly writing as The Amish Cook, Eicher inherited that column from her mother, Elizabeth Coblentz, who wrote from 1991 to 2002. Readers can contact Eicher at PO Box 1689, South Holland, IL 60473 (please include a self-addressed stamped envelope for a reply) or at LovinasAmishKitchen@MennoMedia.org.