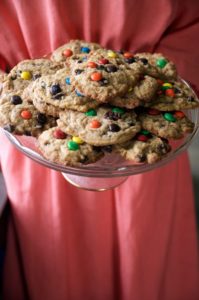 Favorite Christmas goodies from the Eicher home to yours!
We are still busy getting prepared for niece Emma's wedding next week. So this week I will share some recipes that we use over the holidays. Sour cream cut-out cookies are still our favorite Christmas cookie to decorate.
Enjoy! God bless you all!
Sour Cream Cut-Out Cookies
This is an easy Christmas cookie that the kids like to cut out and decorate. It takes a lot longer when they help, but they enjoy it. Some of the shapes we cut them into include a Christmas tree and a bell. Sometimes I have to watch the younger children as they like to eat the dough. But with the raw eggs in there I don't like them to. (And if you don't have sour cream, here's a substitute: Mix 1 tablespoon lemon juice with 3/4 cup milk. Let set 5 or more minutes. Add 4 tablespoons melted butter. Mix well.)
1 cup (2 sticks) butter, softened
1 1/2 cups sugar
3 large eggs, beaten
1 cup sour cream
2 tablespoons vanilla extract
3 1/2 to 4 cups all-purpose flour
2 teaspoons baking powder
1 teaspoon baking soda
Preheat the oven to 350 degrees. Lightly grease a baking sheet.
Cream the butter and sugar together in a large bowl. Stir in the eggs, sour cream, and vanilla. Combine the flour, baking powder, and baking soda in a medium bowl and stir with a whisk to blend. Add the dry ingredients to the wet ingredients and stir until a soft, firm dough is formed. Roll the dough out to about 1/2-inch thickness on a floured surface. Use your favorite shaped cookie cutters to cut out shapes and place them on prepared baking sheet. Gather leftover dough, re-roll, and cut some more until all the dough is used up.
Bake until just turning golden brown around the edges, about 10 minutes. Remove from the oven and let cool on the pan for 5 minutes, then transfer to wire racks to cool completely. Makes about 18 – 24 cookies, depending on shapes.
Frosting:
1/3 cup shortening
1 teaspoon vanilla
4 cups powdered sugar
1/2 cup milk
Food coloring (optional)
Colored sprinkles, for decorating (optional)
Chocolate chips, for decorating (optional)
To make frosting: Cream shortening with vanilla and 1 cup of the powdered sugar. Gradually add the milk and the rest of the powdered sugar, beating constantly. More powdered sugar can be added to give you your desired thickness. Food coloring can also be added if you like. Spread the frosting on the cookies and decorate with colored sprinkles or chocolate chips. Let the frosting set before storing.
Gingerbread Cookies
2 cups flour
1 teaspoon baking powder
1/4 teaspoon baking soda
1 teaspoon cinnamon
1/2 teaspoon ginger
1/3 cup sugar
1/2 cup shortening
1/2 cup molasses
3 tablespoons hot water
Combine all ingredients in a large bowl. Blend well. Chill dough at least one hour before handling. Roll out dough on floured surface to 1/8 inch thickness. Use gingerbread-man cookie cutter. Place on ungreased cookie sheet. Bake at 400 degrees for 8 to 10 minutes. Cool and decorate.
Chocolate Covered Cherries
20 ounces canned sweet or maraschino cherries, drained; reserve juice to add to batter
1/4 pound soft butter
1/2 cup cherry juice
2 pounds powdered sugar
Melted semi-sweet chocolate
Mix powdered sugar, juice, and butter thoroughly (handles better if you chill for awhile). Make small balls, press flat and cover cherries. Dip in chocolate within 2 two hours or it will be hard to dip. (Maraschino cherries make these easier to dip as they usually have stems on them.)
Peanut Butter Cups
1 pound of margarine
2 pounds of peanut butter
3 pounds of powdered sugar
Melted semi-sweet chocolate
Mix peanut butter and margarine, then work in powdered sugar. Shape into balls the size of big marbles. Dip in melted chocolate.
Mint Patties
1 box powdered sugar
2 teaspoons cream
1 tablespoon butter
1 egg (unbeaten)
1 teaspoon vanilla
3 drops peppermint oil
Semi-sweet chocolate
Mix together real good and shape into patties. Dip in hot melted semi-sweet chocolate. Cool.
Note: this recipe contains one egg which is not cooked. Perhaps look for other alternatives, such as found here. Or simply leave the egg out. Thank you to RN Marjorie for alerting us to the potential risk for salmonella here.
Peanut Butter Fingers
1/2 cup butter
1/2 cup white sugar
1/2 cup brown sugar
1/3 cup peanut butter
1 egg
1/4 teaspoon salt
1/2 teaspoon vanilla
1 cup flour
1 cup oatmeal
1 cup chocolate chips
Frosting:
1/2 to 3/4 cup powdered sugar
1/4 cup peanut butter
3 to 4 tablespoons milk
Cream well the butter and sugars. Blend in peanut butter, egg, salt, and vanilla. Stir in flour and  oatmeal. Spread in greased 9×13-inch pan. Bake at 350 degrees for 19-20 minutes Sprinkle with the chocolate chips. Let stand 5 minutes. Spread chocolate, then spread peanut butter frosting on top; swirl.
Lovina's Amish Kitchen is written by Lovina Eicher, Old Order Amish writer, cook, wife and mother of eight. She is the co-author of three cookbooks; her newest cookbook, The Essential Amish Cookbook, is available from 800-245-7894. Readers can write to Eicher at PO Box 1689, South Holland, IL 60473 (please include a self-addressed stamped envelope for a reply) or at LovinasAmishKitchen@MennoMedia.org.