Many birthdays and a reunion bring far flung family together
If my Mother was still with us she would be 82 today, July 18. She passed away almost 16 years ago. She penned this column for 11 years before her sudden death. Now I have written it for almost 16 years. Gone but never forgotten, dear Mother!
Tomorrow will be sister Emma's 45th birthday. A happy birthday to her! Saturday, July 14, son Benjamin turned 19 and Sunday, Joe and I had our 25th anniversary. Also on Sunday was brother Albert's 54th birthday. Two of his sons and his daughter-in-law also share his birthday. On July 24, our son Joseph will be 16. So we get plenty of cake in July. We wish them all God's blessings in the coming year and always.
Today daughters Elizabeth and Susan along with my sweet granddaughters Abigail (22 months) and Jennifer (6 months) came here for the day. Susan's horse Buzz brought them in the buggy. She went past Elizabeth's house and picked up Elizabeth and Abigail. Daughter Verena was also home from work. We all ate breakfast together: eggs, fried potatoes, bacon, toast, plus chocolate milk, orange juice, and peanut butter cookies. When we were almost ready to eat, son Kevin, 12, asked "Where is the coffee soup?" I had told him yesterday that I'd make some this morning and forgot about it with the girls arriving. I quickly made some as it doesn't take too long. After dishes were washed we all went down to the basement to start cleaning the room where I keep all my canned food. The cans get dusty so we clean the shelves and cans and reorganize the cans.
We hadn't started very long when a van drove in with four of my uncles coming to visit: Uncle Joe and Betty Coblentz and Uncle William Coblentz from Geneva, Indiana; Uncle Menno and Martha Coblentz from Phoenix, Arizona; and Uncle Amos and Gynie Coblentz from Centerview, Missouri. We quit our work and visited with my uncles and aunts. We enjoyed coffee, peanut butter cookies, popcorn, and punch. The Coblentzs are a lively bunch and always full of jokes so we had a good time with all of them. They were also going to visit with sisters Verena and Susan, Emma and Jacob and family, then head to brother Albert's and have supper there.
Saturday we attended the Coblentz reunion in Berne, Indiana. There were 13 children in my dad's family. Ten boys and three girls with only seven of the siblings still living. All seven brothers were able to attend. Besides the ones that came to visit us there was also Uncle Bob and Barb Coblentz from Mississippi, Uncle Melvin and Katherine Coblentz from Wisconsin and Uncle Albert, Jr. and Shirley from Laffeyette, Indiana. Also, Aunt Mary (Jake) Coblentz from Phoenix, Arizona was able to attend. We missed Uncle Jake and brother Amos. Sister Leah and Paul weren't there but the uncles loved the Long John rolls she made for them.
We saw a lot of my cousins as well. Families are growing and we now have to ask who some of them are. It was an enjoyable day and as always, so much food was brought in. Cousin Shannon made a cake in memory of Uncle Jake. A silent auction was held after lunch with the money going to the reunion funds.
Our children took Joe and I out for supper at a nearby restaurant one evening in honor of our silver anniversary. They reserved a table in the back where we could all be together to eat. It was an enjoyable evening!
We are eating green beans, cucumbers, green and hot peppers from our garden now. Tomatoes and sweet corn are slowly getting ready. We also have red potatoes to use.
I will share a recipe for peanut butter cookies. I baked 175 last week and took some to the reunion and to church, and the rest we enjoyed at home. God bless you all!
Peanut Butter Cookies
1 cup shortening, softened
1 cup granulated sugar
1 cup packed brown sugar
2 large eggs
1 teaspoon vanilla extract
1 cup creamy peanut butter
3 cups all-purpose flour
2 teaspoons baking soda
1/2 teaspoon salt
Preheat oven to 350°F. In a large bowl, cream together shortening, sugars, eggs, and vanilla until thoroughly mixed. (Editor's note: While Amish cooks would not have an electric mixer, one can be used for this recipe on the lowest setting.) Stir in peanut butter, flour, baking soda, and salt. The batter will be thick and should be stirred vigorously with a wooden spoon or kneaded with your hands in the bowl until everything is thoroughly mixed. Chill dough for 1 hour.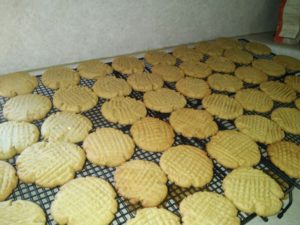 Remove dough from refrigerator. Shape into 1 1/2-inch balls and place 3 inches apart on ungreased baking sheets. Press each cookie with the back of a floured fork to make a crisscross pattern on top. Bake until edges are brown, 12 to 14 minutes. Remove from oven and leave on baking sheet for a few minutes before transferring to a cooling rack and then put into sealed containers. These cookies will stay fresh for up to 5 days. Makes 5 dozen cookies.
Lovina's Amish Kitchen is written by Lovina Eicher, Old Order Amish writer, cook, wife and mother of eight. She is the co-author of three cookbooks; her newest cookbook, The Essential Amish Cookbook, is available from 800-245-7894. Readers can write to Eicher at PO Box 1689, South Holland, IL 60473 (please include a self-addressed stamped envelope for a reply) or at LovinasAmishKitchen@MennoMedia.org.