Thanksgiving Day is only two weeks away*. Unbelievable! Time goes so fast. And today baby Abigail is two months old.
I went to the doctor to have the rest of my staples removed. I still have the blood clot in my leg so I need to be careful with that. I'm trying to take one day at a time and be patie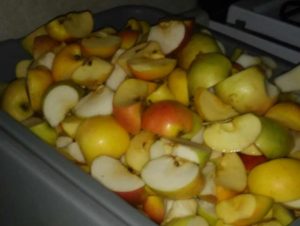 nt as I heal.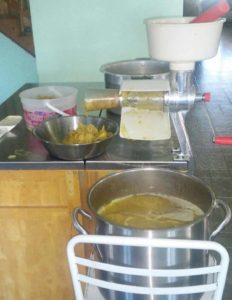 The girls and I canned applesauce this week. We did one bushel for Susan and Mose and two bushels for us. I need to be careful when work like that has to be done. The girls don't let me do too much and are all very good at keeping an eye on me so that I don't do too much.
Susan didn't like the long hours she was working at the RV factory so she quit her job there. She now works in the kitchen of a campground facility. They serve meals to groups of people. So far she enjoys it and works three to four days a week. I am so glad for her help here at home as well.
The chimney is up in the pole building and Mose and Susan are enjoying the nice even heat from their coal stove there. We were glad for the warmer days until they had heat in there. This morning's temperature was in the thirty's so heat in the house felt good.
Daughter Verena sprained her arm and the doctor wants her to keep it in a sling part time so she doesn't overuse it. She reached into the Maytag washing machine to see if more clothes were in there. The agitator of the washing machine somehow pushed her elbow against the machine. It was very painful at first but an x-ray at the hospital showed no fractures—only badly sprained. We were so thankful to hear that nothing was broken.
Different families from our church district are still bringing in our supper three times a week. I just can't be thankful enough for their kindness. This has been so much help to the girls as well.
Also, thanks to all that have sent cards, etc. I feel more than blessed!
Timothy and Elizabeth's Yorkie dog Crystal gave birth this week to five little puppies. We are glad that all is okay with Crystal and the puppies. The puppies were unplanned. Our rat terrier dog Rover is the father to the puppies. We now know to be more careful when someone lets Crystal outside to go to the bathroom. The puppies are very cute and Crystal is being a good mother but it wasn't on Timothy and Elizabeth's agenda to take care of puppies yet. Such is life—always full of surprises!
It looks like a nice, sunny day to wash laundry. Days like this will be few before the snow starts flying.
Our new chickens are finally starting to lay eggs. We were getting short in eggs so I'm glad the hens started. After they are laying good enough we will butcher the old hens. I am low in chicken broth since Susan's wedding. It takes quite a bit of broth to make chicken, noodles and dressing for a wedding crowd!
Try this easy dish. Although it takes more baking time, it is nice to just put it all in the oven to bake. God's blessings!
Seven-Layer Supper
1/2 pound uncooked bacon, chopped into 1/2- to 1-inch pieces
1 1/2 pounds ground beef
4 potatoes, peeled and thinly sliced
1 onion, sliced
4 carrots, thinly sliced
1/2 to 1 teaspoon salt, to taste
1/2 to 1 teaspoon pepper, to taste
1/2 to 1 teaspoon garlic salt, to taste
1/2 to 1 teaspoon seasoning salt, to taste
1 to 1 1/2 cups water
Place ingredients in order listed in greased 9×13-inch pan, pouring water over all until nearly covered. Bake at 350 degrees for 1 1/2 hours.
*A reminder that Lovina writes her columns for newspapers about a week before you see them here. Newspapers run them first. 
Lovina Eicher is an Old Order Amish writer, cook, wife and mother of eight. Formerly writing as The Amish Cook, Eicher inherited that column from her mother, Elizabeth Coblentz, who wrote from 1991 to 2002. Readers can contact Eicher at PO Box 1689, South Holland, IL 60473 (please include a self-addressed stamped envelope for a reply) or at LovinasAmishKitchen@MennoMedia.org.