It is 7 a.m. Joseph, 13, Lovina, 11, and Kevin, 10, just left for school. It sounds very windy outside, but the temperature isn't that cold, 58 degrees.
Son Benjamin, 16, is outside doing the morning chores. He doesn't have work today. Mose is putting a new motor in his saw if I understood right. The motor came from Wisconsin so it's all taking time to get repaired. Benjamin has been enjoying hunting on some days.
Opening day for shotgun season was on Sunday. Mose bought daughter Susan, 19, a gun and they went hunting on Monday. Susan didn't get anything.
This week I have been sewing work pants for son Benjamin. I want to cut out some dress pants for him yet.
On Sunday my sisters Verena and Susan, our daughter Elizabeth and her husband Timothy, and Jacob and Emma's three sons Jacob Jr., Benjamin, and Steven were here for dinner. Jacob and Emma went to church in a neighboring district and came over in the afternoon. The family enjoyed the game Aggravation which can get pretty loud when the game is almost over. Jacob Jr. makes the Aggravation boards. On one side four people can play and on the other side six people can play. The board is big and fits a card table.
Jacob Jr. had his sixteenth birthday on November 17. He has muscular dystrophy. He enjoys making things from wood. It helps give him an income since he doesn't always have work.
Sunday evening Verena and Benjamin took Jacob Jr. along to the youth singing and supper. Daughters Verena and Loretta have been cleaning windows here the last few days. It's nice to have them all cleaned before the snow starts flying. We have a lot of windows in our house.
Our church Sunday has changed now as our church divided into two districts. We had around forty families and now only have about twenty families in our district. All together we have around sixty adults and over fifty children in our district. It looks like church services will be held here at our place in January. After the holidays we will need to get busy cleaning. We also need to butcher beef and pork sometime. I would be glad if we could get that done before we do the cleaning, but we will see.
Last week my husband Joe was home every day except Monday. He was on an antibiotic for ear infection from the doctor at work. His ear kept getting worse so he went to the local walk-in clinic when our family doctor couldn't see him. The clinic doctor gave him another antibiotic and medicated ear drops. His temperature was around 102 to 103 degrees most of the week. He felt a little better by this past Monday and went back to work again. But then he came home that evening with his ear throbbing again. Finally our family doctor was able to work him in that evening. He gave Joe a five-day antibiotic and said he has fluid behind the ears from a sinus infection. We are hoping the five-day antibiotic will cure it as he's been pretty miserable with this pain. It makes his whole head hurt. It he doesn't get relief from this, the doctor wants him to come back. This has interrupted Joe's deer hunting too. I will be glad once he's free from all the pain that ear has given him.
We are praying for a complete recovery of Suzanne (a friend of Verena and Loretta). She was in a bad accident in South Africa while on a mission trip from her church. She is in critical condition and two of her friends died from the accident. May God guide the families through this tragic time! Our sympathy to the families of the deceased. Suzanne is in a hospital in South Africa.
God's blessings to all. Here is a different kind of dessert using pumpkin.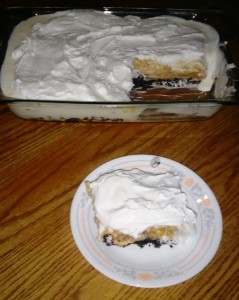 Oreo Pumpkin Cheesecake
24–30 crushed Oreo cookies
1 stick butter, melted
1/4 cup sugar
1 8-ounce cream cheese, softened
2 cups heavy cream
2 1/2 cups milk
3 small packages instant vanilla pudding
1 cup canned pumpkin
2 teaspoons pumpkin pie spice
1 8-ounce whipped topping
Mix Oreo crumbs and melted butter. Press into a 9×13 inch baking pan. Beat cream cheese and sugar until light and fluffy. Slowly add in heavy cream and beat until stiff peaks form. In another bowl beat milk, pudding mix, pumpkin, and spice until well mixed and thick. Layer cream cheese mixture and then pumpkin mixture on Oreo crust. Top with whipped topping. Serve cold.
Lovina Eicher is an Old Order Amish writer, cook, wife and mother of eight. Formerly writing as The Amish Cook, Eicher inherited that column from her mother, Elizabeth Coblentz, who wrote from 1991 to 2002. Readers can contact Eicher at PO Box 1689, South Holland, IL 60473 (please include a self-addressed stamped envelope for a reply) or at LovinasAmishKitchen@MennoMedia.org.
Contact: DorothyH@MennoMedia.org; 540-980-2438