A cold morning of 11 degrees. It's freezing and as Abigail would say, "Brrrr – cold!"
Eleven days until Christmas day. I just can't believe how much faster every year goes by. Life goes on. Changes are made, some good, some bad. The most important part in life is to always let God guide us into the unknown future. He already knows what lies before us. He knows all the changes 2018 will bring. And he alone can help us accept whatever those changes will be.
Our big change here at the Eicher homestead right now is packing Mose and Susan's belongings and moving them five-and-one-half miles away to their new home.
Mose and Susan's house is almost done. The flooring is being laid. It takes a little more time to remodel an old farm house but it's looking better. Last Friday the girls and I helped paint the walls and ceilings. Mose helped us after he came home from work. My muscles were sore the next day. We gave both bedrooms, living room, and dining room two coats of paint. Mose had to go get more paint. New drywall always seems to absorb more paint. We used a "paint plus primer" so that was easier to have it all in one. We were almost done and saw we needed still more paint so nephew Henry went to town and bought more paint. That was a long day to get the painting all done.
Mose and I finished up around 7:30 p.m. I was tired but it felt good to have accomplished our goal. And what a surprise to come home with supper all made. Loretta's special friend Dustin came to help us after he was off work. He also did some more jobs for Mose while he was there that needed to be done before they move in. Dustin and Loretta came home earlier and prepared supper on the grill which he brought in. They had steak, red potatoes and mushrooms on the grill along with cheese for our supper. It was all very delicious and very much appreciated after a hard day's work! Lord willing, we plan to move Mose and Susan's belongings on Saturday.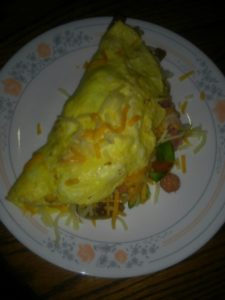 Tuesday evening we went to a presentation about stainless steel cookware. The man showed us how to cook without water or oil in pans. He prepared supper for the six couples that were there. We were served chicken, potatoes, green beans and carrots all cooked in his cookware. Also an apple cake was prepared on top of the stove in a covered skillet. He showed us ways to use the cookware to eat healthier. I saw a few of the men (including my husband Joe) sneak some salt on their food. I never add much salt to my food because Joe always adds salt without tasting it first. My children grew up not tasting much salt on their food and don't mind potatoes without salt. We use mostly sea salt for our table salt. It was an interesting evening and I learned a few things. He also prepared an omelet for us without having to flip the omelet, but still fully cooking it.
Last night the girls and I made omelets for everyone for supper. We made a total of 14 omelets using my stainless steel frying pan I've had for years, but cooking them a little differently.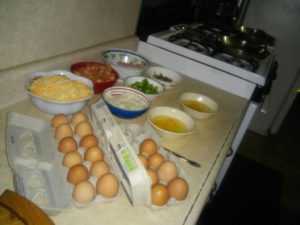 Friday evening daughter Loretta is hosting a Tupperware wedding shower for Dustin's brother's wife, Lisa. We will serve supper to the guests after the party. Hopefully Lisa will have a successful party and pick out some free Tupperware for her new home. Jake and Lisa were married in May so a homemaker can always use some more containers, choppers, etc.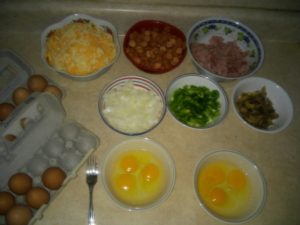 Now I must get busy. We will wash laundry today. It is nice to see the sun come out because our battery packs were getting low storing solar. With our water running off solar we need a charged battery. We do have a back-up generator but if we don't need to waste gas its better.
I wish all of you a blessed Christmas and God's blessings in 2018 and always! Safe travels and good health to all!
Thank you for all your support and encouragement through 2017!
Pancake Pizza
3 cups cake batter
1 dozen eggs, scrambled
1 cup cheese
6 cups sausage gravy (a recipe for sausage gravy is in my new cookbook)
1 pound bacon
Heat oven to 400 degrees. Pour batter into 9×13 greased and floured cake pan. Bake 15 minutes or until done. Remove from oven.
While pancake is baking, scramble eggs in a large skillet. Layer eggs and cheese on top of baked pancake. Make a sausage gravy and put on top of eggs and cheese. Fry and crumble the bacon. Sprinkle on top of the gravy. Serve with or without maple syrup.
Lovina Eicher is an Old Order Amish writer, cook, wife and mother of eight. She is the co-author of three cookbooks; her new cookbook, The Essential Amish Cookbook, is available from 800-245-7894. Readers can write to Eicher at PO Box 1689, South Holland, IL 60473 (please include a self-addressed stamped envelope for a reply) or at LovinasAmishKitchen@MennoMedia.org.