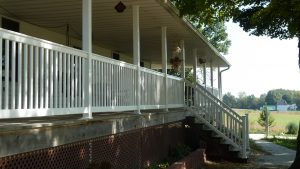 As I write this, we mark the last day of August. I'm just amazed at how time seems to fly by faster each year. Do we take enough time in our busy lives for God? Our children also need us in their lives so much. Let us pray for them daily so that they will let God be their guide. Life doesn't get easier and his guiding hand helps so much.
Son, Kevin (our youngest) will have his eleventh birthday on Friday, September 2. It is unbelievable but true that he is that old and starting middle school (fifth grade) on Tuesday. Son Joseph will be in eighth grade, the final year of his school years. Daughter Lovina will be in sixth grade.
Friday we are invited to Mose's brother Joe's wedding. Joe and Mary will have their wedding at Mose's parents' house. Mary's parents live in Wisconsin and she has made Michigan her home for several years. Joe lives about one-and-a-half hours north of our community. They will live at Joe's house after their marriage.
I was asked to be cook at their wedding. I have to wear a sage dress, cape, and apron to the wedding. I was in luck as this was the same color the mothers wore at Mose and Susan's wedding.
Mose and Susan are table waiters. Susan has to wear another shade of green. She finally cut out her dress, cape and apron last night. It looks like I will get the job of sewing it. With her working every day she doesn't get much extra time. Last Saturday, Susan and Mose went to help set tables for the wedding. Tomorrow (Thursday) I will go help get ready for the wedding. Not sure what jobs they will have for me but most likely bake pies, bread, etc. Lots of vegetables have to also be cut up. I will take a casserole to help out with lunch.
Saturday a new family from Iowa is moving into our church district. They will make their home a few miles from here. Since they don't have much family in the community, some members from our church will go help them unload and get settled in their new home. From what we heard they have three small children. We wish them God's blessing on their move.
It brings back memories of twelve-and-a-half years ago when we were making such a move. It's a big change to move from the community where you were born and raised. We enjoy our new home and community which made it easier to adjust to changes. The good deeds that were done to help make our move easier will always be remembered. Now I hope we can go help lighten the load for someone else.
We canned another bushel of peaches yesterday. Now we should be done canning until applesauce and grapes are ready to be canned.
I came across this recipe for "Turkey Cabbage Bake" and since we have so much cabbage I like to try different recipes with cabbage. Our children don't eat cabbage so well. I always think that I might find a way that they will like it better. The meat doesn't have to be turkey. It can be replaced with chicken or hamburger, etc. The crescent rolls could be replaced with regular pie dough.
Turkey Cabbage Bake
2 8-ounce tubes refrigerated crescent rolls
1 1/2 pounds ground turkey
1/2 cup chopped onion
1 teaspoon minced garlic
1/2 cup finely chopped carrot
2 cups finely chopped cabbage
1 can (10 3/4 ounce) condensed cream of mushroom soup, undiluted
1/2 teaspoon dried thyme
1 cup shredded part-skim mozzarella cheese
Unroll one tube of crescent dough into one long rectangle; seal seams and perforations. Press onto the bottom of a greased 13x9x2 baking dish. Bake at 425 degrees for 6–8 minutes or until golden brown.
Meanwhile in a large skillet, cook turkey, onion, carrot and garlic over medium heat until meat is no longer pink; drain. Add cabbage, soup and thyme. Pour over crust; sprinkle with cheese. On a lightly floured surface press second tube of crescent dough into a 13×9 rectangle, sealing seams and perforations. Place over the casserole. Bake uncovered at 375 degrees for 14–16 minutes or until crust is golden brown. Yield: 6 servings
Lovina Eicher is an Old Order Amish writer, cook, wife and mother of eight. Formerly writing as The Amish Cook, Eicher inherited that column from her mother, Elizabeth Coblentz, who wrote from 1991 to 2002. Readers can contact Eicher at PO Box 1689, South Holland, IL 60473 (please include a self-addressed stamped envelope for a reply) or at LovinasAmishKitchen@MennoMedia.org.