Where Lovina hopes to be over a bug at Thanksgiving!

It's Wednesday morning and we have lots to do today. I think I have some kind of stomach flu. It makes me feel weak so I haven't moved too far from my recliner yet. Hopefully I will feel better soon. I do not have time to be sick! Tomorrow is Thanksgiving Day and I need to be well for my guests.
The school is having their annual Thanksgiving feast today. I won't be able to make it but maybe the girls can go. Son Kevin, 12, wanted me to come, but I can't when I'm feeling like this.
The Living Skills class always prepares and serves the feast. The menu is turkey, mashed potatoes and gravy, dressing, corn, squash, applesauce, squash bread, and homemade pies. I don't think this would be possible without the guiding hands of teacher Mr. Ultz. He has worked many years at the school and taught many students how to cook. The school would be lost without him for this class. It would take lots of patience to teach all the students how to cook. He has taught cooking to all eight of our children.
The girls or I usually fry the eggs for breakfast but one Saturday morning, my youngest son Kevin told me he would fry our eggs. He said Mr. Ultz taught him how to fry them so I showed Kevin how I fry six to eight eggs at one time on my griddle. Kevin fried up all two dozen eggs for breakfast that morning! He did a very good job. When we have fried potatoes we all like eggs fried over-easy. Son-in-law Mose does not like his eggs over-easy so it is always nice to have someone that will eat the eggs that break in the skillet and turn out well-done.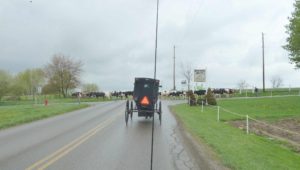 We have not had more than a few snow flurries this season. Yesterday we had rain. Daughter Susan and I took our buggy and horse Mighty to town to get groceries. It rained on the way home. We have a small trailer that we pull behind the buggy to get groceries. On days when it's cold and rainy, it makes me glad for our covered buggies. I was raised in a community with open buggies and how well I remember the cold rides. Our buggy has a heater but it's not hooked up right now. We wait until it gets colder. I wear glasses, so when it rained in the open buggies and if I was driving, my glasses would be hard to see out of. We have hand-operated windshield wipers on our buggy now. Even though the wipers are hand operated (with batteries), it really helps to have them wiping off the outside of the windshield. Plus, I am always glad to have Mighty in town. He's safe around traffic.
Last Saturday my husband Joe, sons Benjamin, Joseph and Kevin, and nephew Henry all assisted Mose and Susan with blowing in insulation in their house walls and attic. Joe and Mose were over there one afternoon after work this week and also put new drywall up in the bedroom. They want to put new drywall in the dining room and living room. They will also take out a wall and add a hallway going to the bathroom from the living room. The insulation and drywall will make the house so much easier to heat. The carpet was pulled out and new floors will be put in after the painting is done.
I have two turkeys to get ready today to put in the oven early in the morning. I always like to have the dressing mixed together and the potatoes peeled and in chunks. It makes it so much easier if all of this is done before tomorrow morning.
Last night son-in-law Moses shot his first doe this hunting season. That is now the third deer that is getting processed here. Loretta was fortunate enough to get two deer in this first hunting season for her.
I'll close with a delicious recipe for another day! And I wish each of you a blessed Thanksgiving tomorrow. For those of you that have to travel—safe travels to you. God bless you!
Loaded Chicken and Potatoes
2 boneless chicken breasts, cubed
6-8 medium red potatoes, cut into ½ inch cubes
1/3 cup olive oil
1 ½ teaspoon salt
1 tablespoon garlic powder
1 teaspoon pepper
½ tablespoon paprika
2 tablespoons hot sauce
2 cups fiesta blend cheese (or your favorite kinds)
1 cup bacon bits
1 cup diced green onions
Mix oil and seasonings. Add chicken and potatoes. Stir to coat and carefully transfer into a greased 9 x 13 inch pan. Bake at 375 degrees for 55-60 minutes, stirring every 20 minutes until cooked through, crisp and browned on outside. Top with cheese, bacon and onions. Return to oven and bake until cheese is melted. Serve with hot sauce and/or Ranch dressing or sour cream.
Lovina Eicher is an Old Order Amish writer, cook, wife and mother of eight. She is the co-author of three cookbooks; her new cookbook, The Essential Amish Cookbook, is available from 800-245-7894. Readers can write to Eicher at PO Box 1689, South Holland, IL 60473 (please include a self-addressed stamped envelope for a reply) or at LovinasAmishKitchen@MennoMedia.org.