Twenty-three days left until the wedding of Timothy and Elizabeth. We have a lot of work left to do before then but we have accomplished a lot already.
Saturday was a full day. At 7:00 a.m. we had some cement delivered to pour sidewalks around the house and in front of the new pole barn. My husband Joe and sons Benjamin and Joseph, Timothy and his brother Joseph Jr., and Mose and his brother Freeman were here to help with the cement work. Pouring concrete is hard work so their help was appreciated!
My sisters Verena and Susan also came to help us. Also sister Emma, Jacob, and sons came later in the forenoon to help. Jacob hung the closet doors in the bedrooms upstairs that still needed doors and trim. I am so glad that is done now.
Sister Susan and daughter Verena worked in the garden. With all the rain we had, the weeds have taken over.
Sisters Verena and Emma, daughters Elizabeth, Loretta, and Lovina worked in getting the basement cleaned. Yesterday daughters Susan and Verena cleaned the boys' bedroom. They are scrubbing the walls and ceilings in the hallway today and then that finishes the upstairs. We just have the main level to clean. Loretta and Lovina have been washing out the kitchen cabinets.
Next week Timothy's mother, sisters, and sister-in-laws plan to come help make noodles for the wedding and help clean.
Timothy and Mose have been working on laying landscaping blocks to make flower beds in front of the house. The blocks will make it look more finished off.
On Sunday we went to Jacob and Emma's house for pizza, ice cream and cake in honor of Emma's forty-second birthday.
Tomorrow at 5:30 a.m. we will leave for the wedding of niece Katie Edna and Ben in Berne, Indiana. Mose, Susan, and Verena are all table waiters. I have to help cook and wear the color royal blue. The girls have to wear dark blue. We were all in luck and have those colors already, so no extra sewing.
Friday, July 24, son Joseph will have his thirteenth birthday. He is really getting tall. I think he and Benjamin are almost the same height.
I appreciate my friend Ruth coming to my rescue and picking up some groceries for me when I happen to discover I'm out of something. Going to town takes more of my time so it's nice to have a friend run errands over this busy time. Thank you Ruth—you do so much for us! It is greatly appreciated!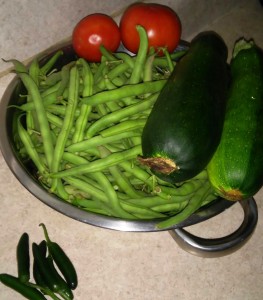 We had our first tomatoes from our garden and are also enjoying green peppers, hot peppers, lettuce, and green onions. Radishes are over with in my garden. Sister Emma sent green beans and zucchini over this morning. I planted my garden late this year.
Readers have been asking for my ice tea recipe. I use fresh spearmint tea leaves from my garden. This tea you can drink warm or ice cold. Until next week—God bless!
Tea Concentrate
6 cups water
1 cup packed tea leaves
1 1/2 cups sugar
Boil 4 cups water. Add the leaves. Put the lid on the kettle and take off burner. Let set 10-15 minutes. Strain and pour over 1 1/2 cups sugar. Then rinse leaves with 2 cups cold water. Put 1 cup concentrate in containers and freeze. One cup concentrate makes a 2-quart pitcher of tea.
Lovina Eicher is an Old Order Amish writer, cook, wife and mother of eight. Formerly writing as The Amish Cook, Eicher inherited that column from her mother, Elizabeth Coblentz, who wrote from 1991 to 2002. Readers can contact Eicher at PO Box 1689, South Holland, IL 60473 (please include a self-addressed stamped envelope for a reply) or at LovinasAmishKitchen@MennoMedia.org.