Another week has gone by already. These last weeks have been extra busy with working on our beef and pork.
On Saturday we butchered the four pigs we raised. They were pretty big already. After all the hams, pork chops, bacon, and ribs were cut out, the bones were trimmed of the meat and the meat cut into strips for the grinder. The bones were cooked in a big black iron kettle. After the meat was soft enough to come off the bones, it was taken off and put through the grinder.
The juice that is left from cooking the meat off the bones is saved and returned to the kettle after it is measured. We then return the meat and add flour, salt, and pepper to the kettle to make Pon Haus (something similar to Scrapple). After it is cooked to the right thickness it is poured into cake pans, baking ware, or whatever you want to use. After it is cooled you can slice and fry it as a meat.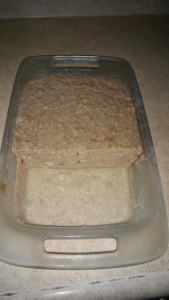 The lard was rendered in the big black kettle and we now have many gallons of lard again. It turned out really nice and white. I like when it isn't dark from being cooked too long.
The sausage is ground and seasoned. A lot of work goes into a day of butchering. We still have some sausage to make into breakfast links and brats and more meat that needs to be packaged for the freezer. We are gradually working on that this week.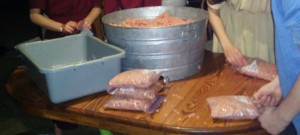 Today we are canning beef vegetable soup. We cooked the beef from the bones to put in the soup. How thankful we are to be able to fill jars and the freezer with meat for another year.
Saturday, January 24, daughter Susan will be 19 years old. It will also be sister Liz's 46th, so happy birthday wishes to both of them.
The schools closed their doors yesterday due to icy roads. This morning they had a two-hour delay because of the roads. It worked out well yesterday, as I could take Kevin to get his new leg braces repaired. A few screws had fallen out and he was unable to use the braces. They help him a lot so we didn't want to have him be without them too long.
For the new readers of this column: a few of our children have limb-girdle type 2A muscular dystrophy. Kevin needs the leg braces to help keep his heels on the ground. They help him stay balanced when he runs or bikes. Thanks for all your prayers and encouragement. It is not an easy thing to accept, but we know God makes no mistakes. We need to put our full trust in God.
Congratulations go to Joe's sister Loretta and Henry! They were blessed with their tenth child. A little girl named Damaris Joy was born to them on December 31, 2014—the final day of 2014.
I will share a recipe for hamburger soup.
Hamburger Soup

2 tablespoons butter
1 pound ground beef
1 cup chopped onion
1 1/2 teaspoons salt
1/2 cup chopped green pepper
1 cup sliced carrots
2 cups tomato juice
1/2 teaspoon pepper
1 teaspoon seasoned salt
1/3 cup flour
4 cups milk
Melt butter in saucepan and brown meat. Add onions and cook until onions are transparent. Add remaining ingredients except milk and flour. Cover and cook over low heat 20-25 minutes until vegetables are tender. Combine flour and one cup of the milk and stir into soup mixture. Bring to a boil. Add remaining milk and heat, stirring frequently. Do not boil after adding remaining milk.
Lovina Eicher is an Old Order Amish writer, cook, wife and mother of eight. Formerly writing as The Amish Cook, Eicher inherited that column from her mother, Elizabeth Coblentz, who wrote from 1991 to 2002. Readers can contact Eicher at PO Box 1689, South Holland, IL 60473 (please include a self-addressed stamped envelope for a reply) or at LovinasAmishKitchen@MennoMedia.org.