Another chilly morning! The temperature is 48 degrees at 7 a.m. The propane lights throw off heat which makes the house feel cozy and warm.
We are in the process of getting things around to put up a chimney for where Mose and Susan have made their living quarters in our pole barn. We will burn hard coal in there. Right now it is chilly out there but usually warms up during the day. Hopefully the stove will be hooked up for them before it gets too cold.
Deer hunting season for bow is open now. Mose was a lucky hunter on Saturday, and so had fresh venison steak to grill one evening. Joe and all the children loved it! I grew up with beef and have a hard time getting used to the venison taste. I think sometimes if I wouldn't know it was venison, I might like it better. I am glad the children like the meat because it is plentiful in this area.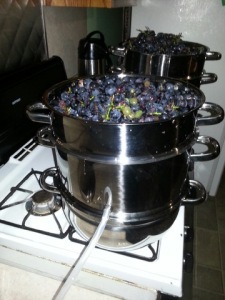 Leaves are beginning to fall from the trees. Gardens are looking empty. We canned six bushels of grapes as grape juice. Two of the bushels were for Mose and Susan. We used the steamers to steam the grapes. The concentrated juice is put in jars to seal.
We also have apples waiting here to be made into applesauce. Those will have to wait awhile. Too many things on our list for this week.
Monday we washed our laundry. Tuesday we went to daughter Elizabeth's and washed their laundry. Both were nice sunny days so that makes it so much easier to dry laundry.
Baby Abigail is doing well. I went with Elizabeth to Abigail's one-month doctor appointment. She weighed eleven and one-half pounds at four weeks. She was eleven pounds at birth but lost some weight at the hospital. She still has lots of black hair and her eyes are blue. When I give her a bath and her hair is wet, it curls up. Needless to say she does not lack attention. She loves the baby swing that daughter Verna gave to them. Elizabeth is doing well and getting used to doing her work between Abigail's naps. They will come to spend today with us. We are looking forward to having her and Abigail here.
Saturday we attended the hog roast held at our local feed mill for their customer appreciation day. We were canning grape juice that day so I appreciated not having to make lunch.
Loretta's special friend Dustin's birthday was Saturday, October 8. He invited our family to his parents' house this Saturday for a hog roast in honor of his birthday.
Dustin has been a great help to Loretta. He sees past her handicap and has really brightened up her life. He has a good personality and is always cheerful when he's around.
Yesterday I made hot pepper butter with the abundance of jalapeño and serrano peppers we have from the garden. We like this spread on a sandwich or even with breakfast, on toast. It's a little spicy for those of you who don't care for spicy foods. I will share the recipe for those who do enjoy "hotter" foods.
God bless each one of you!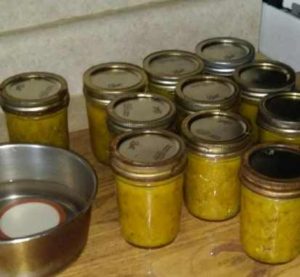 Hot Pepper Butter
40 hot peppers (fewer can be used; some only use 14 hot peppers)
6 cups white sugar
1 quart vinegar
1 quart yellow mustard
1 tablespoon salt
1 ½ cups flour
1 ½ cups water
Grind peppers and mix with sugar, vinegar, mustard, and salt. Boil 10 to 15 minutes. Mix the flour and water, and then slowly add to above mixture. Boil another 5 minutes. Stir often to keep from sticking to pan. Can be processed in jars and sealed according to instructions on your canner.
Lovina Eicher is an Old Order Amish writer, cook, wife and mother of eight. Formerly writing as The Amish Cook, Eicher inherited that column from her mother, Elizabeth Coblentz, who wrote from 1991 to 2002. Readers can contact Eicher at PO Box 1689, South Holland, IL 60473 (please include a self-addressed stamped envelope for a reply) or at LovinasAmishKitchen@MennoMedia.org.