Today wraps up the month of November! While the children were waiting for the bus this morning, they said that Christmas is only 25 days away. I am having a harder time getting into the season this year. Even though we enjoy getting together with family and sharing gifts, let us always remember the true meaning of Christmas: the day Jesus our Savior was born.
Tonight a nativity scene is being played out at our local youth center. Tickets were sold out before I had the chance to get any. My sisters Verena and Susan are helping out, so I have some details from them. Everyone in the cast will dress as they did in those days, and live animals will be used to play out the scenes of how Jesus was born. A meal will be served afterward. The money raised will be used to help with the costs of running the youth center.
We spent Thanksgiving Day with Jacob, Emma and family at their house. With both our families and sisters Verena and Susan, we make a total of 25. Mose and Susan had Thanksgiving this year with his parents. We exchanged names after lunch for a Christmas gift exchange, which will be held here at our house. We haven't decided when to have it yet.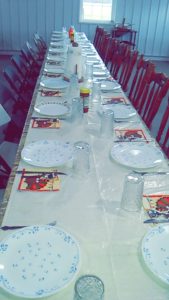 Emma prepared two turkeys and all the trimmings. With all the food everyone had brought, the table was more than filled. Everyone took leftovers home for the next day. Granddaughter Abigail had the most attention all day. She is so precious to all of us! Her black hair and blue eyes and the dimples in her cheeks are adorable. Of course, all grandmothers love their grandchildren. For me it's still a new feeling. God has been more than good to us, and we need to thank him all the time for our blessings, not just on holidays such as Thanksgiving.
Son Benjamin went hunting with son-in-law Timothy and was happy to shoot a deer. He ground the meat on Monday when he didn't have work. It's nice to have more meat in the freezer.
Recently Joe's sister Esther and David and baby David Tyrell (age 3 1/2 months) had supper here. It was our first time to meet baby David. Our marrieds were here for supper as well. Needless to say Abigail and David were the center of attention. Our evening was spent singing together, which is always enjoyable.
Sunday was our week off of church, and we spent it at Elizabeth and Timothy's house. We had a brunch, with this delicious menu: gold rush breakfast casserole (I need to ask her for the recipe), pancakes, baked French toast, milk, grape juice, orange juice, coffee and V-8 juice. We also had cherry pie and Swiss roll bars. After the dishes were washed, we played games and visited. The men and boys went for a walk through the woods while we stayed with Abigail, spoiling her.
Daughters Elizabeth (and Abigail) and Susan and I went grocery shopping after Abigail's doctor appointment on Tuesday. We met up with Ruth Coblentz. It sounds like she has many lonely days since her husband Dave passed away in August. Dave was a cousin to my father. To all the Coblentz relatives who read this column: after talking with Ruth, I found out I made a mistake in my August column. Dad's cousins Dave and Leroy were not brothers but cousins to each other. With my parents no longer around to answer my questions, I misunderstood how the relationship was. It was nice being able to talk with Ruth again even though the visit was short.
My thoughts and prayers go to the families affected by the Tennessee fires. I can't imagine what they are going through. Prayers also for the families of the young people who died in the recent car-buggy accidents. God be with everyone and help ease their pain!
For this week's recipe, I am sharing one of the recipes from my upcoming cookbook, The Essential Amish Cookbook, which will be out next spring. This fudge is different because of the soda crackers added to it. My mother always made fudge around Christmastime, and then we wouldn't have it again for a year. Give this one a try over the holidays. God bless!
Peanut Butter Cracker Fudge
2 cups sugar
2 tablespoons butter
1/2 cup milk
1 cup peanut butter
1 teaspoon vanilla
1/4 box soda crackers, crushed
In a saucepan, bring sugar, butter, and milk to a boil and boil for one minute, stirring frequently. Remove from heat and add peanut butter, vanilla and crushed crackers. Spread into greased 8×8-inch baking pan and allow to cool. Cut into one-inch squares.
Lovina Eicher is an Old Order Amish writer, cook, wife, and mother of eight. She is the co-author of three cookbooks; her new cookbook, The Essential Amish Kitchen, will be published in 2017. Readers can contact Eicher at PO Box 1689, South Holland, IL 60473 (please include a self-addressed stamped envelope for a reply) or at LovinasAmishKitchen@MennoMedia.org.