It's around 5:30 a.m. on a Thursday morning. My husband Joe left at 3:50 a.m. for the RV factory. About a month ago, son-in-law Mose started working at the same RV factory. They leave and come home at the same time.
Sons Benjamin, 18, and Joseph, 15, left at 5:15 a.m. to go help nephew Noah.
Daughter Susan quit working quite some time ago so she is a big help to me. Susan and Mose have been shopping for a place but it seems like nothing has come up that suits them. They need some acreage for their horses and it seems the places for sale have either too many or not enough acres. We don't mind having them here beside us. I know the feeling that you want something to call your own. When Joe and I were first married we lived with my parents for a while before we moved into a mobile home on the other side of the drive from my parents and lived in that. We lived there until after we had Elizabeth and Susan. We bought a house several miles from my parents and lived there until we moved here in Michigan in 2004.
After much thought we decided to sell our cow Bessie to a close-by dairy farm. She gave way more milk than we could use and with the boys leaving so early it made an extra chore before they left. I'm sure Bessie will be much happier with other milk cows. Joseph was usually the one who milked Bessie mornings and evenings. He said it helped build up his arm muscles. Bessie was a good cow and I hope she does well for her new owners.
On Saturday, Aug. 5, Mose and Susan will have their first anniversary. How can it be a year already? And Aug. 14 is Timothy and Elizabeth's second anniversary.
Yesterday daughters Elizabeth (and Abigail), Susan, and Lovina, 13, went garage saling with Elizabeth's horse and buggy pulling our buggy trailer. There were around ten garage sales at Amish places so they were able to buy some clothes as well. Abigail thinks she has to hold the driving lines and tell the horse giddy up. Elizabeth said when they pass another buggy Abigail waves and says, "Hi!" Then she goes back to telling the horse to go.
Steven, son of sister Emma and Jacob, had his tenth birthday on Sunday, July 30. He was very excited to get to sit with the boys in church now. After the boys and girls turn ten they don't have to sit with their parents. Son Kevin, 11, was so glad Steven could come in with him.
Today daughter Elizabeth and Abigail and sister Emma and Steven will come to help us prepare for the upcoming church services we will host in three weeks. It looks like we will be canning hot peppers and pickles. We are planning to wash out cabinets also and wash laundry if weather permits. Daughter Susan will also come over to help so we should get something accomplished today with all the help.
Friday Joe and I, along with daughter Verena, 19, and son Kevin, 11, traveled to Berne, Ind., with my good friend Ruth. We met readers and signed books at the Faith and Life Books and Gifts store in Berne. This was during the busiest time of the year for Berne—the Swiss Days Festival. After not being there for 14 or 15 years it has really expanded throughout the streets. I think the reader there for the signing who was from farthest away was Sharon from California. Then I found out she is a cousin to Aunt Gyneth Coblentz—a small world!
We stopped in to say hi to sister Leah and Paul. Then we stopped by my home place, where I was born and raised and lived until I was married with two children—bittersweet memories! We also went by the house Joe and I lived in for eight years. We stopped in and said hi to our old neighbor Emma, then we went to visit sister Liz, Levi, and daughters. Liz had surgery and was still recovering from that. She wasn't feeling too good while we were there. Before heading for home we stopped at brother Amos and Nancy's but no one was home so we headed back to Michigan. A big thanks to Ruth for once again taking time out of her life and away from her family to drive us!
God's blessings!
Fried Corn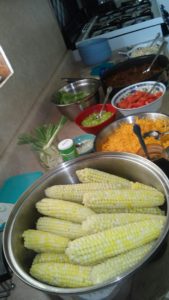 4 ears fresh sweet corn
2 strips crisp bacon and drippings
1 small onion, minced
Salt and pepper
Cut uncooked corn from cob and add to bacon drippings. Add onion, salt, and pepper. Cook over medium heat in a frying pan, stirring occasionally, until corn is tender, about 15 minutes. Crumble bacon over top.
Lovina Eicher is an Old Order Amish writer, cook, wife and mother of eight. She is the co-author of three cookbooks; her new cookbook, The Essential Amish Cookbook, is available from 800-245-7894. Readers can write to Eicher at PO Box 1689, South Holland, IL 60473 (please include a self-addressed stamped envelope for a reply) or at LovinasAmishKitchen@MennoMedia.org.