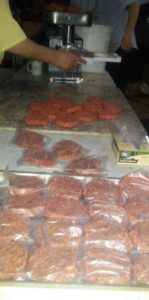 We are having real winter weather again here in southern Michigan. The temperature has been staying cold. It sure was nice to have cold weather to get our beef all cut up. As much as I would have liked spring-like weather, I was glad for some cold weather because of the beef. Our steaks are all sliced, beef chunks canned, and I also canned some hamburger. The canned meats make it easy to make some casseroles, soups, and more. Plus we made several hundred hamburger patties. We froze them on cookie sheets individually so that when we package them, they don't stick together. If we only want one or two, then we can just take those out without thawing the whole bag.
We are trying to adjust to daylight savings time again. I really wish it would just stay one way or the other. Like many people, I do not like the changing of clocks.
I attended a quilting today. The quilts are being made for a benefit auction for our local Community Health Center. The quilting days are divided up among our local Amish church districts into different days to go quilt. The women all pack a lunch so no one has to stop to make food for everyone.
Last week I went to a quilting at neighbor Susan's house. This quilt was also being made for a benefit auction for an Amish man who has spent months in the hospital from being burnt almost all over his body. It is a miracle that he lived. Our neighbor served all of us ladies a good lunch.
Sunday we attended church in a nearby community. Niece Susan (brother Amos and Nancy's oldest daughter) and her husband Joe hosted church in their district. They moved to that area from Berne, Indiana. Brother Amos, Nancy, and their children Lisa (and her special friend, Matthew), Laura, and Sam were also there. Also Jacob, Emma and some of their family and sisters Verena and Susan went. So five out of us eight siblings were there at the same service which doesn't happen too often. I also had the chance to visit with several cousins that were there who I hardly ever see.
We received invitations to niece Emma Coblentz (brother Albert and Sarah's daughter) and Johnny's wedding. They chose April 14 (Good Friday) to exchange their vows. Sewing time! Daughter Verena is a table waiter and needs a green apple-colored dress. Cooks need to wear a dark tan color dress. Daughters Elizabeth, Susan, and I are all cooks at the wedding. Timothy, Elizabeth, Mose, and Susan are evening servers as well. Joe was asked to help grill chicken and to also help wash dishes in the evening and get the dishes packed back in the wedding wagon.
Thursday evening our whole family attended son Joseph's freshman orientation and exit interviews about their portfolios. Joseph and his eighth grade class made supper for their families and served them. Their teacher, Mr. Ultz, did a great job in directing these eighth graders in the cooking class. Joseph will be the sixth of our eight children to be finished with his school years. Where does time go? Thirteen years ago we made the move to Michigan. We enjoy our home here and cannot thank God enough for all the blessings we have received. God bless you all!
Coconut Pie
4 rounded tablespoons flour
1/4 cup corn syrup
2 1/2 cups cream
1/2 teaspoon salt
2 cups coconut
1 1/4 cup sugar
1/4 cup butter, melted
3 1/2 cups milk
1 teaspoon vanilla
5 eggs whites, separated
3 unbaked pie crusts
Mix in the order given. Beat egg whites last until stiff peaks form, and add  to filling. Pour into unbaked pie crust and bake at 350 degrees until firm, usually about 30-40 minutes, depending on your oven. Makes 3 delicious pies.
Lovina Eicher is an Old Order Amish writer, cook, wife and mother of eight. She is the co-author of three cookbooks; her new cookbook, The Essential Amish Kitchen, will be published in 2017, available from 800-245-7894. Readers can write to Eicher at PO Box 1689, South Holland, IL 60473 (please include a self-addressed stamped envelope for a reply) or at LovinasAmishKitchen@MennoMedia.org.