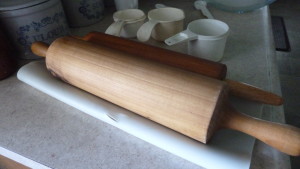 This will be my final column for 2015. After that, we enter into a brand new year. What does it have in store for us? The future is unknown, but if we trust in God to lead our way, it seems so much more encouraging.
Our life brought changes in 2015, with the first of our children, Elizabeth, getting married and leaving home. It was hard to see our firstborn move out and start a life of her own. What made it easier was that we know she is happily married.
Yesterday Elizabeth came home for the day to help since she and Susan are off from the factory for two weeks. The girls made Christmas cut-out cookies. I know Christmas is now past, but we will have our annual gathering with my sisters who live in the area on New Year's Day. The cookies were made for that day, and there is enough to snack on before.
While the girls were making the cookies, I had to think of all the years that we made these cookies when they were young. I remember how they would pull up chairs to help cut out all the cookies with my Christmas cookie cutters. They liked to squeeze the dough, and it took forever to get the cookies done!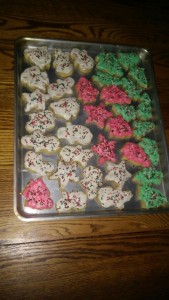 Lovina, 11, used my recipe for frosting and made it for the first time. To write one of my cookbooks, I had to measure out my ingredients for my frosting recipe. Mom had just taught us to use "a little of this" and "a little of that" and to keep adding until we had what amount we needed. But it now comes in handy to have a recipe. Loretta divided the frosting into three bowls and added green food coloring to one and red food coloring to another to make different colors. They made snowmen, Christmas trees, bells and stars.
As they used the rolling pin to roll out the dough, it brought back lots of memories of my mother. This rolling pin was hers. A friend had made it for my mother; it was all one piece of wood, with the handles carved out, and it was bigger than most rolling pins. When my parents' belongings were sold through a public auction, I tried hard to get that rolling pin. It went for too high a price, however, and I thought I would never see it again.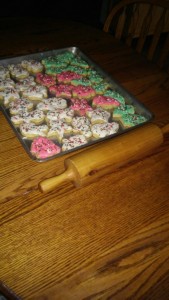 A few years went by. Then one day I received a call from my editor saying that a reader had bought Mom's rolling pin at the auction that day and no longer needed it. The reader wondered if I would want it. Oh, I was so excited to have it back in my hands! I can't recall the name of the reader, but if by chance you read this column, I want to thank you again!
Not one time do I not think of my mother when I use this rolling pin. I still thank her for all she taught me. Most of all, I thank her for teaching me about God and to always turn to him when we need help. Rest in peace, Mother—you lived your life to the fullest and have left a legacy to us. No one else could have done any better.
I will share the recipe we use for Christmas cut-out cookies. We love this recipe!
God bless all you readers in 2016 and always!
Sour Cream Cut-Out Cookies
1 cup (2 sticks) butter,  softened
1 1/2 cups sugar
3 large eggs, beaten
1 cup sour cream
2 tablespoons vanilla extract
3 1/2-4 cups all-purpose flour
2 teaspoons baking powder
1 teaspoon baking soda
Frosting
1/3 cup shortening
1 teaspoon vanilla
4 cups powdered sugar
1/2 cup milk
Food coloring (optional)
Colored sprinkles, for decorating (optional)
Chocolate chips, for decorating (optional)
Preheat the oven to 350°F. Lightly grease a baking sheet.
Cream the butter and sugar together in a large bowl. Stir in the eggs, sour cream and vanilla. Combine the flour, baking powder and baking soda in a medium bowl and stir with a whisk to blend. Add the dry ingredients to the wet ingredients and stir until a soft firm dough is formed. Sometimes more flour needs to be added so the dough rolls out better. Roll the dough out to a 1/2-inch thickness on a floured surface. Use your favorite shaped cookie cutters to cut out the dough. Place the shapes on the prepared pan.
Bake until golden brown around the edges, about 10 minutes. Remove from the oven and let cool on the pan for 5 minutes, then transfer to wire racks to cool completely. Makes about 18 cookies, depending on shapes.
To make the frosting: Cream the shortening with the vanilla and 1 cup of the powdered sugar. Gradually add the milk and the rest of the powdered sugar, beating constantly. More powdered sugar can be added for desired thickness. Food coloring can also be added. Spread the frosting on the cookies and decorate with colored sprinkles or chocolate chips. Let the frosting set before storing.
Lovina Eicher is an Old Order Amish writer, cook, wife and mother of eight. Formerly writing as The Amish Cook, Eicher inherited that column from her mother, Elizabeth Coblentz, who wrote from 1991 to 2002. Readers can contact Eicher at PO Box 1689, South Holland, IL 60473 (please include a self-addressed stamped envelope for a reply) or at LovinasAmishKitchen@MennoMedia.org.