This is a cold winter day with the mercury on the thermometer dipping way down to 5 degrees. It is snowing but the wind isn't as strong as it was yesterday.
Joseph, 13, Lovina, 11, and Kevin, 10, didn't have school yesterday. It was cancelled due to the weather. This was their first snow day this season. With church services being held here Sunday there was plenty to do. Lovina cleaned the bathroom in the basement and washed the basement steps while Joseph and Kevin swept and mopped the basement floor. I gave the refrigerator down there a good cleaning. Things look clean and good enough now in the basement.
I let them go sledding in the afternoon since they did such a good job. I heard Joseph tell Kevin and Lovina that he hopes if there are more snow days it will be after church services are held here! I had to smile when I heard that. Evidently, his idea of a snow day was sledding outside with our pony Stormy pulling the sled. Joseph will be 14 in July but he is already taller than I am. He has passed Benjamin, 16, in height as well. Milking Bessie every morning and evening has also given him a lot of arm strength. Joseph is the comedian in our family. He is always making us laugh.
While we were cleaning yesterday we were surprised to have our supper sent over by neighbors Marlin and Janie. This was so thoughtful and very much appreciated. The evening before our neighbors Joas and Susan brought supper in. What a treat to not have to make supper. May God bless them for their kind deeds!
I wasn't able to attend our last church services due to some health issues I've been having. I still wanted to take our turn to host church services and appreciated all the offers to come help me prepare.
My sisters Verena and Susan and Emma and her daughter Emma and her son Jacob Jr., assisted us with our work last Friday. This was a warmer day before all this snow and cold weather came. It was a perfect day to get all the windows cleaned and curtains washed, plus all the walls and ceilings were washed off. They also cleaned the furniture.
Then Saturday Timothy and Elizabeth and Susan's friend Mose came to help us. Timothy and Mose helped clean the new building where church services will be held. They helped my husband Joe with what all needs to be cleaned up outside. Elizabeth cleaned the boys' bedroom which isn't the most fun job. How those three boys can accumulate so much stuff is beyond me. All I can say is "boys will be boys." When Elizabeth finished it looked so refreshing and clean. They are trying their hardest to keep it looking good.
Saturday evening Benjamin brought three of his friends home to spend the night and all day Sunday. Those four boys enjoyed eating shelled peanuts at some time overnight. When I went up Monday to get their bed sheets to wash, there were peanut shells all over the floor. At least it's something easy to sweep up—and they all enjoyed the peanuts.
We had a brunch Sunday forenoon so the boys could sleep a little later. The rest of the day was spent playing games, resting, etc. I made a campfire stew on the stove for an early supper before the boys left for home. There wasn't a singing scheduled for the youth so they just stayed here for supper. With all the snow and ice we were having, it was good to see them stay home.
Joe has to work on Saturday at the RV factory so Timothy and Mose will come help set up the benches for church services on Saturday. They also have to make room in the barn to tie all the horses on Sunday. If the family hosting church doesn't have a big enough barn, others will bring horse blankets for their horses on cold days as they stand outside.
This week I'll share the recipe of baked egg in the nests that daughter Verena made for our breakfast yesterday.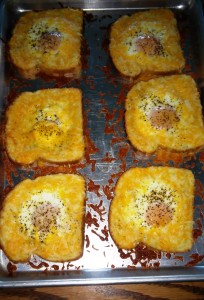 Baked Egg in the Nest
1 slice bread
1 egg
butter
shredded cheese
black pepper
Put slice of bread on a baking sheet. Press down the center of the bread with a spoon. Spread butter on the outside raised edge of the bread. Put the egg on the bread (the raised part will help hold the egg inside). Sprinkle the cheese on top of the buttered outer edge of the bread. Sprinkle black pepper on the egg. Bake for 10 to 15 minutes in a 400 degree oven.
Lovina Eicher is an Old Order Amish writer, cook, wife and mother of eight. Formerly writing as The Amish Cook, Eicher inherited that column from her mother, Elizabeth Coblentz, who wrote from 1991 to 2002. Readers can contact Eicher at PO Box 1689, South Holland, IL 60473 (please include a self-addressed stamped envelope for a reply) or at LovinasAmishKitchen@MennoMedia.org.