We are in the last week of March with Friday being Good Friday and Easter is Sunday, April 1. It's an early Easter this year.
My oldest sister Leah and Paul were married 37 years ago on April 16. I remember that Good Friday was April 17 in that year (1981) and was the day after their wedding. I was in the third grade and still remember going to the mailbox to get in the mail on Good Friday. That is one way I can always remember that mail does go on Good Friday.
In our community, we honor Good Friday and have a time of prayer and fasting in the forenoon. We usually have lunch with family or friends and enjoy the rest of the day visiting.
Daughter Elizabeth and Timothy want our family to come to their house this year. Timothy plans to grill some chicken, with Elizabeth making all the trimmings. I always look forward to spending time with family. Of course, spoiling my little granddaughters is so much fun.
Right now little Jennifer is staring at me and smiles when I look up. How precious! Daughter Susan just breastfed her and is rocking her to sleep. Susan came this morning, as she has a very stiff neck and it was hard for her to lift the baby off the bed. Mose and the driver dropped them off here early this morning when the driver picked up my husband, Joe, to go to work.
After applying heat and cold packs and taking some pain relievers, Susan says her neck is feeling a little better. She thinks she sprained it from lying on it during the night while feeding Jennifer. A stiff neck can be miserable! Jennifer is extra fussy today, so I'm glad she is here so we can help her. And no one complains when they have to hold Jennifer!
Daughter Verena was excited to have her cast cut off last week at her doctor's appointment. She does need to wear an air boot for four more weeks. She is having some pain as she gets used to walking on her foot again, but it's getting better every day. Mail time is still exciting for her. We appreciate everyone who took time to send a card, write a letter or mail a gift to her. May God bless you for your kindness.
Son Kevin, 12, went along to the appointment so that Verena's doctor could check his feet. The doctor decided to wait six months and have him wear night splints that help his feet. It's very miserable to sleep with the splints on, and he can't walk in them. He wasn't too excited, but he chose those over the braces, which he would have had to wear during the day. We will see what is going on in six months and will try to prevent surgery if possible.
Yesterday the girls and I attended sister Emma's Tupperware party and stayed for lunch. Our friend Beth picked us all up with her van, and she picked up daughters Elizabeth and Susan as well. Emma served us a good lunch of tater tot casserole, macaroni salad, cheese, dirt pudding, applesauce, Jello and chocolate chip bars. She had leftover food so she sent some home for our supper. It was nice to have supper made. Daughter Loretta left with Dustin and his family to attend a visitation and viewing for a friend of the family who died. Son Benjamin and nephew Henry went to town to get some groceries for me. The boys were back for supper but Loretta wasn't.
Our horses, Midnight and Beauty, will be three years old this spring. We gave Beauty to Benjamin for his 18th birthday last year. The horses need miles, and it helps when the boys drive them during the week. My husband, Joe, trained both horses last summer. We saw a lot of excitement, and I was glad when he had the horses going in the buggy! Midnight was a challenge and I didn't think she would ever listen. But now she takes us wherever we want to go.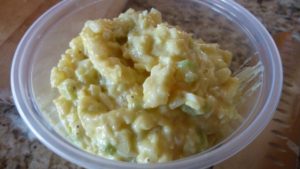 I need to finish this column so that I can get to my sewing. Jesus has risen! Have faith in Him and He will always be there for you. I hope you had a blessed and happy Easter. Peace to all!
Potato Salad
2 1/2 pounds potatoes, cooked until tender
6 hard-boiled eggs, cut up
1 cup celery, chopped
1 onion, chopped
1 1/2 cup Miracle Whip salad dressing (or store brand)
2 teaspoons prepared mustard
1/4 cup vinegar
3/4 cup sugar
1/4 cup milk
2 teaspoons salt
Dice potatoes or put through slicer. Then combine potatoes, eggs, celery and onion in a bowl. In a separate bowl, stir together salad dressing, mustard, vinegar, sugar, milk and salt. Pour over potato mixture and stir together. Large recipe serves 12-18.
Lovina's Amish Kitchen is written by Lovina Eicher, Old Order Amish writer, cook, wife and mother of eight. She is the co-author of three cookbooks; her newest cookbook, The Essential Amish Cookbook, is available from 800-245-7894. Readers can write to Eicher at PO Box 1689, South Holland, IL 60473 (please include a self-addressed stamped envelope for a reply) or at LovinasAmishKitchen@MennoMedia.org.