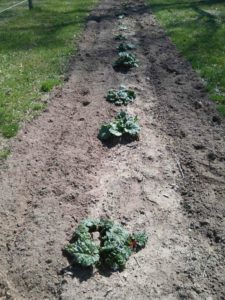 Warming up: Dandelion greens, rhubarb, and dirt under bare toes
We finally managed to get some garden planted. The ground still felt a little cold under my bare feet. It just doesn't seem right to walk in that soil with shoes on. I like wearing my crocs but with all the holes they soon filled with too much dirt.
We planted sweet onions, early frosty peas, radishes, and some lettuce. Makes my mouth water to think of some fresh garden goodies.
Temperatures have been in the 50's and lower 60's so we still haven't had the warmest weather but I'm sure it will be here soon. Nephew Henry didn't have work yesterday so he enjoyed the day on the lake fishing with a friend/co-worker.
On Saturday the boys and my husband Joe tilled up the gardens. They hauled manure into the one garden and tilled it in. Now every night the boys have been raking our yard and getting it ready to mow. We have a lot of trees, so lots of sticks and leaves accumulate over the winter months.
Last night Joe had an appointment, so we stopped for some groceries too. The girls had supper ready when we came home. They made hamburger with taco seasoning, shredded lettuce, diced tomatoes and green peppers, and shredded cheese. Some made tacos with soft tortilla shells and others made haystacks using these ingredients, putting crushed Doritos on top. We top it with salsa and ranch dressing. Sometimes we add chopped onions.
On some evenings we have been enjoying dandelion greens salad on top of steamed potatoes. Usually we like fresh ham or bacon with that either fried or grilled. I find the dandelion greens out in the yard and edges of the garden, etc. After they are washed very well I add them to a homemade sour cream dressing made with Miracle Whip salad dressing, apple cider vinegar, salt, and milk. I put in diced hardboiled eggs. Gathering and washing the dandelion greens is not my favorite thing to do but its worth it to be able to have dandelion salad. Although some of our children turn their noses up even thinking of eating something that grows in our grass.
Daughters Elizabeth and Susan and their little sweeties have plans to come today. Looks like it will be another laundry day if weather permits.
Sunday evening Joe and I along with Verena, Joseph, Lovina, and Kevin went to Mose and Susan's for supper. Timothy, Elizabeth, and Abigail went there as well. Mose grilled steak and I helped Susan make a pot of chili for an enjoyable evening. Mose and Susan live on a quiet road which is always so peaceful, with the only traffic being their neighbors.
Monday evening Susan and Baby Jennifer came here while Mose and Dustin (Loretta's special friend) went turkey hunting. I had Jennifer laughing and chattering her baby talk. So precious!
Now I will share the sad news: Uncle Jake passed away on Tuesday. He was 81 years old. Uncle Jake and Aunt Mary live in Phoenix, Arizona, so we really regret that we won't be able to travel the many, many miles between us. Jake will be missed at the reunions. He always had a great sense of humor like my dad and all his siblings did.
Out of the 13 siblings there are seven of dad's brothers left. It's a sad lonely feeling when another one passes away. Our greatest sympathy to Aunt Mary, cousins Christina, Cornelius, and Tabitha and their families as they mourn the passing of their husband, father, and grandfather. Daughter Verena had just received a card and long letter from Uncle Jake and Aunt Mary a few weeks ago. It was so thoughtful of them to think of her when dealing with their own health issues.
God bless you all!
Rhubarb Bread
1 cup cut up, cooked rhubarb
1/2 cup (1 stick) butter, softened
1 cup sugar
2 large eggs, beaten
2 tablespoons milk
2 cups all-purpose flour
1/2 teaspoon salt
1 teaspoon baking soda
1 teaspoon vanilla extract
Topping
1 tablespoon butter, melted
1 tablespoon all-purpose flour
1 teaspoon hot water
1 tablespoon sugar
1 teaspoon ground cinnamon
Preheat oven to 375 degrees. Lightly grease and flour a 5×9-inch loaf pan and set aside.
In a small pan, place cut up rhubarb and enough water to cover the rhubarb. Heat rhubarb to boiling and then lower to simmer and cook until rhubarb is soft, maybe 10-15 minutes.
In a medium mixing bowl, cream the butter and sugar until it becomes light and creamy. Add the eggs and milk and mix well.
In a small mixing bowl sift together the flour, salt, and baking soda. Add to the butter mixture and stir until all ingredients are thoroughly combined. Stir in the vanilla; drain water from hot rhubarb and add to the batter, mixing until well combined. Pour batter into prepared pan.
Topping: Combine all ingredients in a small mixing bowl. Use a pastry blender to mix thoroughly. Pour mixture over the bread batter. Bake for 1 hour or until a toothpick inserted into the center comes out clean. Let cool for 10 minutes in the loaf pan then turn out onto a wire rack. Slice and eat either warm or cold.
Lovina's Amish Kitchen is written by Lovina Eicher, Old Order Amish writer, cook, wife and mother of eight. She is the co-author of three cookbooks; her newest cookbook, The Essential Amish Cookbook, is available from 800-245-7894. Readers can write to Eicher at PO Box 1689, South Holland, IL 60473 (please include a self-addressed stamped envelope for a reply) or at LovinasAmishKitchen@MennoMedia.org.