Our weather has been hot and humid this week. This morning it is looking like it could rain. We need rain and it would also cool everything off.
Daughter Elizabeth and sweet little Abigail came yesterday to spend the day. We did laundry, which seemed extra huge with bedding and curtains in the wash. We washed walls and ceiling in son Benjamin's bedroom upstairs. I still need to clean out his closet.
I have been working on my mending, which has accumulated in the past few months. It seems there is always something needing a button or has a tear here or there.
Our garden is doing well. Those weeds are trying to take over. We picked the first tomatoes from our plants. We are enjoying buttered beets from the red beets also. Zucchini and cucumbers are also ready. My cucumber plants all died but two, so I am hoping someone close by will have extra. Radishes are over but we still have lettuce, green onions, and peppers. Peas are done for the season. We had a few meals of red potatoes, too. Corn, broccoli and cabbage are coming along. I always like this time of the year when we can enjoy all the vegetables from the garden, as there is such variety to choose from. It makes meal planning so much easier.
I ordered peaches so that will be another thing off my "canning list." I am afraid my canning will be in full swing around the time church services will be held here. We will host church one time in August and once in September. Then daughter Susan and husband Mose will also host it here once in September.
In between our church services we will have a hog roast for my family. I don't have an exact count but think we are a total of 125 or more. It sure increased in size since the last time we took our turn to host my family. It was our turn last year but due to Susan's wedding, my health, and then the surgery, I was unable to have it. We also canceled hosting church services here last year so that is why we have it twice this year.
I planned the hog roast for May but then sister Liz and Levi were preparing for niece Rosa's wedding. So far it looks like it will suit all my siblings for September 16.
Sisters Verena and Susan are still living in our basement. The work at their house is progressing, with the dry wall mudding being done. The floor is on order. As soon as the drywall is done, we want to go help paint it. Two bedrooms upstairs and the bedroom and living room downstairs needed to be redone from the fire. The exterior is done now. It has been almost three months since the fire. Finally things are beginning to take shape for their house.
Son Joseph's fifteenth birthday will be Monday, July 24. This is the third birthday in July for our family. Joe and I had our 24th anniversary on July 15 and brother Albert's 53rd birthday was also on July 15. His sons, Albert Jr. and Andrew, were both born on Albert's birthday in different years.
Sister Emma turned 44 on July 19, and her son Steven will be ten years old on July 30. My mother would have turned 81 on July 18 if she was still living. We get lots of cake in July.
Abigail is 10½ months old now. She is discovering everything. She stands by furniture and she discovered our open stairway steps. It looks like I'll be getting my gate out again to block off the steps. We stayed behind Abigail to see how far up the steps she would go, and she just keeps going up one step after the other. She doesn't realize that if she stands up she will fall back. How did the months slip by so far, that she is already this old? We sure have a lot of fun entertaining her. She loves playing in the kiddie pool and splashing water everywhere.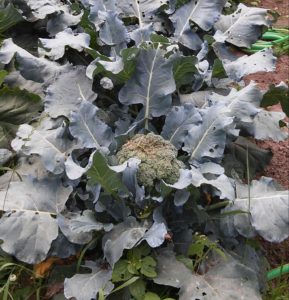 God bless you! Enjoy this recipe especially for fresh broccoli casserole!
Broccoli Casserole
3 cups Rice Krispies, browned in 1 stick margarine or butter
1½ cup fresh lima beans
2 cups fresh broccoli
1 cup water chestnuts
1 cup sour cream
1 package dry onion soup
1 10.5 ounce can cream of mushroom soup
Brown Rice Krispies over low heat in butter. Set aside. Place lima beans, broccoli, and water chestnuts in 2 quart baking dish. Pour sour cream and mushroom soup over ingredients. Cover with dry onion soup mix and Rice Krispies. Bake 45 minutes at 350 degrees.
Lovina Eicher is an Old Order Amish writer, cook, wife and mother of eight. She is the co-author of three cookbooks; her new cookbook, The Essential Amish Kitchen, is available from 800-245-7894. Readers can write to Eicher at PO Box 1689, South Holland, IL 60473 (please include a self-addressed stamped envelope for a reply) or at LovinasAmishKitchen@MennoMedia.org.