It is Sunday evening around 9 p.m. All is quieting down here at the Eicher homestead. Tomorrow looks like a busy day and this column needs to be in the mail.
Son Joseph, 12, had surgery on Thursday to have his tonsils and adenoids removed. We arrived home by 4 p.m. and were thankful all went well. That night Joseph seemed very restless and wasn't able to sleep for very long. Joe and I were up with him a lot trying to make him comfortable. Around 1 a.m. Joseph said that he felt like he had to throw up. Everything he threw up looked like blood, and there was a lot of it. I called the local emergency room and talked to a doctor, wondering what we should do. The doctor said to wait and see if he did it again, and that if he didn't all should be fine. Around 5 a.m. daughters Elizabeth and Susan were getting ready for work and I was packing son Benjamin's lunch. Joseph started throwing up blood again, so we called a friend to take us to the hospital. I was so glad Joe didn't have to work and was home to go with me. While Joe was helping Joseph out to the van, Joseph passed out. That scared us even more.
The doctors checked him out and took some tests. He had a big blood clot on the incision and was badly dehydrated. They decided to transfer him to a bigger hospital an hour away by ambulance. Surgery was scheduled for as soon as we arrived.
How thankful we were, after waiting and not knowing what to expect, when the doctor came to tell us that the surgery went well and they were able to remove the blood clot and repair the incision. He lost quite a bit of blood but they thought he would be fine without giving him some blood. They kept him on an IV to get some fluids in him.
We were so happy that we could bring Joseph home again the same day. He felt a lot better that evening but I had to give him his medication around the clock. He slept lots better that evening but was still very weak.
Saturday morning we had an easy breakfast as my friend Ruth brought a blueberry French toast casserole ready for the oven. What a treat!
Timothy (Elizabeth's friend) is in the process of having a pole barn put up on his property.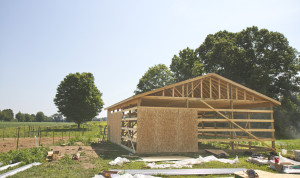 He is doing all the labor with the help of family and friends. Saturday he had quite a few that came to help.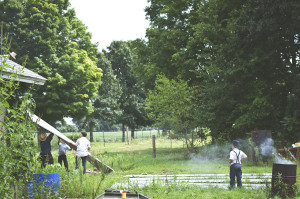 The rafters and roof, along with the plywood around the outside walls, were all put on. The men and boys accomplished a lot in a short time.
Some of the women came along and some sent food with their men. By the time all the food was on the table, there was more than plenty.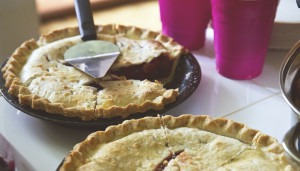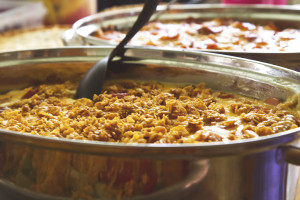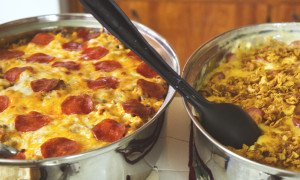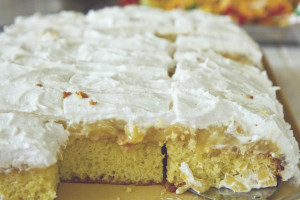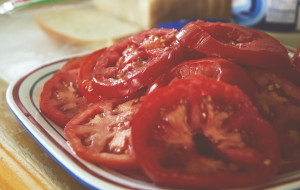 Joseph was able to come for a while. He isn't allowed to ride in the buggy yet but Ruth brought him with her car and took him back home later. He was glad to be able to come see what's going on, and said he wished he could be hammering on nails with all the other boys.
Trials like Joseph's scare us but there is a God we can turn to for comfort. I often wonder how we would survive without His guiding hand.
May God bless each of you! I will share Ruth's recipe for blueberry French toast casserole. I am usually not a blueberry fan but I did like this.
Blueberry French Toast Casserole
12 slices day-old bread (cut into 1-inch cubes)
1 8-oz package cream cheese
12 eggs (beaten)
2 cups fresh blueberries
2 cups milk
1 teaspoon vanilla
½ cup maple syrup
Sauce:
1 cup white sugar
2 tablespoons cornstarch
1 cup water
1 cup fresh blueberries
1 tablespoon butter
Lightly grease a 9×13 baking dish. Arrange half the bread cubes in the dish and top with cream cheese cubes. Top with blueberries and remaining bread. In a large bowl, mix egg, milk, vanilla and syrup. Pour over the bread cubes. Cover and refrigerate overnight.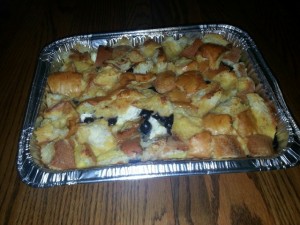 The next morning, remove from refrigerator 30 minutes before baking and preheat oven to 350°. Bake covered for 30 minutes, then bake uncovered for another 25-30 minutes or until center is firm and lightly browned.
In a saucepan, mix sugar, cornstarch and water. Bring to a boil, stirring constantly, and cook for 3-4 minutes. Mix in remaining 1 cup blueberries. Reduce heat and simmer 10 minutes until blueberries burst. Stir in the butter and pour over casserole.
Lovina Eicher is an Old Order Amish writer, cook, wife, and mother of eight. Formerly writing as The Amish Cook, Eicher inherited that column from her mother, Elizabeth Coblentz, who wrote from 1991 to 2002. Readers can contact Eicher at PO Box 1689, South Holland, IL 60473 (please include a self-addressed stamped envelope for a reply) or at Editor@LovinasAmishKitchen.com.