Life goes on: preparing for a wedding reception without Amos
It's Thursday, April 5. Today is niece Lisa and Matthew's wedding reception in Berne, Indiana. Lisa is brother Amos and Nancy's daughter—the third from youngest out of ten siblings.
Matthew and Lisa joined hands together as one on January 20. They were going to wait to have their reception until it warmed up. Little did they realize Amos would be gone eleven short days later. It must be so hard for Nancy and her children to prepare for this meal without her husband there—my dear brother Amos—to help.
Amos was a hard worker and was always busy with something. At all his other daughter's weddings, Amos would always greet us when we came. This is Amos and Nancy's seventh daughter getting married. He always made us feel like we brightened his day. We question why but we do know God makes no mistakes. Trust in Him. His ways are not our ways!
I had a dream this week and in the dream I was having a good talk once again with Amos. He was so happy in the dream, almost as if telling me, miss me but let me go!
My wish for Matthew and Lisa is to have a happy and long married life together with God as their guide. Matthew and Lisa have been living with Nancy since their marriage which I'm sure has been a comfort to Nancy since the sudden loss of her husband.
Daughter Verena is table waiter at the reception today and I will be cook. Verena will do the best she can with still wearing the Aircast boot on her foot.
Tuesday morning I cut out Verena and my dresses, capes, and aprons for the reception today, Friday. Verena has to wear dark blue and white. I will wear black and white. The girls made the meals so I could keep sewing. I managed to get both suits sewed. I actually surprised myself that I finished.
As I sewed, my mind often went to the dream I had of Amos the night before. Life goes on and we never know who is next to leave us. What's important is to be ready when our time comes. With Easter Sunday just this past week, we were again reminded how Jesus Christ sacrificed for us.
On Good Friday we had a nice time with family at daughter Elizabeth and Timothy's house. The afternoon was spent visiting and a few of us played Phase 10. The men and boys all went for a walk in the woods and back by the river that runs behind their property. It was a nice day. We went outside with granddaughter Abigail for awhile. We also enjoyed baby Jennifer until Mose and Susan left to go to his parents' place for supper.
On Sunday evening we made supper here for all of our family, sister Emma and Jacob and family, and my sisters Verena and Susan.
On the menu were grilled pork steaks, potatoes and mushrooms (also on the grill), deviled eggs, homemade horseradish cheese, cheeseball and crackers, and desserts. The desserts were all brought in by everyone which ended-up all being puddings—cinnamon pudding, dirt pudding, and peanut butter pudding.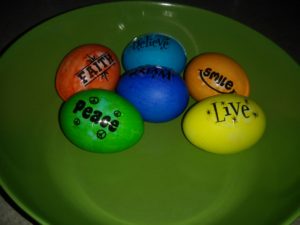 Yesterday, daughters Elizabeth and Susan and their little girls came home for the day. It was blowing snow, and quite cold once again. Spring does not want to be here. Joe said our rhubarb is peeping through. Also some flowers so we hope warm weather will soon be here to stay.
We leave at 11:30 a.m. today for Berne. Cooks and table waiters have to be at Amos and Nancy's house by 2:00 p.m. to prepare supper for 5:30 p.m.
Son Kevin, 12, is enjoying this week at home on spring break from school. The Yorkies are happy to have him here all day!
God bless you all!
Deviled Eggs
1 dozen eggs, hard boiled
2 1/2 tablespoons sugar
5 tablespoons Miracle Whip
3/4 teaspoon vinegar
1/8 teaspoon salt
pepper
2 teaspoons mustard
paprika
Boil eggs and cool.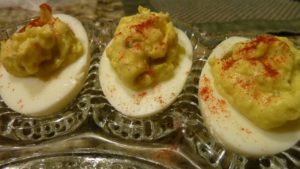 Peel eggs and and slice them in half lengthwise. Remove yolks; in separate bowl, mash yolks with fork. Add Miracle Whip, sugar, vinegar, salt, pepper, and mustard. Stir until smooth. Fill egg halves. Sprinkle with paprika as desired.
Lovina's Amish Kitchen is written by Lovina Eicher, Old Order Amish writer, cook, wife and mother of eight. She is the co-author of three cookbooks; her newest cookbook, The Essential Amish Cookbook, is available from 800-245-7894. Readers can write to Eicher at PO Box 1689, South Holland, IL 60473 (please include a self-addressed stamped envelope for a reply) or at LovinasAmishKitchen@MennoMedia.org.