School doors closed for the day. We are having frigid temperatures with a bitter cold wind. The wind chill is minus 30 this morning and the temperature minus 8. Brrrr! But we are enjoying winter scenery. The ground is covered with snow.
My husband Joe and daughters Elizabeth and Susan are back working at the RV factories after a two-week break. Their holiday vacation went way too fast. Joe has been at this factory ten years now.
Jacob, sister Emma and family, sisters Verena and Susan, and the girls' special friends Timothy, Mose, Marvin, Menno, and Manuel were all here for a breakfast brunch on New Year's Day. We added an eight-foot table and a card table to our ten-foot dining room table to make room for 24 people to sit down. We had a breakfast haystack.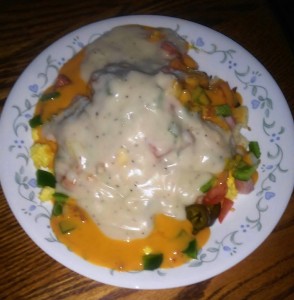 For a breakfast haystack you put a variety of foods on top of each other such as: scrambled eggs, diced ham, diced Smokies, crumbled bacon, crumbled biscuits, hash brown potatoes, diced tomatoes, diced green peppers, diced onions, hot peppers, salsa, cheese sauce, and sausage gravy.
After the brunch we exchanged gifts. We had traded names earlier. It's always exciting to see what all everyone gets and who had each other's name. Jacob and Emma's son Benjamin had my name. He gave me three Pyrex bowls, two memory foam pillows, and cookie cutters.
In the afternoon Mose's parents and some of his family came by to pick up Mose and daughter Susan. They headed to Iowa to visit Mose's sister Marilyn for a few days.
Friday evening daughter Verena left to travel the couple hours to Marvin's place. They attended a family gathering on Saturday.
Daughter Elizabeth and Timothy left Friday evening to attend a dinner that Timothy's employer was having for all his employees. The house seemed empty with the three oldest not at home.
Saturday afternoon Timothy came over to help Joe and the boys dress one of the beef cows we raised. They think the beef weighed around 1,400 pounds. How thankful we are that we will have hamburger and beef chunks again.
Joe also smoked some venison trail bologna in the smoker. We made quite a few pounds of venison jerky and some venison breakfast sausage. This was all from the deer that Timothy and Mose gave to us.
On Tuesday, January 6, Joe and all the children were home in honor of Epiphany. Timothy and Mose came for dinner and we had a nice family day together.
This week we are working on cutting up the beef. I will write more about that next week.
God bless you all! Stay warm and healthy during this cold weather. Try this recipe for barbecued meatballs. Enjoy!
Barbecued Meatballs
3 pounds ground beef
1 and 3/4 cups milk
2 cups oatmeal
2 eggs
1 cup chopped onions
2 teaspoons salt
1/2 teaspoon pepper
1/2 teaspoon garlic powder
2 teaspoons chili powder
Mix and shape into balls. Put in a pan, only one layer per pan. Put the sauce on top. Cover and bake for 1 hour at 350 degrees.
Sauce:
2 cups ketchup
1 cup brown sugar
2 tablespoons liquid smoke
1/2 teaspoon garlic powder
Lovina Eicher is an Old Order Amish writer, cook, wife and mother of eight. Formerly writing as The Amish Cook, Eicher inherited that column from her mother, Elizabeth Coblentz, who wrote from 1991 to 2002. Readers can contact Eicher at PO Box 1689, South Holland, IL 60473 (please include a self-addressed stamped envelope for a reply) or at LovinasAmishKitchen@MennoMedia.org.