It's another cold January day. The temperature is finally one degree above the zero mark. The sun is shining though, which gives everything a brighter look!
We are glad for all the sun we get in the winter months. The solar freezer we have depends on the sun to keep running. We are still glad we invested in it. We have not had to spend a penny on it since we bought it a few years ago.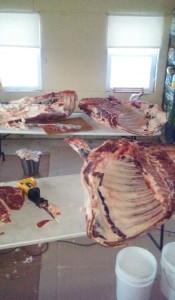 Our freezers and canning jars are filling up fast with meat. We butchered a beef last week. I gave my husband Joe a meat grinder for his birthday in December. It has sure come in handy. The children gave Joe a hamburger patty and jerky maker for Christmas that attaches to the grinder. Joe made the jerky with it and now has made hundreds of hamburger patties with it. He is very happy for all of it. We put the patties in the freezer with freezer sheets between them. It is so handy to just pull them apart and put them right in the frying pan or on the grill.
We also canned a lot of beef chunks. I cooked the meat off the bones and want to make vegetable soup to can with the meat and broth.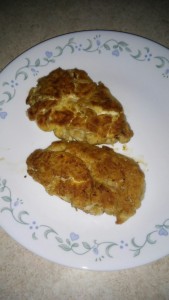 Joe and some of the children like to eat the cow brains. I have never tasted them! I fried the brains for them Sunday morning. Joe likes it with eggs and fried potatoes.
Our highlight of butchering is that we can make "rare beef." We take very thin sliced pieces of the most tender steaks. Then we put salt and lots of black pepper on both sides of each piece and fry in very hot lard or oil. You only put it in for a few turns, then flip it over for a few more turns and it's done. This is a favorite meat for us around beef butchering time. Everyone usually starts eating as I fry it, as it is best right out of the pan. I remember my mother standing by the Kerosene stove frying it one piece at a time. Now I know what she must have thought: it is a relief to be done when everyone has had their fill. It's a greasy job and my propane stove keeps the oil lots hotter than when I had a Kerosene stove to make it on.
How blessed we feel to once again be able to put meat in the freezer and jars. Since we have two freezers, I can a lot less. It is so much easier to package it than to pressure can everything.
Saturday we have plans to butcher the four pigs we raised. They are really big already so they should give us a lot of pork.
Jacob, Emma and family and sisters Verena and Susan and all the special friends plan to come help us. Many hands do make lighter work. We appreciate all the help. I'll write more about it in next week's column.
Our school closed its doors two days last week due to extremely cold temperatures. Everyone is back to school and work this week, leaving all the work to daughter Verne and me again.
God's blessings to all! This week I'll share with you one of our favorite breakfast casseroles.
Sausage Gravy Breakfast Casserole
8 oz. bacon, fried and crumbled
1/2 package Smoky links, chopped
1/3 cup ham, cubed
2 cups shredded potatoes
6-12 eggs (scrambled), quantity depending on how many you are serving
1/4 cup green peppers, diced
1/4 cup onions, diced
1 cups Colby cheese, shredded
2 quarts sausage gravy
Mix everything together except gravy (see below). Spread in a greased 9 x 11 inch pan or larger. Spread gravy over everything. Bake at 350 degrees for 40- 45 minutes or until thoroughly heated.
Sausage Gravy
1 pound bulk sausage
1/4 cup flour
4 cups milk
Salt and black pepper
In a cast-iron skillet, brown sausage over medium heat. Drain off grease. Sprinkle in flour and brown lightly. Gradually add milk and mix until very smooth. Bring gravy to a boil, stirring frequently. Reduce heat and cook until the desired thickness is reached. If gravy becomes too thick, additional milk may be added. Season with salt and pepper to taste.
Lovina Eicher is an Old Order Amish writer, cook, wife and mother of eight. Formerly writing as The Amish Cook, Eicher inherited that column from her mother, Elizabeth Coblentz, who wrote from 1991 to 2002. Readers can contact Eicher at PO Box 1689, South Holland, IL 60473 (please include a self-addressed stamped envelope for a reply) or at LovinasAmishKitchen@MennoMedia.org.