We are having all kinds of garden goodies lately. It makes meal planning so much easier. Our first batch of sweet corn is ready. We've also been enjoying tomatoes, green beans, buttered red beets, zucchini, cucumbers and hot peppers. The peas are now over for the season.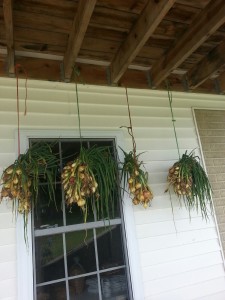 The boys pulled all the onions from the garden and we tied them in bunches to hang under the porch to dry. Before it gets too cold we will move them to the basement. I hardly ever have to buy onions from year to year if I plant enough to store for the winter. We also like to plant enough potatoes but this year they didn't do so well. I'm surprised if we will have enough for storage. There is a potato field close by, where we can go pick up potatoes after the picker goes through. They miss a lot and it's easy to get plenty from the ground.
This Thursday we plan to travel to Berne, Indiana, to attend niece Marlene and Chris Troyer's wedding. Daughter Elizabeth has almost completed sewing her periwinkle-colored dress for this occasion. Elizabeth and her friend Timothy will be table waiters and I'll help cook. More on that next week.
Congratulations go to niece Elizabeth and Sam as they announced their wedding plans for September. This would be sister Liz's oldest daughter and the first wedding to prepare for. Liz has a wedding wagon she rents out to people so she should be well prepared with all the tables, stoves and dishes that she will need for the wedding.
For my own wedding my mother had to borrow stoves, pots and pans, and some dishes—as wedding wagons were unheard of then. It was a lot of work to gather these things and then make sure everything was delivered back to its owner.
We are enjoying making banana poppers on the grill lately since our banana peppers are big enough to stuff with cream cheese and shredded Colby cheese. We then wrap bacon around the peppers and grill them. We make a few with jalapeños for Joe and me but the children prefer the banana peppers as they aren't quite as hot. It seems like the banana peppers can't grow fast enough to keep up with making the poppers.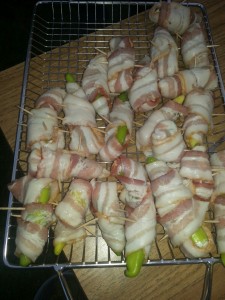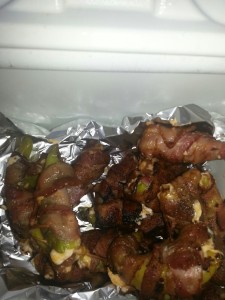 Son Kevin, 8, loves to husk the corn for me when we have sweet corn. I thought it was funny when he asked where he should put the wrappers when he takes them off. He was talking about the husk.
Son Joseph, 12, had four of his school buddies here for the night on his birthday, July 24. They slept out in a tent in our backyard. I think they told each other so many scary stories that they were a little scared to go to sleep. They came in and told me they saw eyes in the barn. After investigating, it happened to be our dog Rover. At 5:30 a.m. they all moved up to the boys' bedroom as they said it was getting really cold sleeping in the tent. We had 54 degrees that morning, unusually cool weather for July.
Joseph wanted cupcakes instead of cake for his birthday. Daughter Verena, 16, baked chocolate and white cupcakes for him. She topped them with vanilla pudding frosting.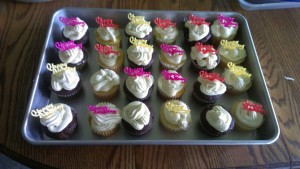 I want to thank all of you readers that have taken time to encourage me to keep writing. Life brings us disappointments in various ways. Being honest in all things and letting God be our guide is such great advice.
Until next week, God bless.
Green Bean-Egg Casserole
1 quart green beans
1 medium onion
2 tablespoons butter
6 hard-boiled eggs
1 can cream of mushroom soup
1 cup bread crumbs
1 tablespoon butter
½ cup cheese, grated
Cook green beans until tender (or use canned beans). Chop onion and sauté in 2 tablespoons butter. Slice or dice eggs and mix with the beans. Pour beans, eggs, and onions in 1½ quart casserole dish. Pour mushroom soup over all. Toast bread crumbs in 1 tablespoon butter. Sprinkle casserole with cheese and toasted bread crumbs. Bake 40 minutes at 350°.
Lovina Eicher is an Old Order Amish writer, cook, wife, and mother of eight. Formerly writing as The Amish Cook, Eicher inherited that column from her mother, Elizabeth Coblentz, who wrote from 1991 to 2002. Readers can contact Eicher at PO Box 1689, South Holland, IL 60473 or at Editor@LovinasAmishKitchen.com.