Little Abigail gets introduced to the Coblentz family water battles 
It looks dark towards the southeast like a storm could be forming. We sure could use the rain. It's been dry this week. We watered the gardens a few times this week but hoped it would rain tonight. Our soil is sandy so all the rain we had several weeks ago is all dried up. Rivers and lakes are still filled to the banks. Our weather has been in the 90's with high humidity. Michigan has finally decided winter is over.
Tomorrow is 12-year-old son Kevin's last day of school for this term. He will be a seventh grader next year. The school picnic is tomorrow. We plan to attend. Daughters Elizabeth and Susan along with my sweet granddaughters plan to go with us. I'm sure little 20-month-old Abigail will have fun at the playground.
Daughter Lovina, 14, is winding down with her school work. I need to do some more grading and get her report card filled out. She does a wonderful job with her school assignments and books.
Our family did a lot of fishing over the holiday weekend and caught plenty of fish. We had a fish fry over at daughter Susan and Mose's house on Monday evening. Sons-in-law Mose and Timothy and Loretta's special friend Dustin deep fried the fish and made French fries outside in our deep fryer, run by propane. It was a nice but hot evening to sit outside and eat.
Sunday night our family gathered here and stayed all night. The men made campfire stew in the kettle over the open fire and grilled hamburgers. We ate outside under a screened-in canopy. It helped the mosquitoes and bugs stay off the little ones and was nicer even for the adults.
Since the grass was the floor our daughters decided to play a game where we had to take a swallow of water and hold it in our mouth. One person would say a joke or something funny. The first person to spit out their water had to take the place of the person saying the jokes. I tried it but thought it was much more fun to sit back and watch.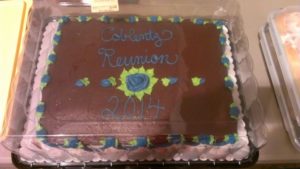 The children also had a water battle and even little Abigail was throwing water. After it was over Abigail didn't realize it's time to quit and caught a few of us by surprise when she dumped a cup of water on us. It was cute to hear her giggle when we jumped. I told daughter Elizabeth she must be a typical Coblentz. Our Coblentz reunions always end up with a water battle. I remember Uncle Menno as one of the first to throw water. We had many fun times on hot days at the reunion throwing water until everyone was cooled off from all the heat.
It is pretty quiet around here right now. Daughters Verena and Lovina are at Susan and Mose's house for supper. Nephew Henry and Mose went fishing with the boat to the lake nearby. Son Benjamin, 18, had a dentist appointment tonight. Joseph had a dentist appointment today and is outside doing evening chores. Kevin is also helping him.
My husband Joe is showering and I'm writing by the kitchen table taking advantage of the peace and quiet. Daughter Loretta went to town with Benjamin. I haven't decided what we will make for supper. It seems no one is hungry until after it cools off outside.
I will share a new asparagus recipe with everyone. Our asparagus is coming to an end for the season. We are enjoying lettuce, radishes, and onions from our garden. Both our gardens are now all planted. I still have a few things I need to plant. I'll find room to squeeze them in somewhere.
I finally got to answering some reader mail this afternoon. Thanks for your patience. I always appreciate the kind words of encouragement. God bless!
Hot Asparagus Bits
20 slices white bread
3 ounces blue cheese
8 ounces cream cheese
1 egg
1/2 pound butter, melted
20 spears fresh or frozen asparagus, cooked and drained
Trim crusts from bread and flatten slices slightly with rolling pin. Thoroughly blend cheeses and egg. Spread cheese mixture over each bread slice. Roll an asparagus spear inside each slice and fasten with a toothpick. Dip each roll in melted butter. Place on a baking sheet and freeze. When firm slice each roll into three pieces. Place on a baking sheet and bake at 400 degrees for 25 minutes or until lightly browned.
Editor's Note: If you are in the southern Michigan/northern Indiana area, head to a booksigning with Lovina and several family members, at Colon Township Library, Colon, Mich. on June 12 from 6 – 7 p.m. Address for the library: 128 S Blackstone Ave, Colon, MI
Lovina's Amish Kitchen is written by Lovina Eicher, Old Order Amish writer, cook, wife and mother of eight. She is the co-author of three cookbooks; her newest cookbook, The Essential Amish Cookbook, is available from 800-245-7894. Readers can write to Eicher at PO Box 1689, South Holland, IL 60473 (please include a self-addressed stamped envelope for a reply) or at LovinasAmishKitchen@MennoMedia.org.