The lowdown on the services of a wedding wagon
November is bringing cold rainy weather. Leaves are all over our front yard from all the big trees there. The beauty of the season is upon us!
Congratulations to niece Emma and Menno! They set December 7 for their wedding date where they will exchange vows in holy matrimony. Wedding services will be held in their neighbor's pole barn, close by parents Jacob and Emma; the wedding meals and reception will then be at the home of Jacob and Emma. This wedding will make a change for Jacob and Emma's family with the first of their children leaving home. Menno owns a home not too far from Jacob and Emma so they have a house to move in to.
This announcement has put a lot more on our agenda. Our family all has a part in the wedding one way or another. That means lots of new clothes and lots of time at the sewing machine. I already have daughter Verena and Loretta's dresses, capes, and aprons cut out and plan to start sewing those today. I need to get more material this week yet so I can cut out more outfits. Daughter Verena is done helping the family from our church so she can now help with the sewing. Emma has chosen the color aqua for the tablewaiters and turquoise for the cooks. Daughters Elizabeth and Susan also need to sew for themselves and their little girls. It will be a busy month!
Saturday our family will go help Jacob and Emma get ready for the upcoming wedding. Many hands make lighter work. At least at this time of the year there will be no grass to mow and no garden to take care of and of course no flies.
I was asked to be one of the head cooks so I will need to be there most of the wedding week preparing the jobs for all the other cooks. For now we will concentrate mostly on getting our sewing done so we can help over at Jacob and Emma's house more often as the wedding draws near.
Jacob's have a nice big pole barn that is insulated and that will be where all the tables will be set. A wedding wagon will be rented in which to do most of the cooking. Chicken will be on the menu and that will be grilled outside. We can not order the weather but I do hope they have a nice sunny day and not too cold. Jacob's also have a big entrance/garage attached to their house so there will be plenty of heated space for guests to visit in.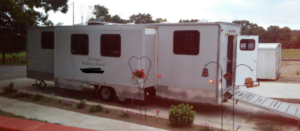 For those of you who don't know what a wedding wagon is: it is like an RV with a ramp added on, with six or seven propane gas stoves and ovens in it. There are also several sinks with hot and cold running water. Dishes, cookware, and everything you need for the food part of an Amish wedding come with the rental package. There are also tables and a refrigeration unit.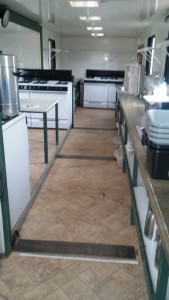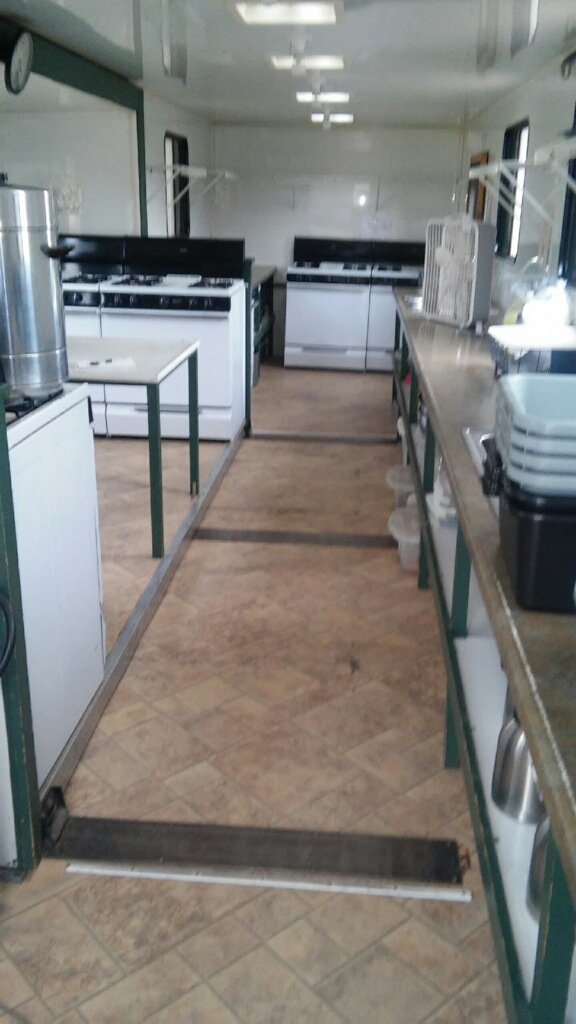 This makes it so much easier now than how it was when Joe and I were married in 1993. We had to gather extra kerosene stoves from neighbors and families and set them all up in our wash house/buggy shed building. Mom had to get out all her dishes, glasses, cookware and borrow from others if she didn't have enough of something. Then after the wedding, all of this had to be delivered back to everyone. Now, afterwards, we can just have people help pack up all the dishes, tables, etc. into the wedding wagon. Usually the church's benches (which come in a separate wagon) are used for seating guests for the service.
Tomorrow some of our children and I will travel to Ann Arbor to the children's hospital for their annual muscular dystrophy checkup. Its usually a long day with all the testing, and driving over two hours each way.
Now I must get started with my work. I want to thank everyone for their support and encouragement! I wish all of you a good week and may God bless you always! Here's a recipe shared by a reader.
Sour Cream Apple Pie
2 eggs
1 cup sour cream
1 cup sugar
6 tablespoons all-purpose flour, divided
1 teaspoon vanilla extract
1/4 teaspoon salt
3 cups chopped peeled baking apples
1 unbaked 9-inch pie shell
1/4 cup packed brown sugar
3 tablespoons cold butter or margarine
In a large bowl beat the eggs. Add sour cream. Stir in sugar, 2 tablespoons flour, vanilla and salt; mix well. Stir in apples. Pour into pie shell. Bake at 375 degrees for 15 minutes. Meanwhile combine brown sugar and remaining flour; cut in butter until mixture is crumbly. Sprinkle over top of pie. Return to oven for 20-25 minutes or until filling is set. Cool completely on a wire rack. Serve or cover and refrigerate. Yield: 8 servings.
Lovina's Amish Kitchen is written by Lovina Eicher, Old Order Amish writer, cook, wife and mother of eight. She is the co-author of three cookbooks; her newest cookbook, The Essential Amish Cookbook, is available from 800-245-7894. Readers can write to Eicher at PO Box 1689, South Holland, IL 60473 (please include a self-addressed stamped envelope for a reply) or at LovinasAmishKitchen@MennoMedia.org.