Autumn's "slow time" a reminder that Lovina has been writing column for 15 years
We are finally seeing the sun shine after a dreary, rainy week. Why does life always seem better when the sun is shining? With our water system, freezers and other appliances working off solar power, the battery gets low when there isn't much sun. When that happens, we have to use a generator to charge the big battery. We are always glad when the sun shines at least for a day to charge up the battery.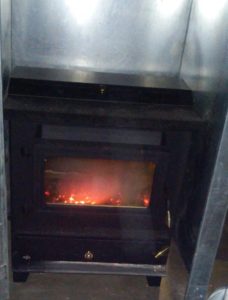 Last night daughter Loretta was excited to shoot another deer. This was a buck, and a nice-sized one. I wrote in my last letter that she uses a compound bow, but it's actually a crossbow, not a compound bow. (I'm pretty sure other writers can relate that sometimes you mean one thing and write another!) And with me not being a hunter, I get the bows mixed up once in a while.
Loretta, Justin and Mose did not have to go far to find this deer, as Loretta had made a pretty accurate shot. Dustin dressed the deer last night for Loretta. The meat from the doe she shot last week is coming in handy. Dustin fixed the steaks on the grill, and the venison burger is getting bagged for the freezer. Son Kevin wants sloppy joe sandwiches made with the venison burger. He thinks venison makes the best sloppy joes.
We were helping over at Mose and Susan's house on Saturday. There were still a lot of things in there from the former owners. They are going to remodel some of the rooms before they move in. That should make it heat better.
Some readers have asked what kinds of wedding gifts are received at Amish weddings. A variety of gifts are given, such as: household items, kitchen items, tools, towels, blankets, Tupperware bowls, garden tools, utensils, food choppers, clothes racks, pressure cookers and canning jars. A lot of people give money. The amount spent depends on how closely related you are to the couple. Parents and siblings and close friends usually give bigger gifts than the rest. I hope this helps answer questions.
Daughter Verena went to a practice session for the upcoming Bethlehem Inn play that will be held at the community youth center. They will act out the birth of baby Jesus. When Joseph and Mary come to the inn and are refused a place to stay, a meal will be served to the guests. We want to get tickets to go to this event.
I am now finishing this column the following morning. What a pretty sunrise in the east. Looks promising for another nice day. Daughter Elizabeth and Abigail will come to spend the day here. I want to make a breakfast casserole and put it in the oven so it's ready when they get here. Abigail doesn't like to be covered up in the buggy and always has cold little cheeks when she comes. She thinks she needs to help Elizabeth drive their horse, ShiAnn. She is always slapping the driving lines and saying, "Giddyap."
Son Kevin, 12, left on the bus for another school day. With the time change—we call it changing back to "slow time"—there's more daylight now when he leaves. It seems like we are going to bed earlier with the time change. It gets dark earlier, so I think we eat supper earlier even though it seems later. The deer hunters liked the fast time better, as they had another hour of daylight in the evenings. Joe is a morning person, so he likes the early daylight in the mornings. I really don't mind either time, but I wish it would just stay to one! I don't like the changing back and forth. Some of our clocks don't ever get changed back sometimes.
This October it has been 15 years that I started penning this column. Mother wrote for 11 years before me. On September 17, it was 15 years since she passed away so suddenly. We still miss her so much. But God makes no mistakes.
God's blessings to you!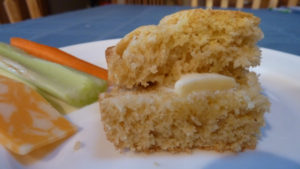 Cornbread
1 1/2 cup cornmeal
1 1/2 cup flour
1 teaspoon salt
4 teaspoons baking powder
1/3 cup sugar
2 eggs, beaten
1 1/4 cup milk
1/4 cup vegetable oil
Mix dry ingredients. Add liquids. Stir just until moistened. Do not overmix. Pour into a greased 9 x 13-inch baking dish. Bake at 425 degrees for 25 minutes.
Lovina Eicher is an Old Order Amish writer, cook, wife and mother of eight. Formerly writing as The Amish Cook, Eicher inherited that column from her mother, Elizabeth Coblentz, who wrote from 1991 to 2002. Readers can contact Eicher at PO Box 1689, South Holland, IL 60473 (please include a self-addressed stamped envelope for a reply) or at LovinasAmishKitchen@MennoMedia.org.