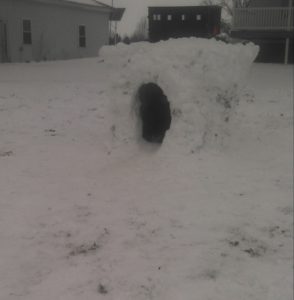 February Brings Snow Drifts, Baptism Services, and Butchering
Editor's note: Due to the death of Lovina's brother Amos Coblentz on Jan. 31, 2018, this week's column is a repeat from Lovina from February 2015.
[February 2015] Greetings from snowy Michigan! We received more than a foot of snow over the weekend. Some had reports of 16-18 inches. It's a pretty sight to look at. The evergreen trees have enough snow on their branches to make such nice scenery. What a wonderful creator our God is! The temperature also dipped down to almost zero degrees. The wind chill was even colder.
With all the snow and wind, the roads weren't opened until Monday. Everyone was home—factories closed and schools all closed in the county. We did the laundry and Joe mixed the summer sausage so we could get it in bags. We hung it in the pole building to cure for a week or two. Then Joe will smoke it in the smoker. The recipe calls for 100 pounds of hamburger and sausage, so we ended up with almost 40 bags of summer sausage. We added cheddar cheese to some of it and also hot pepper cheese to some of it.
Saturday we helped Jacob and Emma with pork butchering. We made Pon Haus (similar to scrapple) out of 21 gallons of pork juice and rendered the lard.
Sunday we visited a neighboring church district to attend baptism services for four young souls. One of the boys is a brother to Mose (Susan's friend). The building was filled to capacity with people. When we left in the morning only a few inches of snow were on the ground. By the time we started home in the afternoon, the roads had nice-sized drifts on them. Our ramp and steps to the house had quite a bit of snow on them. By the time we walked through the drifts of snow to the house, our shoes were all wet.
Our neighbor boy shoveled out our drive on Monday with their skid loader. In the yard we have huge piles of snow, which the younger children enjoy playing on.
Daughter Verena went to the community building on Saturday evening. The youth all gather there on Saturday evenings. A few sets of parents go as chaperones. Verena went home with niece Salome and some friends and spent the night at Salome's house (Joe's sister Loretta and her husband, Henry).
They all came to the baptism church on Sunday that we attended. Verena got to hold little Damaris, Loretta and Henry's new baby. Sounds like she's a real cutie! Salome will be baptized to the confession of faith in a few weeks, so we hope to attend the services in Nappanee, Ind. When children take this serious step, what a blessing it is to parents.
Tomorrow evening daughter Susan will go to her special friend Mose's house in honor of his birthday. Happy birthday, Mose! Mose and Elizabeth's friend, Timothy, have both been such wonderful friends to our daughters. They are always willing to pitch in and help when work needs to be done around here.
My very special friend, Ruth, will also have a birthday on Feb. 9. Happy birthday, Ruth! She has been a great help and encouragement to me to continue with this column. God bless her!
A reader requested a recipe for cashew crunch, which I didn't have. But another reader was kind enough to send one to me. God bless!
Cashew Crunch
1 pound cashews, coarsely ground
1 5-ounce can chow mein noodles, coarsely ground
2 cups miniature marshmallows
1 16-ounce package chocolate candy coating
Place cashews, noodles, and marshmallows in a large bowl. Melt coating and pour over mixture. Mix well. Pour onto a wax paper lined cookie sheet and spread out. Let cool and break into pieces. Store in an airtight container.
Lovina's Amish Kitchen is written by Lovina Eicher, Old Order Amish writer, cook, wife and mother of eight. She is the co-author of three cookbooks; her newest cookbook, The Essential Amish Cookbook, is available from 800-245-7894. Readers can write to Eicher at PO Box 1689, South Holland, IL 60473 (please include a self-addressed stamped envelope for a reply) or at LovinasAmishKitchen@MennoMedia.org.