It's 6:45 a.m. and daughter Lovina, 14, and son Kevin, 13, just left for school. It's still quite dark outside. Daylight Savings Time lasts until November, so it seems most of the school year it's dark when they leave with the bus.
I think this is my favorite time of the day. After the morning rush of getting everyone off to work and school, I get a little time to read, write or just relax for a bit before starting my day. Right now I'm debating if we should wash laundry today. I'm waiting to see if it will be a nice day for it to dry.
Yesterday daughter Elizabeth, with little Abigail, and daughter Susan, with her Jennifer, came here with Susan's and Mose's horse and buggy. The horse, Rex, is a little hyper when he starts out. So very early in the morning, Mose helped Susan get on her way to Timothy and Elizabeth's house, which is two miles away, before he left for work. When Susan and Jennifer arrived, Timothy was still home to take care of the horse before he left for work. Susan and Jennifer napped there at Timothy and Elizabeth's house until it was daylight, and then they all traveled the six-and-a-half miles to our place.
Grandma was excited, as always, to go out to the buggy and carry both little girls inside! I'm not sure how long it will be until they get too big for me to carry at the same time. But it's so hard to choose which little girl to carry inside, so I always just carry both! Jennifer was sleeping, and when she awoke in my arms she smiled and smiled at me. She is starting to say "Amen" when we get done saying our prayer before we eat. So precious!
I made Egg Dutch for our breakfast, along with toast and cheese. While we were eating, Elizabeth said she hadn't gotten her laundry done yet. I told her we would all go over to her house after breakfast and help her wash her laundry. She was very glad for our help. While we were hanging up the rest of the laundry, Susan and Loretta went over to Susan and Mose's house and took her clothes off the lines. She had it still hanging from the day before, because it rained before it was dry. Elizabeth made soup and sandwiches for our lunch. After lunch Elizabeth, Susan and I brought all the laundry in while Verena and Loretta washed dishes and cleaned up the house. We folded most of the laundry and then we all headed back to our house.
Timothy and Mose had plans to go hunting together, so the girls stayed here for awhile before heading back home. It was a nice day to help each other. And what a sunshiny, warm autumn day, with temperature reaching the upper 80s! I'm sure days like that are numbered this year.
Sons Benjamin, 19, and Joseph, 16, went to help a family from our church district one evening this week. The husband is laid up from a farm accident and can't work for several weeks. His wife is also not allowed to do much, as she is also under a doctor's care. The boys carried a large pile of wood inside for them. We wish both of them health and a complete recovery. They have three small children.
Saturday was also a nice day, so the boys went fishing on the lake with Dustin, Loretta's special friend. They were fishing for pike but didn't have much success. They said it was relaxing, though, so no time was wasted.
Also on Saturday daughter Verena left with Emma and her special friend Menno to visit friends in a community about one-and-a-half hours away. They had supper with one of their friends.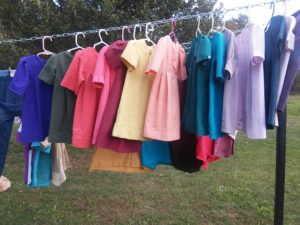 As I was hanging out clothes on the lines at Timothy and Elizabeth's house, it was so peaceful. They have 31 acres and the woods and river are right behind their house. A very lovely and scenic setting. Leaves have a tinge of color so it won't be long before we will see our Master Artist's magnificent scenery.
God's blessings to all!
Pumpkin Pie Bread
3 1/2 cups flour
2 teaspoons baking soda
1 teaspoon baking powder
2 teaspoons cinnamon
1 teaspoon nutmeg
1/2 teaspoon ginger
1 teaspoon salt
2–3 cups sugar (use more or less sugar as desired)
1 cup oil (or applesauce)
4 eggs
1 (15-ounce) can pumpkin
1/2 cup water
Sift together flour, baking soda, baking powder, cinnamon, nutmeg, ginger and salt. In a separate bowl beat together sugar, oil (or applesauce), eggs and pumpkin. To this, add flour mixture alternately with the water. Pour into two large greased loaf pans. Bake at 350 degrees for 60 minutes.
Note: For best flavor, store wrapped in plastic wrap for one day at room temperature before serving.
Lovina's Amish Kitchen is written by Lovina Eicher, Old Order Amish writer, cook, wife and mother of eight. She is the co-author of three cookbooks; her newest cookbook, The Essential Amish Cookbook, is available from 800-245-7894. Readers can write to Eicher at PO Box 1689, South Holland, IL 60473 (please include a self-addressed stamped envelope for a reply) or at LovinasAmishKitchen@MennoMedia.org.