Another week has already gone by, which makes it time to get this column written. The weeks just fly by. I write my columns in one-subject notebooks which have amounted to quite a few in the years of penning this column. This month 12 years ago is when I wrote my first column. I think that was the hardest column for me to write.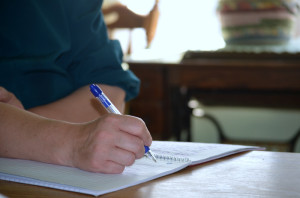 Joseph, 12, was my baby at that time. Elizabeth, 20, was eight and in second grade. Susan, 18, was in kindergarten and six years old. Verena was four, Benjamin three, Loretta, two. I remember how hard it was to write the column and keep an eye on the four preschoolers.
Life still seems busy now but I guess just in different ways. The children get older and each has different plans for the weekend sometimes. Last Saturday, Joseph spent the night at a friend's house in honor of his birthday.
Susan had Mose's sister's two little boys here for part of the day Saturday. Loren is four and Jayden, two. Susan gave them pony rides and kept them entertained. Of course Lovina, 10, and Kevin, 9, were glad to help keep them entertained.
Elizabeth's puppy Izzy was the only one not happy to have them here. She is not used to little children and the boys played too rough for her, so she stayed close by one of the girls.
My husband Joe started the coal stove Saturday, so the house is cozy again. Our coal was delivered for the winter. Joe hooked a [metal] jacket up around the coal stove in the basement to help get more heat up here if we need it. It has a door on the jacket we can open on days we dry laundry in the basement, to keep more heat down there. Verena and I plan to clean the basement today as dust seems to accumulate and things get misplaced. So it's high time for another cleaning.
Saturday we had a killing frost in most places so the gardens are history for 2014.
We have two more wedding invitations on our refrigerator. Rosanne and Solomon will exchange vows on Nov. 7 and their wedding will be in Decatur, Ind. Then on Nov. 20, Edwin and Rosa Mae will exchange their vows in Rochester, Ind. We hope to attend both weddings. Both grooms are Joe's cousin Leander's sons. Joe and Leander had lots of good times growing up together. We wish both couples God's blessings on their marriage and many happy, healthy years together.
This week I will share an omelet recipe I made for our breakfast on Saturday. I hope you will all like it as much as we did.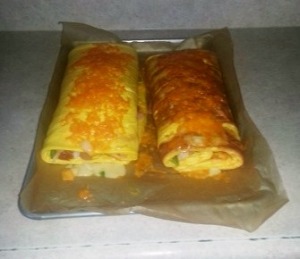 Meat and Cheese Omelet Roll
4 ounces cream cheese (softened)
3/4 cup milk
2 tablespoons flour
1/4 teaspoon salt
12 eggs
1 1/2 cups meat (chopped bacon, sausage, ham, smokies, etc.)
1 1/2 cups cheddar cheese
1/4 cup onions
1/4 cup green peppers, chopped
2 tablespoons mustard
Preheat oven to 375 degrees. In a bowl, combine cream cheese and milk. Whisk until smooth, then add flour and salt. In another bowl, beat eggs and then add cream cheese mixture. Cut wax or parchment paper to fit jelly roll pan. Pour into jelly roll pan. Bake 30-35 minutes or until puffy and golden. While that is baking, chop meat, vegetables and shred the cheese. When omelet is done, remove from oven and spread with mustard, then layer meat, onions, pepper and cheese. Roll into jelly roll fashion, removing the paper from the omelet as you roll. Serve with salsa or cheese sauce.
Lovina Eicher is an Old Order Amish writer, cook, wife and mother of eight. Formerly writing as The Amish Cook, Eicher inherited that column from her mother, Elizabeth Coblentz, who wrote from 1991 to 2002. Readers can contact Eicher at PO Box 1689, South Holland, IL 60473 (please include a self-addressed stamped envelope for a reply) or at LovinasAmishKitchen@MennoMedia.org.