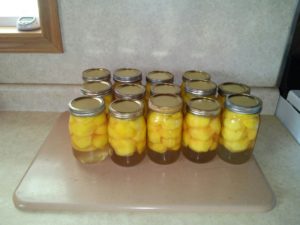 Summer's waning days bring bucketloads of tomatoes and family hog roast
It's Wednesday evening around 7:00 p.m. Supper dishes are washed and put away. Everyone is cleaned up and relaxing before bedtime. The boys were outside tossing the football to each other while the girls washed the dishes.
Today daughters Elizabeth and Susan along with granddaughters Abigail and Jennifer came to spend the day here. Elizabeth brought along four buckets of tomatoes that Timothy had picked from their garden. They were 5-gallon buckets. They have already canned five batches of salsa from the tomatoes in their garden. I was very glad for the tomatoes. We made 37 quarts of tomato juice with the tomatoes, and I was glad for the help from the girls.
While we were working on the tomatoes, our friends from this community, Sam and Pearl, stopped in with some of their friends from Virginia, who are readers of my column. They stayed for a short visit. I appreciate the encouragement they gave.
While they were here my husband, Joe, came home from his job at the RV factory. While he was visiting with them, little Abigail brought in his new shoes, which had arrived in the mail earlier today. She started untying his shoes and wanted him to put on his new ones. How she understood that the shoes that came in the mail were her grandpa's new shoes I don't know. It was just so cute to see her bending down by his feet, untying his shoes!
On Saturday we were happy that Aunt Caroline Coblentz and cousin David and Karen Coblentz from Lafayette, Indiana, came for a visit. Aunt Caroline will celebrate her 86th birthday on September 3. We wish her a happy birthday with God's blessings always. It was nice visiting with her, even though I was interrupted because I was keeping watch on my pies baking in the oven. The cherry and pecan pies were to take to daughter Susan and Mose's on Sunday.
Aunt Caroline, David and Karen had lunch with my sisters Verena and Susan, and also visited with my sister Emma and family before heading south again. It has been five years ago since Uncle Andy (my Dad's brother) passed away. I imagine Aunt Caroline has many lonely days, but David and Karen take real good care of her.
After they left last Saturday, the girls and I went over to Mose and Susan's to help set up for church. The boys and Joe had left earlier. We helped with all the last-minute preparations, and the benches were set up under the big tent.
Sunday morning the church families gathered at Mose and Susan's place for the services. They had a good lunch, similar to ours a few weeks ago.
A reader asked me recently about our church lunches. All church lunches are mostly the same, except the lunchmeat may be different or some may have cheese instead of cheese spread. Some might serve egg salad with no meat on the side. Always on the menu are bread, peanut butter spread, pickles, red beets, jelly or jam, butter, cookies, coffee and tea. The host can then add extras.
Mose and Susan are glad to have a lot of their cleaning done now. There is still canning to do, since the gardens in this area are slow this year. This coming Saturday will be my family gathering at sister Emma and Jacob's. They are planning to have a hog roast with everyone bringing the side dishes, desserts and snacks.
It will be sad this year, with brother Amos not being there with us. I really hope his wife, Nancy, and family will still come; after all, they are still our family. We can also be comforted by spending time with each other, reminiscing about the precious memories we have of Amos. I still have such a hard time believing he is not with us. May he be resting in the arms of Jesus! God makes no mistakes, so we must accept his will.
I will share a recipe requested by a reader. God bless!
Zucchini Squash Bread
3 eggs
1 cup cooking oil
2 cups sugar
2 cups peeled and grated zucchini
3 teaspoons vanilla extract
3 cups all-purpose flour
1 teaspoon salt
1 teaspoon baking soda
3 teaspoons ground cinnamon
1 teaspoon baking powder
1 cup chopped nuts
In a bowl beat the eggs until foamy; add the oil, sugar, zucchini and vanilla. Mix lightly but well. Add the flour, salt, baking soda, cinnamon and baking powder and mix. Stir in the nuts. Divide the batter into two greased loaf pans. Bake at 325 degrees for one hour or until a toothpick inserted into the center comes out clean.
Lovina's Amish Kitchen is written by Lovina Eicher, Old Order Amish writer, cook, wife and mother of eight. She is the co-author of three cookbooks; her newest cookbook, The Essential Amish Cookbook, is available from 800-245-7894. Readers can write to Eicher at PO Box 1689, South Holland, IL 60473 (please include a self-addressed stamped envelope for a reply) or at LovinasAmishKitchen@MennoMedia.org.