Successful surgery for Verena; toddler Abigail helps "write' column
Daughter Verena's surgery on her foot was a success! She has been having more pain since the numbness wore off but that can be expected from a surgery like this. Verena will probably have her cast on for six to eight weeks according to the doctor that did the surgery.
Dr. Caird does a wonderful job! She did the heel lengthening surgery on Verena's other foot and also did it on both of daughter Loretta's feet. The surgeries were all done at C. S. Mott Children's Hospital in Ann Arbor, Michigan. We arrived home a little before 6:00 p.m. So after several hours on the road Verena was ready to elevate her foot again. The cast comes all the way up to her knee. Elizabeth and Abigail are here today and Abigail is tickling Verena's toes that peek out of her cast. Verena put a compression wrap on Abigail's leg and foot and she held her leg beside Verena's saying she has an "ouchie" too. It didn't last more than a few minutes though until she was done with her bandage.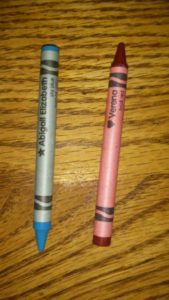 With the surgery yesterday and being gone all day I didn't remember that I needed to write a column. After having breakfast with Elizabeth and Susan and children here I didn't once think of it until all at once it dawned on me that I never wrote a column. So now this is where writing a column gets to be a challenge. Who can resist little Abigail. She was pretending to write too after I gave her a pencil and a little tablet. That didn't last long before she was bored so Grandma here tries to teach her how to color in a coloring book and she's more enthused with the crayons. I am again reminded how short attention spans 17-month-olds have. Daughter Loretta rocked her now and she's sleeping. Baby Jennifer is also taking a nap so Grandma has no excuses to not get on with this column (except joining the girl's conversations).
It is a foggy day here in Michigan. Visibility is not very good. Our school cancelled because of the fog. Kevin will also be home Friday and Monday for their mid-winter break. So I guess they get an extra day. Kevin isn't complaining for the extra day. He wasn't too overjoyed when I told him it would be a good day to clean up his bedroom.
I graded a lot of Lovina's school work and she is ready for a unit test. I made up her schedule for the next few weeks. Home-schooling can get very time consuming and it also renews my brain again.
We had a nice enjoyable lunch with Amy from MennoMedia. It was great putting a face to her name and I'm sure she was glad to do the same. Daughters Elizabeth and Susan were also here so she was able to see my granddaughters.
A Happy Birthday to niece Emma Schwartz (Jacob and Emma's daughter). She turns 20 today (February 15). Another niece, Emma (Coblentz) Wengerd, daughter of brother Albert and Sarah Irene, also celebrated her 21st birthday on February 9.
We had a laugh about Emma and her husband Johnny's birthday surprise parties. Johnny's birthday was February 6 so Emma invited both sides of their families for lunch on Saturday. Johnny wanted to surprise Emma for her birthday and invited both sides of their families for supper on Saturday. So everyone went for lunch, left again and went back for supper. I am sure there were a lot of laughs about this. Happy Birthday to Johnny and Emma!
Jacob (sis Emma) was off work due to having pneumonia. We wish him better health in the future.
Sunday church services were held at daughter Elizabeth and Timothy's house. It was a cold day! Lunch was served consisting of homemade wheat and white bread, cheese spread, peanut butter spread, bologna, pickles, red beets, hot peppers, butter, jam, coffee, tea, chocolate crinkle, sugar and chocolate chip cookies. Popcorn was served while dishes were being washed.
Our thoughts and prayers are often with sister-in-law Nancy and family. It's still so hard to believe my brother Amos has passed on. God has a reason for this but we still question why. That is why we need to put our full trust in Him. Let go and let God!
Pineapple Burgers
2 pounds ground beef
3 tablespoons Italian dressing
1 teaspoon salt
1/4 teaspoon pepper
15-ounce can pineapple slices, drained
8 slices bacon
3/4 cup barbecue sauce
1/4 cup honey
1/4 cup brown sugar firmly packed
1 tablespoon lemon juice
Mix ground beef and Italian dressing salt and pepper. Shape into 8 patties. Press pineapple slice into each patty. Wrap with a slice of bacon and secure with wooden toothpick. Mix remaining ingredients. Place patties in glass 13×9-inch dish. Pour barbecue sauce mix on patties. Cover and refrigerate for 2 hours. Grill patties, pineapple side down, about 10 minutes. Turn and brush with sauce. Grill another 10 minutes. Heat remaining sauce to serve with burgers.
Lovina's Amish Kitchen is written by Lovina Eicher, Old Order Amish writer, cook, wife and mother of eight. She is the co-author of three cookbooks; her newest cookbook, The Essential Amish Cookbook, is available from 800-245-7894. Readers can write to Eicher at PO Box 1689, South Holland, IL 60473 (please include a self-addressed stamped envelope for a reply) or at LovinasAmishKitchen@MennoMedia.org.
NOTES TO EDITORS: text=840 words; end material=61 words
Contact: DorothyH@MennoMedia.org; 540-980-2438