I'm sitting outside here by the grill as daughter Loretta grills hamburgers for our supper. We will also have vegetable soup with the hamburgers. The hamburgers are from our freezer which we packed individually last winter after butchering beef. This pack of hamburgers had cheese added.
Today daughter Elizabeth and Abigail plus daughter Susan and Jennifer spent the day here. We canned almost 40 quarts of vegetable soup and seven quarts of tomato juice. The last round of pressure cookers processing the jars are on the stove.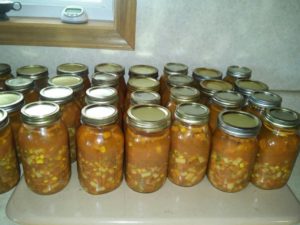 It's a pleasant evening here in southern Michigan. After a few chilly and rainy days we are back to sunshine and warmer temperatures. After a hard day's work it is really relaxing and peaceful to watch the sun sinking lower in the west. What a wonderful world we have by our great creator God! His work is amazing and it seems I feel less tired at night when I know He is there to help us through life's many trials.
Little Abigail never ceases to amaze me with her "grown up" talk. How special it was for me—Grandma—to have Abigail help me pick the tomatoes from the garden this forenoon. She knew when she found a bad one and told me in her sweet little voice that it was bad and to throw it away. When we had picked four buckets of tomatoes she walked to the house to tell the girls Grandma needs help bringing the tomatoes in the house.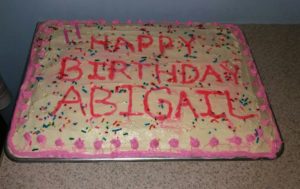 Abigail had her second birthday on September 10 so we went to her house Sunday evening to celebrate. Several other families were there and she enjoyed the attention and all the gifts she received. Elizabeth made her a cake and she blew out the two candles with the help of her daddy Timothy. She blew and blew but couldn't get enough wind to come from her mouth. I think she was just too excited.
While we were in the garden today Abigail said, "Grandma, we need to sing." She started to sing "Old MacDonald Had a Farm." Just so precious! Jennifer is eight months old now and reaches for me, then hugs me really tight. Such blessings for this Grandma!
My husband Joe is back to work this week at the RV factory. They didn't have work last week. After this week they will again reduce to four-day work weeks. It makes it harder at this time of year when we need to buy hay for the winter and coal for heat. We will trust God that he will provide as he thinks best.
While Joe was home he caught up with work that needs to be done around here. The potatoes were dug up. The gardens were cleared all except tomatoes, watermelon, green and hot peppers and cabbage. Joe also helped me with laundry a few times while he was home. He got the button out that was stuck in my Maytag washing machine hose. He had to take off the end of the hose to get it out. (Water still came out of the hose but very slowly. It was a button off of one of the boy's pants and it was stuck in there so the water had to run through the button holes.)
One day last week Joe and I also took the buggy eight miles to town with our horse Midnight. We started out after Lovina and Kevin got on the bus. Joe took me to a restaurant for breakfast before we started shopping. I always enjoy getting out of cooking for once.
Midnight does very well in town with all the traffic. She is so much calmer then her mother Ginger. Ginger is always impatient at stoplights but Midnight stands still well. That means a lot if a horse is traffic-safe in town.
The hamburgers are ready and the bottom of my page is coming up. I sampled the hamburgers and Loretta seasoned them just right. Time to set the table.
God be with you all and bestow His many blessings to you!
Three Bean Salad
1 16-ounce can yellow beans, drained
1 16-ounce can green beans, drained
1 16-ounce can red kidney beans, drained
1/2 jar chopped olives
1 green pepper, diced
1 cup celery, diced
1 onion, diced
Dressing:
1 cup vinegar
1/4 cup oil
1 teaspoon salt
1 1/2 cup sugar
2 or 3 dashes paprika
Mix all the vegetables in a large bowl. Mix dressing ingredients together and pour over vegetables. Marinate for at least 12 hours in refrigerator. The taste is even better the second or third day.
Lovina's Amish Kitchen is written by Lovina Eicher, Old Order Amish writer, cook, wife and mother of eight. She is the co-author of three cookbooks; her newest cookbook, , is available from 800-245-7894. Readers can write to Eicher at PO Box 1689, South Holland, IL 60473 (please include a self-addressed stamped envelope for a reply) or at LovinasAmishKitchen@MennoMedia.org.