Joseph, 13, Lovina, 11, and Kevin, 10, went back to school this week after being off a week for spring break. The weather wasn't anything spring-like! We had several inches of snow and cold weather most of the week.
Our three sons—Benjamin, Joseph, and Kevin—attended hunter's safety classes and field day. It was cold and snowing that Saturday. All three boys came home excited that they passed the safety course. That made all the homework they did on hunting worth all the time and effort they put into it. Kevin was excited that he got to shoot off a shotgun. He had never shot more than a BB gun. Kevin came home telling us all about the rules he learned. I was really surprised that they all passed. This will make me feel better when they go hunting with someone, but accidents can still happen. You can't be careful enough when hunting.
Daughter Verena has been going with my sister Verena on housecleaning jobs the last few weeks. I miss her help here at home. Verena, 18, is glad to earn a little extra cash, as she is saving up to buy a Yorkie puppy. She loves dogs and has always wanted her own puppy. They are expensive, so she is saving every penny.
While the children were on spring break, sisters Verena and Susan brought supper in for us one evening. They brought wings to put on the grill for hot wings and also jalapeño and banana poppers to grill. Along with that we had steamed potatoes, dandelion sour cream salad, and sliced Colby cheese. They brought this as a thank you to the children for doing their chores while they were in Florida earlier this spring.
Daughter Susan, 20, has her evenings busy training her pony, Tough Boy. Son Benjamin is helping her get him started, as he's a little too much for a girl to handle. Tough Boy is giving her a hard time with the training. They are able to hitch him to the pony cruiser now and drive him on the road. This helps wear him down so he's not so rowdy. I really do hope he will turn out to be a good pony for Susan. She has run a lot of miles behind that pony already, teaching him the commands for driving.
My sister Emma, daughters Loretta and Elizabeth and I had a fun day "garage saling" at some Amish houses in a community about a half hour from here. There were around 26 garage sales all within a few county road blocks. We had a lot of fun and got a lot of bargains. I feel like I saved myself weeks of sewing. I bought around 20 pants for the three boys. Some are for Ben to work in, some are for the boys to wear to school and quite a few are good dress pants. I could never have made all these for this price. The pants were anywhere from 50 cents to four dollars apiece. I also was able to get quite a few dresses for the girls.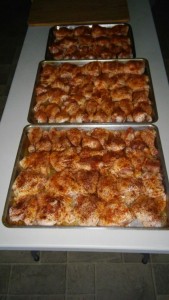 Friday evening our supper guests were Joe's sister Christine, her husband Jake and their nine children from Hersey, Michigan. Our whole family was home as well, so we had a nice time together. Joe grilled 30 pounds of chicken and the girls and I made pizza casserole.
Christine brought the dessert: dirt pudding and chocolate chip cookies. Joe's sister Loretta and Henry were going to come but ended up at home with sick children.
God's blessings! This week I'll share the recipe for maple morning muffins.
Maple Morning Muffins
2 cups flour
1/2 teaspoon salt
2 teaspoons baking powder
1 egg, beaten
1/2 cup sour cream
3/4 cup maple syrup
Combine flour, salt and baking powder. Stir in egg, sour cream and maple syrup. Spoon batter into greased or paper-lined muffin tins, about 2/3 full.
Streusel topping:
1/2 cup flour
2 tablespoons sugar
2 tablespoons butter
Mix together and sprinkle on top of muffin batter.
Bake at 400 degrees 20–25 minutes or until done. Serve warm from the oven with butter. Makes 12 muffins.
Lovina Eicher is an Old Order Amish writer, cook, wife and mother of eight. Formerly writing as The Amish Cook, Eicher inherited that column from her mother, Elizabeth Coblentz, who wrote from 1991 to 2002. Readers can contact Eicher at PO Box 1689, South Holland, IL 60473 (please include a self-addressed stamped envelope for a reply) or at LovinasAmishKitchen@MennoMedia.org.