Our thermometer shows 28 degrees this morning. We were spoiled by the nice, warm, sunny days in the upper 70s. This weather is a challenge for anyone with sensitive plants. We still haven't planted our sweet onions. We're waiting until it dries up, and the temperature gets a little warmer. We have had quite a lot of rain lately. April showers bring May flowers!
Son Benjamin mowed our grass for the first time this year. It looks so lush and green. I love spring and the new growth everywhere.
Saturday, many of us assisted Dustin and Loretta with their work in cleaning. There were Joe and me; sons Benjamin, Joseph, and Kevin; daughter Lovina; Daniel and Grace (Dustin's siblings and also Joseph and Lovina's special friends); and daughter Elizabeth, Tim, and children. The menfolk cleaned up outside and power-washed the pole barn where church services will be hosted. They also mowed, trimmed, tilled, and did whatever Dustin needed to have done around there. The women washed the windows and stoves, did laundry, made lunch, and more.
The lunch menu included ranch potatoes and grilled hamburgers with all the trimmings like lettuce, tomatoes, cheese, and bread. Also, we had cake delight and pumpkin cookies for dessert.
Friday night was family night for our family at Tim and Elizabeth's house. We do this once a month, alternating at each other's house. Susan and Ervin brought a casserole, daughter Verena brought a salad, Loretta and Dustin brought a dessert, I brought snacks, and Tim and Elizabeth had ice cream. It's always enjoyable. We play games after we eat and just catch up with each other. Next month it will be at Ervin and Susan's house.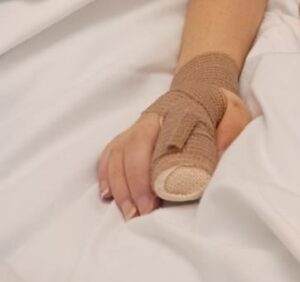 Monday morning, Dustin and Loretta stopped in to leave Denzel here while they went to Kalamazoo for Loretta's appointment. Tim and Elizabeth dropped Allison, three, and Andrea, one, off around the same time. They were also heading to Kalamazoo with Timothy (T.J.), four. He was having surgery again on his finger. The doctors were afraid they would have to take more of the finger off. How thankful we were when they said it was healing okay and actually better than they anticipated. They said he would actually have part of a fingernail. After seven and a half weeks of having a cast the length of his whole arm, he was a pretty happy boy to have only a finger and hand wrap. He'd had four different color casts during all those weeks.
Daughter Verena came here on Sunday afternoon and has been here since. It's been so nice having her home. She helped Lovina and me with the three little ones on Monday. Abigail came off the bus here from school.
While Verena and Lovina rocked the children and put them down for a nap, I washed our laundry. It was chilly while I hung it out on the lines, but the nice breeze made it dry very well.
Yesterday, Verena, Lovina, and I went to Dustin and Loretta's house. Dustin didn't have work because it was raining, and they couldn't work on the construction job. He and Loretta went to town and to the bulk food store to get groceries for church. Denzel stayed home with us. This was the first time Dustin and Loretta shopped for church groceries since they were married in October 2021. I remember well how that used to be a big thing, but after shopping for weddings, it seems like nothing. God's blessings to all!
Ranch Potatoes
6–8 potatoes, peeled and chunked
1/2 cup sour cream
1 cup ranch dressing
1/4 cup cooked, crumbled bacon
2 tablespoons diced parsley
1 cup shredded cheese (plus extra for top)
Cook potatoes in salted water just until tender. Drain and set aside. Combine other ingredients; toss gently with potatoes. Place in greased 9 x 13-inch baking dish. Sprinkle with additional cheese. Bake at 350 degrees for 40 to 45 minutes.
Lovina's Amish Kitchen is written by Lovina Eicher, Old Order Amish writer, cook, wife, and mother of eight. Her newest cookbook, Amish Family Recipes, is available wherever books are sold.  Because Lovina is Old Order Amish, she does not have email or a telephone in her home. Lovina does not respond to comments on this website, if you would like to contact her directly, click here.