Spring will officially be here this week as I write this! Monday was a very beautiful day with the temperature going up in the 60s. We hung all the laundry outside to dry. It was so nice to be able to fold all the clothes and put them away the same day.
Susan's friend Mose tapped all our maple trees for sap and also some of the trees at my sisters Verena and Susan's place. He also tapped a few of neighbor Irene's trees.
The sap is running but not as much as some years. Mose cooked the sap on Saturday and we now have fresh maple syrup. It is surprising how many gallons of sap it takes to get one gallon of maple syrup. A lot of work goes into it all.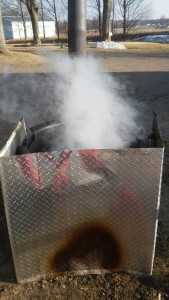 We all love the maple syrup. It tastes so much better on pancakes than pancake syrup. The children like to warm it and put it on vanilla ice cream.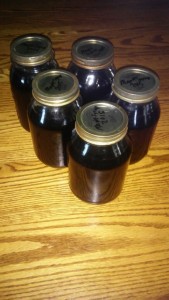 We had a nice day for Alvin and Susanna's wedding last week. The wind was a little chilly but the sun was shining so that helped.
On the menu were mashed potatoes, gravy, baked chicken, dressing, mixed vegetables, lettuce salad, sliced cheese, homemade bread, butter and strawberry jam, angel food cake with a strawberry topping, mixed fruit, and pecan, blueberry and cherry pies. Ice cream was also added for the evening meal. We wish Alvin and Susanna a long, happy married life together with all of God's richest blessings!
We have several more wedding invitations for this spring. Joe's cousin Ben and Elizabeth will exchange vows on April 3 in Rochester, Ind. They both lost their first partners. We wish them a happy, blessed life together!
Also, congratulations to Orlie Wayne and LaVera Ann! They will exchange vows on April 23. Joe and Orlie work at the same RV factory. We appreciate the invitations and hope to be able to attend.
We also received a "Save the Date" and an "invitation-to-follow" card from cousin Jane's daughter Tiffany and her fiancé Samual. They plan to exchange vows on Sept. 5. Congratulations to the couple!
Our thoughts are with niece Suzanne, age 14 (sister Liz and Levi's daughter). She has been in the hospital since Monday. She has asthmatic bronchitis pneumonia and a virus. We hope she will be well enough to go home soon and have a speedy recovery. It's always a worry for the parents when our children are sick. Sounds like she was dehydrated with a high fever and was a very sick girl.
Sunday we had dinner with sisters Verena and Susan. Another beautiful day! The children enjoyed playing outside, biking, and riding the pony. Timothy and Mose also were there and sister Emma, Jacob, and family. Also their daughters' friends, Menno and Manuel. Daughters Verena and Loretta spent the weekend in Indiana with friends so they weren't there.
Joe and the boys took advantage of the nice weather on Saturday and hauled some manure out of the barn. I love spring! It's always nice to see everything start blooming. I am keeping my eye open for those dandelion greens. Rhubarb stems should be peeping through too. This morning we had 23 degrees so we might have a few cold days yet.
A lady from our church shared this recipe with me. I bought the raised doughnut mix and cinnamon doughnut sugar at a bulk food store. I'm not sure if other stores would have it as well. Our children love these and it's easier to make than doughnuts. Enjoy! God Bless!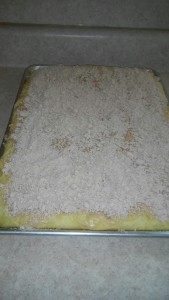 Rise and Roll Bars

2 packages yeast
1 teaspoon sugar
1 3/4 cups warm water
5 1/2 cups raised doughnut mix
1 1/2–2 cups cinnamon doughnut sugar (for topping)
Mix together yeast, sugar and warm water. Then add raised doughnut mix. Let rise 30–45 minutes. Knead and spread in a buttered 10 x 15 cookie sheet and let rise again for 30–45 minutes. Bake at 350° for 15–20 minutes.
Brown Sugar Frosting
1 cup brown sugar
1/2 cup butter
1/4 cup milk
3 cups powdered sugar
Cook together brown sugar and butter for 2–3 minutes. Add milk and bring to a boil. Take off heat and cool to lukewarm. Add powdered sugar. Spread bars with frosting then sprinkle with cinnamon doughnut sugar before the frosting dries.
Lovina Eicher is an Old Order Amish writer, cook, wife and mother of eight. Formerly writing as The Amish Cook, Eicher inherited that column from her mother, Elizabeth Coblentz, who wrote from 1991 to 2002. Readers can contact Eicher at PO Box 1689, South Holland, IL 60473 (please include a self-addressed stamped envelope for a reply) or at LovinasAmishKitchen@MennoMedia.org.