We spent New Year's Day at sister Emma and husband Jacob's house. We are four sisters in this area, and every year we all get together for a gift exchange.
Emma had a haystack brunch. A haystack brunch includes biscuits, bacon, ham, sausage, smokies, potatoes, scrambled eggs, tomatoes, onions, green peppers, hot peppers, salsa, cheese sauce and sausage gravy. The biscuits, meat and vegetables are diced. You pile whatever you want on your plate, so it's just a little bit of everything. It always tastes good—but your "haystack" can get too big before you know it! The table was set for 26.
After breakfast dishes were washed, the girls and I had prepared a big plastic ball with gifts inserted in it, like we had for our Christmas. It was exciting to open the plastic wrap when our turn came. With 25 people around three eight-foot folding tables, it was fun and loud and lively as the ball was unwrapped. There were a few trick gifts in there that were just for laughs.
Then we exchanged our gifts. Daughter Loretta had my name. It was interesting to see who had who. I had my husband Joe's name, but I think he suspected that I did. It's hard to hide something from him! I gave him a zero-gravity chair, which I had had wrapped for awhile. He kept asking whose gift that was, and he wondered why I never told him whose name I had! Everyone had nice gifts to take home, and little Abigail was spoiled with extra gifts from everyone. She enjoyed tearing the wrapping paper off her gifts even though she doesn't understand what a gift exchange is. Son Kevin had her name.
Lots of snacks were set out in the afternoon. With everyone bringing something, it added up. There were venison snack sticks, shrimp and sauce, bean dip, meat roll-ups, veggies and dip, oranges, grapefruits, clementines, cheeseball and crackers and much more. Needless to say, this was everyone's supper as well.
Son-in-law Timothy and Mose decided to go hunting together in the evening, taking Timothy's buggy and horse. Daughter Elizabeth and Abigail went home with daughter Susan and their horse and buggy. The girls decided to stop at a little store, and they tied up the horse, Rex, extra well because he was a little rowdy. Well, the horse somehow got himself loose. The rope was torn or bitten through. He must have backed the buggy up with no problem, and would you believe that horse actually came the three miles to our place!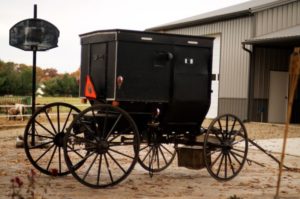 A lady in a truck stopped to let the boys know that no one was in the buggy. Rex turned into our driveway, and son Benjamin ran out in front of him, waving his arms to get the horse to stop. We were all shaken up, not knowing where the girls and Abigail were. Henry and the boys and Verena decided to go to the store my daughters said they were going to stop at. When they got there, Susan had just walked out of the store and discovered the horse and buggy were gone. The rest of us were all shaken up until we knew all was well. God was watching over all of us!
On January 5 Jacob's dad (Joe's uncle) passed away. He was 65 years old. Our sympathy goes to the family. It's hard parting with a loved one, but God makes no mistakes. We left home Saturday morning with Jacob and Emma and stayed in Berne, Indiana, until Monday afternoon after the funeral was over. I am sure Jacob's mother will have many lonely days. May God be her guide in this trial in life and always!
At the viewing of Jacob's father, we met Mr. and Mrs. Roger Muselman, who are the owners of The Berne Witness where my column is printed every week. They also are the owners of Clock Tower Inn in Berne. It was a pleasure to have a short visit with them.
I have had some requests from readers for recipes that I have not been able to find at the moment. The recipes requested are Tomato Jelly and Butter and Hot Lettuce. Would any readers have these recipes? Thanks in advance and your help is greatly appreciated!
I also want to thank readers for the cards and gifts sent to us over the holidays. May God bless you for your kindness.
Daughter Verena, 20, will have surgery on her foot on February 14 in Ann Arbor. She will have a cast on for six weeks and won't be allowed to put any weight on her foot. This will be a hard time for her, so please keep her in your prayers. She was going to be in the spring youth program, but she won't be able to now.
God bless you all!
Banana Cheesecake
Crust:
1 1/2 cup quick oats
1/2 cup brown sugar, packed
1/2 cup pecans, finely chopped
1/3 cup butter, melted
 Filling:
16 ounces cream cheese, softened
1 cup banana, mashed
3/4 cup sugar
2 teaspoons lemon juice
4 eggs
Topping:
1 cup sour cream
2 tablespoons sugar
1 tablespoon vanilla
For the crust, mix crust ingredients and press into a 9-inch springform pan and two inches up the sides. Bake at 350 degrees for 18–20 minutes until golden brown. Cool.
To make filling, beat cream cheese, banana, sugar and lemon juice until smooth. Add eggs one at a time and continue beating. Pour into baked crust. Bake until center is almost set, about 35–45 minutes.
 Stir topping ingredients together. Spread over baked cheesecake and continue baking 10 minutes more. Cool well for several hours.
Lovina's Amish Kitchen is written by Lovina Eicher, Old Order Amish writer, cook, wife and mother of eight. She is the co-author of three cookbooks; her newest cookbook, The Essential Amish Cookbook, is available from 800-245-7894. Readers can write to Eicher at PO Box 1689, South Holland, IL 60473 (please include a self-addressed stamped envelope for a reply) or at LovinasAmishKitchen@MennoMedia.org.