May 24—this date always takes my thoughts back to May 24, 2010. The day started out just like any other day. I was out on the porch watering the flowers while the children waited for the bus. The bus came and I could hear our phone ringing in the pole barn. I decided to finish watering the flowers before going to check if we had a voicemail from anyone. When the phone kept ringing and ringing I decided I had better go answer it. I will never forget how that phone call affected our lives.
I called my neighbor Ann to see if she could take me to sister Emma and Jacob's house right away. We arrived and the first responders were already there trying to revive sweet little eight-and-one-half-month-old Marilyn. She didn't wake up that morning.
I went with Emma to the hospital following the ambulance. Ann stayed with us. Another good friend Irene went to go pick up Jacob which was about a forty-five minute drive where he was working at the time. Ann prayed with Emma and me as we waited. It was too late to save Marilyn. Her death was ruled sudden infant death syndrome. Our hearts and minds questioned why. God doesn't make mistakes and He needed another angel in heaven. Although I was devastated for losing my sweet little niece I could not begin to imagine what my sister was going through. The baby she had breastfed since birth, the bonding, and the joy of the family. With our youngest being almost five it seemed that Marilyn was my baby too.
The doctor said we could hold Marilyn; we wrapped a blanket around her and thought we should see her open her eyes and smile that sweet little smile of hers. Jacob arrived at the hospital. How do you tell someone they lost their child? I offered to go to school and let Jacob and Emma's children know and bring them home. I knew that my children would want to come home too. The children were all so shocked and I tried to brace up for their sake.
It was decided that the viewing would be held at our house and the funeral at the local community building. When I arrived home there were already church and family friends cleaning everywhere. Church services had been set the day before to be held at our house in two weeks.
In my column in September, 2009, I had shared the good and exciting news: "Congratulations to sister Emma and Jacob as they are blessed with another addition to their family. Marilyn Jane was born by C-section this morning. She is a very tiny bundle weighing four pounds ten ounces and is seventeen inches long." Weeks and months passed by and Marilyn never lacked attention.
How well I remember the day before Marilyn's death. We all went to church and when Jacob and Emma arrived at church, our daughter Loretta (age 9 at that time) ran like usual to get baby Marilyn and brought her to me. Marilyn was so happy to see me and gave me a baby hug. That evening Jacob and Emma and family came to our house for a pork chop supper in honor of my birthday (May 22).
My oldest daughter Elizabeth (almost 16 at the time), sister Emma, and I sat in the yard with Marilyn and watched the rest play basketball. As usual, baby Marilyn was passed back and forth. Little did we realize these were our final hours with her.
Seven years have passed and I miss our sweet little angel. My granddaughter Abigail is now the age Marilyn was at that time. She wore Marilyn's dresses when she was younger but is bigger than Marilyn was at this age, so she has outgrown them.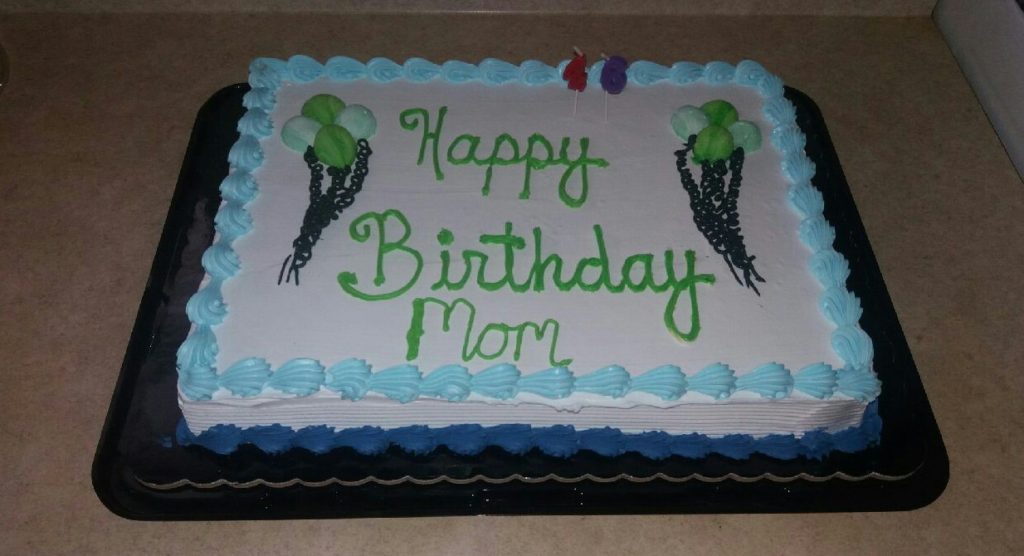 My sisters Verena and Susan, and our married children brought supper in for my forty-sixth birthday which was Monday, May 22. After eating, we all went on a hayride. It was so enjoyable sitting on the bales of hay and being all together with my family. It was a bit chilly so we wrapped little Abigail up warm. We stopped in to say "hi" to Jacob, Emma, and family while on the hayride.
A big thank you to all who offered good wishes for my birthday. I also want to thank the many readers who showed up at the book signings in Goshen, Ind. at Better World Books, and at Barnes & Noble in nearby Mishawaka. So much encouragement from all of you! God bless you all!
Rhubarb Bars
1 cup flour
5 tablespoons powdered sugar
1/2 cup margarine
Cut in margarine to the flour and powdered sugar. Mix well and pat crumb mixture into bottom of 9×13-inch cake pan. Bake at 350 degrees for 3-5 minutes.
1 1/2 cup sugar
1/4 cup plus 1 tablespoon flour
1/2 teaspoon salt
2 eggs, beaten
2 cups rhubarb chopped
Meanwhile, mix additional dry ingredients listed above. Add beaten eggs. Stir in chopped rhubarb. Spoon on baked crust and bake for additional 35-45 minutes.
Lovina Eicher is an Old Order Amish writer, cook, wife and mother of eight. She is the co-author of three cookbooks; her new cookbook, The Essential Amish Kitchen, is available from 800-245-7894. Readers can write to Eicher at PO Box 1689, South Holland, IL 60473 (please include a self-addressed stamped envelope for a reply) or at LovinasAmishKitchen@MennoMedia.org.