Monday morning and another rainy day here. Such a change from the snow and cold weather we had a week ago. The house is almost too warm now with the coal stove going. We have some windows open and the stove turned down so it's not too bad.
I'm writing this column earlier in the week because of the upcoming holiday. This week will go fast with Thanksgiving Day on Thursday.
Brother Albert and Sarah Irene have the family gathering on that day. With all the weddings in the family this year they had a hard time finding a date. This is actually a late 2013 Christmas gathering. Sister Liz and Levi will host the 2014 Christmas gathering but they will probably have it next year sometime. Every year the family gets bigger, so some want the gathering during the warmer months. I miss the years when my parents were still here and would have all of us children and grandchildren home on New Year's Day. Some of us would go the night before and spend the night there. Mom would always have a big breakfast for all of us. We would set the tables so everyone could sit down at once.
After breakfast dishes were washed, we would open the gifts. Then we would prepare the food for dinner and the tables were set again. We all enjoyed snacks before everyone left for home in the evening, although I don't think many were hungry. Yes, we have many fond memories of those years we could spend with our parents. Parents seem to hold the family ties closer together.
Last Thursday was a cold, windy day for the wedding in Rochester, Ind., of Edwin and Rosa Mae. The sun was shining though. My husband Joe, daughter Loretta, and I traveled the two hours to attend the wedding.
We were served a delicious meal of barbequed chicken, mashed potatoes, gravy, dressing, mixed vegetables, broccoli and cauliflower salad, several kinds of cheese, homemade bread, butter, jam, tapioca pudding, mixed fruit, cake, and three kinds of pies—apple, cherry, and pumpkin. Candy bars were passed around at the end of the meal.
Since the rest of the family wasn't with us we decided not to stay for the evening meal. Joe was glad to see where his cousin Leander lives. Edwin is Leander's son and the reception was held at Leander and Rosina's (his parents).
We were glad to see cousins, uncles, and aunts at the wedding. We arrived home around 5:30 p.m. We were thankful that although the weather was bad the day before, the roads were clear on Thursday and traveling was good. We wish God's blessings to the couple and may they have a long, happy married life together.
Happy Thanksgiving to all!
This week I'll share with you my pumpkin roll recipe. I like to make one or two every Thanksgiving Day.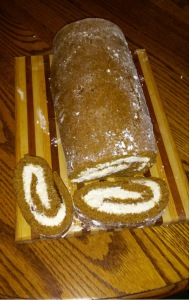 Lovina's pumpkin roll
Homemade Pumpkin Roll

3 eggs
1 cup sugar
2/3 cup fresh pumpkin
3/4 cup flour
1 teaspoon baking powder
2 teaspoons cinnamon
1/2 teaspoon nutmeg
1 cup chopped nuts
Filling:
8 ounces cream cheese, softened
1 cup powdered sugar
4 tablespoons margarine
1/2 teaspoon vanilla
8 ounces whipped topping
Beat eggs for five minutes with a wooden spoon. Or, for those with electricity, a mixer can be used. Add sugar and pumpkin. Beat well and add flour, baking powder, cinnamon, and nutmeg.
Grease cookie sheet (with edges) and pour ingredients onto pan. Cover with nuts. Bake at 375 degrees for 15 minutes. Remove from pan immediately and, while hot, transfer onto a towel that has been sprinkled generously with powdered sugar. Roll up. When cool, unroll and spread with filling.
To make the filling, stir cream cheese, sugar, margarine, vanilla, and whipped topping until smooth. Spread on baked pumpkin base. Reroll and refrigerate for at least one hour. Slice and serve.
Lovina Eicher is an Old Order Amish writer, cook, wife and mother of eight. Formerly writing as The Amish Cook, Eicher inherited that column from her mother, Elizabeth Coblentz, who wrote from 1991 to 2002. Readers can contact Eicher at PO Box 1689, South Holland, IL 60473 (please include a self-addressed stamped envelope for a reply) or at LovinasAmishKitchen@MennoMedia.org.