Good morning to all! All is quiet here since the bus left with the four youngest children. Benjamin hasn't been home since yesterday morning. Something broke down at Mose's sawmill, so Benjamin stayed there last night to work later. Waiting on the part for the mill put them behind. Benjamin always enjoys staying there as Mose has a brother Freeman, 16. They both enjoy hunting and fishing.
Monday was a beautiful day and we were able to get all the clothes dried outside. Now this morning the temperature is at the freezing mark.
Yesterday daughter Verena and I cleaned out the stove and refrigerator/freezer that runs off of propane. We use an air compressor to blow out the burners. It's always a big job, but always nice to see it nice and sparkling clean when it is done. I think it's still easier than when I had to clean a kerosene stove. Cleaning the pipeline and getting the burners all cleaned and trimming the wicks was a big job.
Daughter Elizabeth now has another puppy, Crystal, that is four months old. Crystal is quite a bit bigger than Izzy. Izzy is six months old and enjoys her playmate. Crystal is a Beiwer Yorkie and weighs seven pounds. Izzy is a teacup Yorkie so she is full grown at three pounds.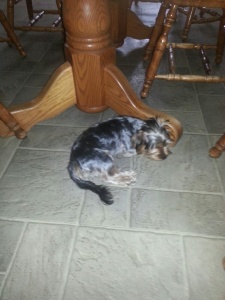 Crystal loves to hide our shoes. Right now she is lying under the table sleeping while I write this column. Izzy sleeps in the most uncomfortable positions, such as on the top of the back of a recliner.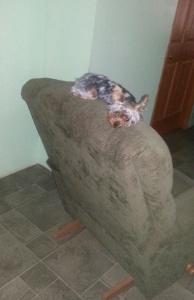 Last Friday my husband, Joe, and I, along with our six youngest children, traveled to the Berne community to attend the wedding of Solomon and Rosanne. Sister Emma and Jacob's two daughters also went with us.
It was nice to see several uncles and aunts at the wedding, and also cousins that we don't often see. Sister Liz was at the wedding and we visited at her house in the afternoon. We also made a short stop at brother Amos and Nancy's before we headed back to the wedding for the evening meal.
We were served delicious meals both times. On the menu were chicken, mashed potatoes, gravy, noodles, dressing, corn, broccoli and cauliflower salad, homemade bread, butter, grape jelly, cake, three kinds of pie—pumpkin, pecan, raspberry cream—mixed fruit and ice cream. Candy bars were also passed out to everyone at the end of the meal. We wish the newlyweds a blessed marriage.
For this week's recipe, try this pumpkin cobbler. We enjoyed it one evening for supper.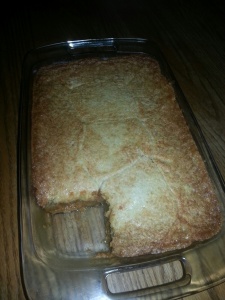 Pumpkin Cobbler
1/2 cup butter
Batter:
1 cup flour
1 cup sugar
4 teaspoons baking powder
1/2 teaspoon salt
1 cup milk
1 teaspoon vanilla
Filling:
2 eggs, beaten
1 cup milk
3 cups mashed pumpkin
1 cup sugar
1/2 cup brown sugar
1 tablespoon flour
1 teaspoon cinnamon
1/4 teaspoon ginger
1/4 teaspoon ground cloves
1/4 teaspoon nutmeg
1/2 teaspoon salt
Melt butter in 9×13-inch baking pan. Mix batter and pour over melted butter. Mix the filling ingredients together and slowly pour mixture over batter. Bake at 350° for one hour or until set.
Lovina Eicher is an Old Order Amish writer, cook, wife and mother of eight. Formerly writing as The Amish Cook, Eicher inherited that column from her mother, Elizabeth Coblentz, who wrote from 1991 to 2002. Readers can contact Eicher at PO Box 1689, South Holland, IL 60473 (please include a self-addressed stamped envelope for a reply) or at LovinasAmishKitchen@MennoMedia.org.