We are having really nice weather this week. The garden dried up and we were able to plant some onions, lettuce and radishes. I need to go get some sweet onions and peas to plant this week. Spring is such a lovely time of the year! Dandelion blossoms are popping up, making the greens too bitter to eat anymore.
My husband, Joe, got the mowers oiled and ready to use. Verena, 18, and Joseph, 13, were mowing the grass for the first time this spring. Hopefully they will get the rest done today.
Joe opened the gates to the pasture field for the horses, ponies and the cow, Bessie. They are enjoying the lush green grass after a winter of eating hay. Our hay field is looking promising for a nice crop of hay.
Yesterday daughters Verena and Loretta and I went to help sister Emma prepare for church services. They will host church services on May 8 and May 22. Emma and her family added three bedrooms upstairs, so there is more to clean. They aren't done remodeling yet, but we cleaned where we could. They want to hang drywall yet and put in new cabinets. Jacob plans to build their own cabinets. So it all takes time. Since they were behind in hosting church services, they will take it twice this time. Daughter Elizabeth and sisters Verena and Susan were also there for the day. We got a lot accomplished and even got a lot of visiting done.
We all left for home around 4:00 p.m. Our children attended a meeting and pizza supper with the youth at the community building. It is under new ownership, and the new owners wanted the youths' opinions on what they could do for improvements. I am so thankful that the owners are being so thoughtful. Hopefully, the youth group will all respect the new rules and have a nice place to gather on Saturday evenings. It can't be an easy job to be responsible for the upkeep of a big building like this.
The youth play volleyball, basketball and other games there. It will be so much nicer if some things would be added for the youth who are handicapped. I'm sure they would love to be able to play ball with the rest, but they can't. Having games there that they can play will be so much more enjoyable for them than sitting and watching. As parents of handicapped children, we are more aware of this. My heart goes out to all children and adults with disabilities. May God bless people who care for and are thoughtful to others with disabilities. You will be greatly rewarded someday for it!
We received a wedding invitation this week for niece Lovina Coblentz and Benjamin Schwartz. They will join hands in holy matrimony on May 19, 2016. Lovina is brother Amos and Nancy's daughter, and the sixth of their children to be married. Lovina was named after me. I still remember how special I felt when I heard the news almost twenty years ago. Amos and Nancy's son Ben married a girl named Lovina last spring, and so she changed her name to Lovina Coblentz. So they will still have a Lovina Coblentz in the family. They will now also have two "Ben and Lovinas" in their family. What a coincidence! I was asked to be cook at the wedding and wear a smoke blue dress. It looks like I better get started sewing.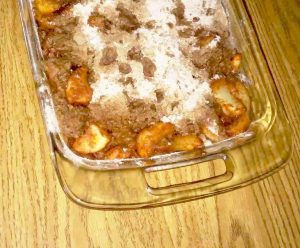 I am excited about the announcement of my new cookbook coming out next year. It has taken hours of time and effort to get this done. What a pleasure working for the editors at Herald Press. They have been understanding through all our busy times. I'll share this recipe, which will be in the cookbook. It was my mom's recipe, and it is a family favorite. God bless everyone!
Apple Crisp
9 cups apples, peeled and sliced
1 cup sugar (more or less, depending on variety of apples)
2 tablespoons cinnamon
Crumb Topping
3/4 cup butter (12 tablespoons)
1 1/2 cup white sugar
2 cups flour
pinch of cinnamon
In a large bowl, toss apples with sugar and cinnamon. Pour into 9×13-inch baking dish. Combine crumb topping ingredients in a bowl with a pastry cutter or two forks. Mix until coarse and spread over apples. Bake at 350 degrees for 45 minutes or until apples are tender.
Lovina Eicher is an Old Order Amish writer, cook, wife and mother of eight. Formerly writing as The Amish Cook, Eicher inherited that column from her mother, Elizabeth Coblentz, who wrote from 1991 to 2002. Readers can contact Eicher at PO Box 1689, South Holland, IL 60473 (please include a self-addressed stamped envelope for a reply) or at LovinasAmishKitchen@MennoMedia.org.