Pace of preparation picks up for Sunday church at the Eichers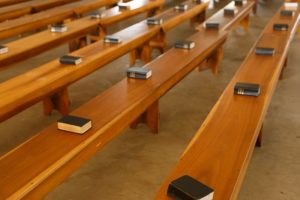 Church services will be held here on Sunday, Lord willing. The extra project of getting wainscoting and trim on has felt a bit overwhelming.
We are also putting a new ceiling up since the drywall still looks different from being patched in when we had the house fire several years ago. They ran into some problems putting it up so it delayed us from some of the cleaning.
It has just been one late night after another and I will be so glad once we have it completed. We regretted that we even started with a deadline so close but we will be glad its another check off our "to do list" or as my husband Joe would call it, "honey do list." It does look very nice to see the windows with trim and the doorways. The curtain rods have been hung with the curtains. Every day we get closer to being done and every day brings us closer to Sunday. It is nice to have a big house but it takes a lot longer to clean it as well.
Last night Timothy, Elizabeth, Abigail, Mose, Susan, and Jennifer came to help some more. We  had an easy supper of a lot of garden vegetables. On the menu were potatoes, sweet corn, tomatoes, cucumber salad, breaded zucchini—all vegetables from our garden. We also had some barbecued chicken that was leftover from the day before.
On Sunday August 5 was Mose and Susan's second anniversary. Next week on August 14 will be Timothy and Elizabeth's third anniversary. I wish both couples a happy anniversary and God's richest blessings. May they enjoy many more happy and healthy years together. We have been blessed with two great sons-in-law that are willing to help us when we need help with our work. We like to return the favor. It helps parents to know their daughters are happy in marriage. May God always be their guide as we travel into the unknown future.
The ceiling we are putting up is wood and needs staining. We are staining it a natural oak. All the work of the staining is being done by sons Joseph, 16, Kevin, 12, and daughters Verena, 20, Loretta, 18, and Lovina, 14. They have put in many hours of staining the 4×8 sheets by hand. We wanted it to have two applications but ran out of stain. Tomorrow morning we will get more so it can all be dry by evening.
We have more help coming tomorrow. Sister Emma and sons, daughters Elizabeth and Susan and their little girls will come in the morning. Their husbands will come after work to help finish hanging the ceiling and help with whatever else Joe needs done. Niece Emma's special friend Menno will also come help. Also daughter Loretta's special friend Dustin. We are sure appreciative of all their help. It seems with mowing, gardening, etc., its just a busy time of the year.
Last Saturday those assisting us with our work were Jacob, Emma, and sons Jacob Jr, 18, Benjamin, 16, and Steven, 11; Timothy, Elizabeth, and Abigail; Mose, Susan, and Jennifer; sisters Verena and Susan; and Dustin.
Joe has some work that he needs done in the barn. He wants to make room for a few new horse stalls so the chicken coop area is all being torn out. We butchered our old chickens and will wait until spring when we can start new ones in hopefully a new chicken coop separate from the barn. The young boys got the job of cleaning up the barn.
Jacob Jr. and Loretta were in charge of grilling 30 pounds of chicken for our lunch. They also made potatoes on the grill cooked in olive oil. With desserts being brought in and adding cucumber salad and tomatoes to the menu we had a delicious meal for all the hard workers.
Now I need to go to bed. Writing about all this work is even exhausting! Everyone else has gone to bed.
Good night and God bless!
Best-ever Blueberry Muffins
2 1/2 cups all-purpose flour
1 cup sugar
2 1/2 teaspoons baking powder
1/4 teaspoon salt
2 eggs lightly beaten
1 cup buttermilk
1/4 cup butter or margarine melted
1 1/2 cup fresh blueberries
In a large bowl, combine flour, sugar, baking powder, and salt. Combine eggs, buttermilk, and butter; stir into dry ingredients just until moistened. Fold in blueberries. Fill greased or paper-lined muffin cups three-fourths full. Bake at 400 degrees for 20-24 minutes or until muffins test done. Yield: about 1 dozen.
Lovina's Amish Kitchen is written by Lovina Eicher, Old Order Amish writer, cook, wife and mother of eight. She is the co-author of three cookbooks; her newest cookbook, The Essential Amish Cookbook, is available from 800-245-7894. Readers can write to Eicher at PO Box 1689, South Holland, IL 60473 (please include a self-addressed stamped envelope for a reply) or at LovinasAmishKitchen@MennoMedia.org.