We had a good turnout at the book signing in Warsaw, Ind., on Saturday. Thanks to all of you readers who came and for all your encouraging words!
I'm wishing a happy birthday to Timothy (my daughter Elizabeth's friend). His birthday was on Saturday.
Today is another gloomy autumn day where we live. We had quite a few days like this lately. Verena and I washed laundry yesterday but ended up hanging it on the lines in the basement to dry. The sun was out and just before we were ready to hang the clothes up it started raining lightly. The clothes dry very quickly in the basement with the coal stove going down there. I really would miss not having my spinner, which spins a lot more water out of the clothes even after they are put through the wringer on our Maytag washing machine.
The squirrels outside the window are busy gathering the acorns from our trees. Another sign that winter weather isn't too far off. The corn all around us is also being harvested.
My husband Joe and son Benjamin, 15, are glad to see the corn being harvested so it will give the deer fewer places to hide. They are still trying their luck at getting a deer with bow and arrow.
Daughter Lovina, 10, went home from school with her friend Marianna yesterday. She spent the night there in honor of Marianna's 10th birthday, and went to school with her today. We missed not having her home but I'm sure she had a great time with Marianna.
Elizabeth, 20, and Susan, 18, didn't have to work at the RV factory on Friday and Monday. They were glad for the break. Elizabeth sewed a shirt for Timothy, and Susan sewed a dress for herself. I still need to show Susan some of the steps on how to put a dress together. She is getting better at it every time. She cut out a shirt for Mose and wants to learn how to sew it together. Daughter Verena, 16, is also getting pretty good at sewing. She is sewing pillows every chance she gets.
I have a reader that would love a recipe for chocolate covered cashews crunch. I am sorry I do not have a recipe for this. Would any of you readers be so kind to share if you have one? Instead, these are good cookies we always enjoy.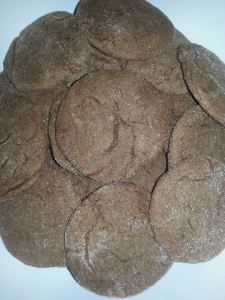 Molasses Crinkles
3/4 cup shortening
1 cup brown sugar
1 large egg
1/4 cup sorghum molasses
2 1/4 cups flour
2 teaspoons baking soda
1/2 teaspoon salt
1 teaspoon cinnamon
1 teaspoon ginger
1/2 teaspoon cloves
1/2 cup sugar, to roll dough balls in
Cream shortening and brown sugar. Add egg and molasses, mixing well. Combine flour and next five ingredients; add to shortening mixture, mixing well. Cover. Chill two hours. Shape dough into one-inch balls, and roll in sugar. Place on lightly greased cookie sheets. Bake at 350° for 12-15 minutes.
Lovina Eicher is an Old Order Amish writer, cook, wife and mother of eight. Formerly writing as The Amish Cook, Eicher inherited that column from her mother, Elizabeth Coblentz, who wrote from 1991 to 2002. Readers can contact Eicher at PO Box 1689, South Holland, IL 60473 (please include a self-addressed stamped envelope for a reply) or at LovinasAmishKitchen@MennoMedia.org.