Saturday we left at 6:00 a.m. to go help sister Emma and Jacob butcher three hogs. One of the hogs was for Menno (Menno is a special friend of niece Emma, 19—Emma and Jacob's daughter). Menno lives alone in the house Timothy (married to our Elizabeth) used to live in before he moved to the bigger place they have now.
My sisters Verena and Susan, Timothy, Elizabeth, Abigail, Mose, Susan, and Dustin (Loretta's special friend) were all there to help too. Many hands make lighter work and we were mostly done by early afternoon. We made pon hoss from the broth and meat cooked from the pork bones. Flour, salt, and pepper is added to thicken it to make what we call pon hoss. After the pon hoss has firmed up in pans, you can cut it in slices and cover with flour and fry it. Our children love pon hoss fried for breakfast. I must say I do like pon hoss, but I'm always glad when the last of it is fried up. This year we did put a few pans in the freezer. We will see how it tastes after it's been frozen awhile.
I think people in some areas call pon hoss "scrapple." But we do not put any pork liver in our pon hoss—only the meat cooked from the bones. My parents would always make liver pudding and use some of the meat from the bones. We don't make liver pudding because it seems Joe is the only one that cares for it around here.
My husband Joe took our meat slicer along and sliced all the ham, bacon, and pork chops for Jacob's and Menno. Everything was bagged and put in the freezer. Some of the sausage was canned.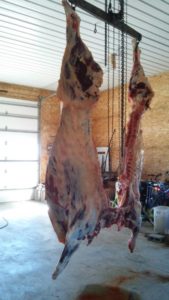 Our big project for this week is to cut up our big beef that's butchered and hanging out in the pole barn. We are glad the temperature has dropped. The thermometer is at the 30 degree mark and it should chill the beef well. We will start cutting it up tomorrow afternoon and finish Saturday if we don't get it finished. The pole barn isn't heated so it makes a nice big cooler for the meat.
Sunday evening Timothy, Elizabeth, Abigail, Mose, Susan, and Dustin were our supper guests. The men and boys played horseshoes outside. They were a gift Tim received at Christmas so he brought the game along. It was a very pleasant, warmer day so they were glad to be outdoors. The girls and I made supper, visited, and took turns spoiling little Abigail. She is growing so fast! She hugs us and holds her lips to our cheek like she's kissing us. She will be six months old tomorrow already! She weighs fifteen pounds now and is twenty-six inches long. One day when we prayed before we ate, she put her hands together and acted like she was praying too. I will quit for now with stories about Abigail. Every grandma knows these feelings and knows how precious grandchildren are.
I am getting so many letters from readers asking where my new cookbook, The Essential Amish Cookbook: Everyday Recipes from Farm and Pantry can be purchased. I thought I would share in the column where it can be preordered. You can call 800-245-7894 to preorder from the publisher, or if you go online, you can order from Amazon and other stores online. It comes out April 17. I appreciate all the interest in the new cookbook. It was quite an adventure to make my first cookbook without a co-author. I have so many people to acknowledge in the book. Without them I could not have done it! God bless!
Sour Cream Apple Pie
1 cup sour cream
3/4 cup white sugar
1 egg, beaten
1 teaspoon vanilla
2 tablespoons flour
1/4 teaspoon salt
1 teaspoon cinnamon
2 cups tart apples, peeled and sliced or diced
1/2 cup brown sugar
1/2 cup flour
1/4 cup butter or margarine
1 9-inch unbaked pie shell
Beat first 7 ingredients together until smooth and creamy. Stir in apples and pour into pie shell. Bake at 400 degrees for 25 minutes. Combine remaining ingredients, mixing to make crumbs. Remove pie from oven and cover with crumb mixture. Return to oven for 20 minutes, or until crumbs are nicely browned. If necessary, cover crimped edge of crust with foil to prevent over browning.
 Lovina Eicher is an Old Order Amish writer, cook, wife and mother of eight. She is the co-author of three cookbooks; her new cookbook, The Essential Amish Kitchen, will be published in 2017. Readers can contact Eicher at PO Box 1689, South Holland, IL 60473 (please include a self-addressed stamped envelope for a reply) or at LovinasAmishKitchen@MennoMedia.org.