Editor's Note: Lovina Eicher is on vacation. Guest columnist Ruth Boss, an "English" friend of Lovina's, shares her perspective on the wedding of Tim and Elizabeth from her ringside seat as a "gopher" leading up to the wedding August 14.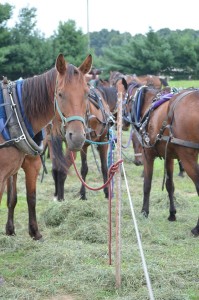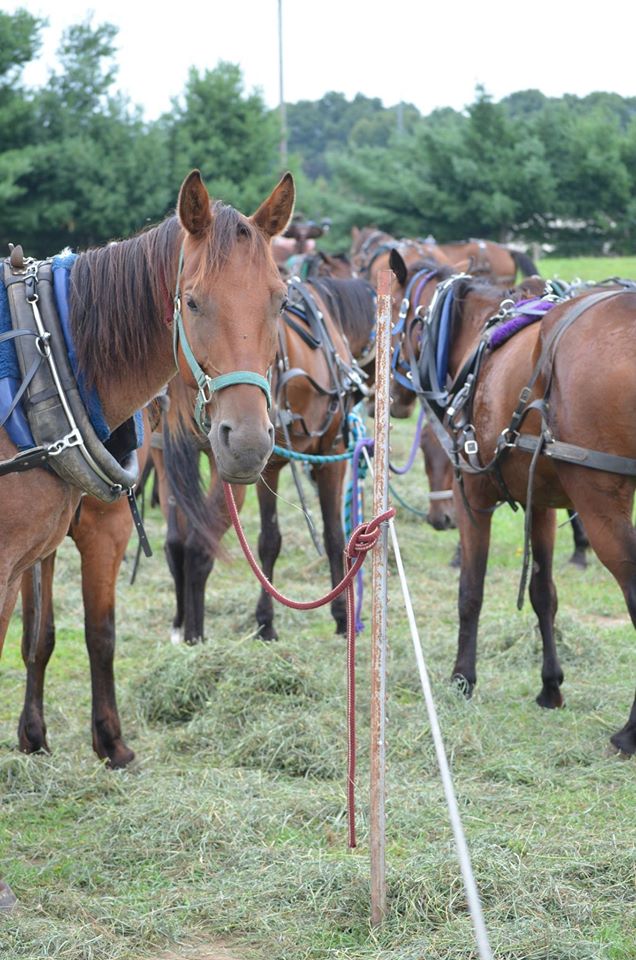 August 7. One week until the big wedding! Lovina tells me they've invited 700 for the noon meal, 600 for the evening meal, and 200 for the youth meal. But about 30 percent won't come; still, she will be serving 1,000 meals. Some of the people are invited to both meals so there won't be 1,000 actual guests— but who's counting?
August 12. How much food do you need to serve 1,000 meals? A lot! For the dressing we bought 45 loaves of bread (to be cubed and toasted), 12 stalks of celery, and 10 pounds of onions. We picked up 350 pounds of chicken leg quarters to grill the morning of the wedding. Today 20-30 women will come to Lovina's house to make cherry and pecan pies and angel food cake.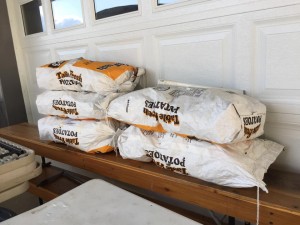 Tim, Liz, and I will pick up the 250 pounds of potatoes and 1,000 candy bars this afternoon. It's an Amish tradition in this community for the bride and groom to hand one out to each guest. It's fascinating to watch the family, friends, and church family work together to prepare for this wedding. The Amish community quietly and cooperatively gets the job done.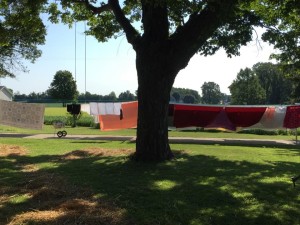 August 13, early morning. It's another cool morning in Michigan. The cooks in the wedding wagon are grateful for the cool breeze with seven ovens going, which also has two large sinks and plenty of prep counters and open shelves. The cooks are chatting in German, probably catching up about their families and news. The bread is being made along with peanut butter pie and "dirt pudding." Two women cut the chicken leg quarters into two pieces. Susan is washing all the bed sheets today. Small children are playing and babies are being watched by young girls. A large pot of coffee is brewing with snacks on a table. Yesterday Elizabeth gave Timothy a haircut for the wedding. After tomorrow he will not shave his beard as that is the tradition for a married man. Tonight all the sisters are having a sleepover in one bedroom for their last night together.
August 13, afternoon. There is literally a bee hive of women working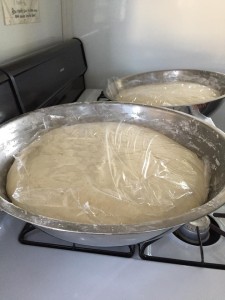 in Lovina's kitchen. Two are doing dishes, three are washing windows, more are sweeping and mopping floors. Laundry is being folded by another while yet another is cleaning the bathroom. Outside, in the wedding wagon, the bread baking and dessert making continues. In the middle of the kitchen four men sit at the table with coffee, talking about work and other stuff men talk about—and taking a break from cleaning out the barn. The homemade bread is out of the oven; after brief cooling, it will be put in used bread bags to make it softer.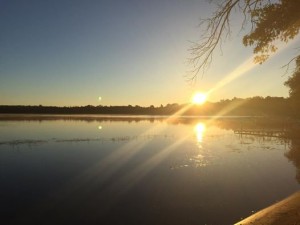 August 14: Tim and Elizabeth are officially married! We had beautiful weather. The cooks arrived around 6:30 a.m. to start cooking. The wedding, which was at the neighbors, started at 9:00 a.m. with songs and then preaching until about 11:30. Tim, Liz, and their witnesses sat in the middle with benches in a u-shape surrounding them. The men sat on one side facing the middle and the women sat opposite them facing the middle. About 11:00 all the cooks and table waiters filed in and took seats. It was all in German, so I didn't understand what was being said but towards the end the bishop asked Liz and Tim six questions which are their marriage vows, to which they answered yes. After a prayer the bishop placed Liz's hand in Tim's and pronounced them husband and wife.  A wonderful meal was served at noon and another at 5:00 p.m., and a separate supper for the young people at 7:00 p.m. At the end of the evening the men and women all pitched in to wash the dishes and pack up the wedding wagons. There was a bit of mischief that involved a "silly string" war at the youth dinner and some TP'ing of Tim and Liz's new house.
Lovina and I have been friends for a number of years; she is just as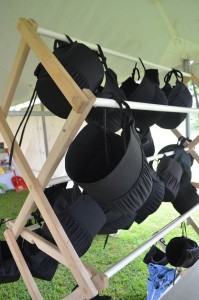 genuine as you may imagine her to be. She is patient and loving with her children, and generous with her time when it comes to helping others. She is deep rooted in her faith and that is what has gotten her through the trials they have experienced through the years. There is fun and laughter in their home, and often the source of jokes is Lovina herself! She speaks often of her gratitude for her readers and how the prayers and support of all of you have helped her through some difficult times. She cherishes your friendship even though she will never meet many of you. I am glad to call her my friend.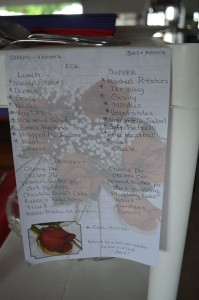 Here's the Peanut Butter Pie Lovina's family made for the wedding, (listed on the extensive menu, right).
Peanut Butter Pie (makes two)
2 baked pie shells
4 cups milk
1 cup sugar
1/4 teaspoon salt
1/2 cup flour
1 teaspoon vanilla
3 eggs, beaten
12 ounces whipped topping, divided
Crumb Mixture (make one batch for each pie)
3/4 cup powdered sugar
1/3 cup peanut butter
Mix powdered sugar and peanut butter with fork until it is coarse and crumbly.  Place 3/4 cup of mixture into each baked pie shell.
Heat milk to scalding. In a separate bowl combine sugar, salt, and flour. Stir in 3 beaten eggs. Stir 1/4 cup of the scalding milk into this mixture. Pour mixture into pan of warm milk and cook over medium-low heat until thick, stirring often. Stir in vanilla.
When thick, pour into pie shells. Let cool, then refrigerate a few hours or overnight. Top with whipped topping and remainder of crumb mixture.
Lovina Eicher is an Old Order Amish writer, cook, wife and mother of eight. Formerly writing as The Amish Cook, Eicher inherited that column from her mother, Elizabeth Coblentz, who wrote from 1991 to 2002. Readers can contact Eicher at PO Box 1689, South Holland, IL 60473 (please include a self-addressed stamped envelope for a reply) or at LovinasAmishKitchen@MennoMedia.org.