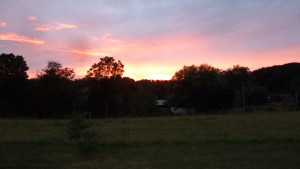 For this week I'm going to write a daily diary for August 5.
3:15 a.m. Time to get up and pack my husband Joe's lunch. For his lunch he wants bread slices, sliced tomatoes fresh from the garden, and mayonnaise. I also put frozen peaches, some cheese crackers, and a piece of rhubarb pie in his lunch. I fill his water jug with ice and water and make him a mug of coffee to take along.
3:40 a.m. Joe's ride is here. I go back to bed and set the alarm for 5:00 a.m.
5:00 a.m. Daughter Elizabeth, 21, is ready for work.
5:15 a.m. Elizabeth's ride is here. I wake up Benjamin, 16, to get ready for work. He is doing something different this morning. He will bike the 18 miles to work. He has wanted to do this for a long time already. Benjamin loves biking and after a long, hard day's work, he still likes to bike four to eight miles at night. I pack ham and cheese sandwiches for Benjamin's lunch. He never wants more than a few ham and cheese sandwiches every day. I would get tired of the same thing over and over, but he says he likes it.
5:45 a.m. After checking his lights and tires Benjamin heads out for his long ride to work. They start work at 7:00 a.m. and he thinks he will make it in time. Verena, 17, and Lovina, 11, get up to get ready for their ride. They will work at the flea market today for a friend. They are both getting great at waiting on customers and sharpening their math skills.
6:45 a.m. Verena and Lovina leave. Susan, 19, is making the rest of us scrambled eggs and toast for breakfast. She doesn't have a job at present but I'm sure glad for her help with all the work getting ready for Elizabeth's wedding. Joseph, 13, is out milking Bessie the cow. Kevin, 9, makes sure his little kitten gets some of Bessie's warm milk for breakfast. Loretta, 15, helps Susan and I mend a few shirts.
8:00 a.m. My sister Verena walks over to help us today. My sister Susan is working so Verena decided to come help us.
9:30 a.m. My sister Emma and children come to help today too.
1:00 p.m. A lot of cleaning is in process: the walls and ceilings are being washed off in the kitchen and dining room area; windows are being cleaned, and some cabinets have been washed out.
I finally have lunch ready for everyone. Our lunch consists of One Kettle Soup in which I used some the noodles we made last week. They taste very good. Also sliced tomatoes, cheese bread, and hot peppers. Verena brought Swiss roll bars and Emma brought brownies for dessert.
2:00 p.m. They continue with the cleaning. The noodles we made last week, which are still on tables drying, are ready to be put into containers. My sisters weighed them and we have well over 30 pounds of noodles so we will have more than enough for the wedding next week.
3:00 p.m. My sister Susan came here from work and pitches in to help. Daughter Elizabeth and Joe are home from their jobs. Emma and her daughter Emma pick two five-gallon buckets full of tomatoes in my garden. Looks like I'll have to be canning tomatoes soon. I hope it can wait until after the wedding. We will use some of the tomatoes in the salads for the wedding.
3:30 p.m. Benjamin is home from work. He caught a ride home so he didn't have to bike home. He said this morning it took him one hour and fifteen minutes to bike the 18 plus miles, but he made it there in time to start working at 7:00.
4:00 p.m. My other helpers leave for their homes. Joseph finishes mowing; I do some tilling in the garden.
6:30 p.m. Supper time. On the menu are hamburger sandwiches and lettuce salad.
9:00 p.m. Everyone is cleaning up for the night. We decided to quit early and get a good night's sleep for once. God's blessings!
This week I'll share the recipe that I got from sister Emma. She brought it here on Saturday when they came to help. It is delicious!
Orange Cream Cheesecake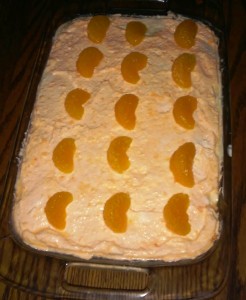 Crust:
2 cups graham cracker crumbs
1 teaspoon cinnamon
1/2 cup butter, melted
Combine cracker crumbs, cinnamon and butter. Press into bottom of 9×13 pan. Refrigerate 30 minutes.
Filling:
1 3-ounce package orange gelatin
3 8-ounce packages cream cheese
1 1/4 cups sugar
1 5-ounce can evaporated milk
1 teaspoon lemon juice
1/3 cup orange juice concentrate
1 teaspoon vanilla
1 8-ounce Cool Whip
Prepare gelatin according to package directions. Set aside 1/2 cup at room temperature. Chill remaining gelatin until slightly thickened, about 80 minutes.
Meanwhile in mixing bowl, beat cream cheese and sugar. Gradually beat in milk and lemon juice on medium speed for 2 minutes. Gradually beat in orange juice concentrate, vanilla, and room temperature gelatin. Fold in Cool Whip and pour over prepared crust.
Topping:
2 cups Cool Whip
1/4 cup sugar
In a mixing bowl, beat Cool Whip and sugar. Beat in refrigerated gelatin. Mixture will be thin. Chill for 30 minutes. Gently spoon over filling. Refrigerate 8 hours before serving.
Note: We place mandarin orange slices on top also. Delicious!
Lovina Eicher is an Old Order Amish writer, cook, wife and mother of eight. Formerly writing as The Amish Cook, Eicher inherited that column from her mother, Elizabeth Coblentz, who wrote from 1991 to 2002. Readers can contact Eicher at PO Box 1689, South Holland, IL 60473 (please include a self-addressed stamped envelope for a reply) or at LovinasAmishKitchen@MennoMedia.org.