Lovina's diary offers glimpse of an Amish woman's ordinary day
3:00 a.m. Alarm rings—time to get up and pack husband Joe's lunch, fill his water jug with ice and water, make a pot of coffee, etc.
3:45 a.m. Joe's ride is here to go work in the factory. In January it was 13 years ago that he started working there. On March 20 it will be 14 years that we made the move to Michigan from Indiana.
4:00 a.m. Son Benjamin, 18, is up and getting ready for his job at the RV factory. He usually packs his own lunch. He does well to always hear his alarm.
4:30 a.m. Benjamin leaves for work; he only has a 15-minute drive to the factory where he works. A coworker picks him up and brings him home.
4:40 a.m. Nephew Henry leaves for work. He works for a local Amish family. They build trusses for lumber companies, if I understand correctly. I go back to bed for awhile and take advantage of getting some more sleep!
5:45 a.m. Son Joseph gets up to do our morning chores. I pack his lunch.
6:30 a.m. Joseph leaves to go help our nephew Noah on his construction crew. Son Kevin, 12, is getting ready for school.
6:45 a.m. The bus is here. Kevin leaves. I take a little nap on my recliner. I have a headache and think it might help.
8:00 a.m. I feel much better. The girls are up, and we are getting breakfast started. Daughters Elizabeth and Susan have plans to come for the day. It sure is hard to get used to the time change again! I really wish the time would stay one way or another all year long.
8:30 a.m. The girls have arrived. Susan picked up Elizabeth this week with their horse and buggy. Elizabeth and Susan come together each week, taking turns driving their horses and buggies. We bring the girls Abigail, Jennifer and Nikiah (the girl Elizabeth babysits) in from the buggy. They get plenty of hugs and kisses from Grandma and all the aunts. Abigail wants to get Ruby (Verena's little puppy) right away. She can carry her around. Jennifer smiles at us in recognition. At eight weeks old, she is learning new things all the time.
9:30 a.m. Breakfast is ready. Abigail likes to sit in a booster seat on a "real" chair at the table instead of a high chair. Baby Jennifer gets to lie on a blanket in the middle of the big table so we can all watch her while we eat! Our breakfast is scrambled eggs, cottage cheese, pon hoss (from Jacob's butchering), coffee soup, homemade bread, butter, strawberry jam, cheese. We also have milk, grape juice, and coffee.
10:30 a.m. Dishes are being washed. Sometimes when too much is going on in the house, like today, Lovina does her schoolwork in the heated pole barn. She also works ahead on some days so she can enjoy her little nieces when they come.
We do some odds and end jobs around the house, but nothing too much. Mostly we visit and enjoy our time together. The girls were working on some names they are making out of plastic canvas. A man from our church is also here (out in the barn) putting new shoes on our horses.
12:30 p.m. Elizabeth feeds Nikiah a lunch before her mother comes to pick her up after she's done working.
1:00 p.m. Nikiah leaves with her mother. I make a one-kettle soup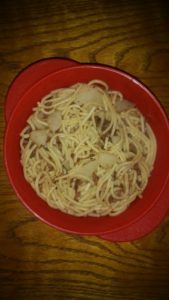 for our lunch.
1:30 p.m. Ready to eat lunch! My husband Joe comes home from work. Abigail wants Grandpa to show her the Country magazine after she's done eating. He holds baby Jennifer while we eat. Benjamin comes home while we're eating and eats a bowl of soup too. He then leaves to take his buggy to the repair shop.
3:30 p.m. The girls and their babies are leaving for their homes. Joe and Joseph are burning some trash. Uncle Joe and Aunt Betty Coblentz come for a visit. Today is their 48th anniversary. We wish them more happy, healthy years together.
5:00 p.m. Daughter Loretta leaves with her special friend, Dustin, to go to the hospital. Dustin's mother had surgery today.
6:45 p.m. Supper tonight is pizza!
9:30 p.m. Loretta is back home, and everyone is getting ready for bed.
God's blessings to all!
Peanut Butter Sheet Cake
2 cups flour
2 cups sugar
1 teaspoon baking soda
1 teaspoon salt
1 cup butter
1 cup water
1 cup peanut butter
1/2 cup milk
1 teaspoon vanilla
2 eggs
 Frosting:
1/2 cup butter
1/2 cup peanut butter
6 tablespoons milk
1 pound powdered sugar
Cake: In a large bowl mix flour, sugar, soda and salt; set aside. Combine butter, water and peanut butter in a saucepan; bring to a boil. Pour over flour mixture. Add milk, vanilla and eggs; mix. Pour in a greased 11 x 15-inch baking pan. Bake at 400 degrees for 20 minutes.
Frosting: Bring butter, peanut butter and milk to a boil in saucepan. Mix in powdered sugar. Pour warm frosting over cooled cake.
Lovina's Amish Kitchen is written by Lovina Eicher, Old Order Amish writer, cook, wife and mother of eight. She is the co-author of three cookbooks; her newest cookbook, The Essential Amish Cookbook, is available from 800-245-7894. Readers can write to Eicher at PO Box 1689, South Holland, IL 60473 (please include a self-addressed stamped envelope for a reply) or at LovinasAmishKitchen@MennoMedia.org.