Hi! This is Verena, 19, filling in for Mom this week. I had the urge to do some writing, and I thought Mom would be happy to have a break.
This last week has been absolutely beautiful spring weather. It's hard to believe it's only February. I will be happy to see summer come.
I started working at a daycare several days a week. I love the job—probably because I have always loved being around children. Right now we only have children from age one to five at the daycare. We might have a few babies to take care of later this year. Sometimes I also babysit for a family with three little boys, ages one, three, and five. They keep me busy but are fun to take care of. I enjoy being around children and watching over the dear little ones. The innocent mind of a young child makes me want to be a child again, with no worries in life.
Tomorrow my sister Elizabeth and my little niece Abigail will come here. I will go with Elizabeth to a Tupperware party. I'm so excited to get to see Abigail again. She is my whole world! I really enjoy being an aunt. Abigail is like therapy to me, on days when life doesn't look too bright. She sure knows how to brighten up my days. I dream about the days when she will be old enough for me to take her on walks, pony rides, etc.
The exciting news of this week: the Teacup Yorkie puppy I have been waiting for was born yesterday. I had wanted a female but the mother only had two males. I decided I will take a male, which I'm sure will be just as cute and fun. I will name him Ricky. Thank you to the readers who have contributed money to help make it possible for me to get this puppy. I love dogs so much, and having my own little puppy in the house to take care of will be awesome! Now I have to wait for six to eight weeks until I can have the puppy. The lady who has the puppies said I can come visit whenever I want to.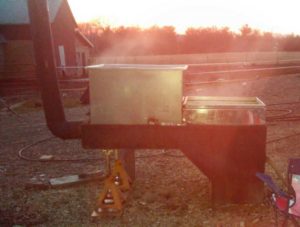 Brother-in-law Mose has been keeping very busy with cooking maple syrup. The sap has really been running from our maple trees. The sugar content is low this year, and it's averaging about 60 gallons of sap to make one gallon of maple syrup. There is a lot of work involved in cooking maple syrup. We really love the maple syrup on our pancakes, scrambled eggs and French toast. While it is still warm, it is also really good on a dip of vanilla ice cream.
On Saturday we butchered the three hogs we raised. We had an early start, so most of the butchering was done by 2:00 p.m. We still had to clean up everything and Dad sliced all the pork chops, ham and bacon yet in the afternoon. One of the hogs was for Mose and Susan. My parents gave it to them to help with starting out on their own.
Those here to help with the butchering were Aunts Verena and Susan, Uncle Jacob and Aunt Emma and sons Jacob, Benjamin, and Steven, their daughter Emma and her friend Menno, my sister Elizabeth, Timothy, and Abigail, sister Loretta's friend Dustin, and then Mose and Susan and our family.
We made the pon hoss out in the big black kettle and rendered the lard as well. Everyone was here for breakfast and lunch. Our lunch meal was mashed potatoes, gravy, dressing, fried tenderloin, corn, lettuce salad, sliced cheese, dirt pudding, finger jello, oatmeal whoopie pies, brownie delight, and chocolate brownies.
I want to thank everyone for their prayers, cards, etc., after my hospital stay. It was all greatly appreciated. I am doing better than expected. God is great!
I saw the rough copy of Mom's new cookbook, The Essential Amish Kitchen, which comes out in April. I love it! I enjoyed helping to test the recipes and learning a thing or two from it.
It turned out really well, which makes all the hard work worth it!
Oatmeal Whoopie Pies
Cookies
4 cups brown sugar
1 cup lard or shortening
4 eggs
4 teaspoons baking soda
6 tablespoons boiling water
1/2 cup buttermilk
2 teaspoons salt
4 1/2 cups flour
4 cups oatmeal (quick oats)
2 teaspoons cinnamon
2 teaspoons baking powder
Cream the sugar and lard or shortening. Add eggs. In a separate bowl, dissolve baking soda in boiling water; stir into sugar mixture. Add the buttermilk and salt. Mix flour, oatmeal, cinnamon and baking powder. Add to batter. Bake at 400 degrees until done, about 10–13 minutes. Cool completely. These cookies should turn out soft and chewy.
Filling
2 egg whites
4 cups powdered sugar, divided
2 tablespoons vanilla
1 cup shortening, softened
4 tablespoons milk
Beat egg whites until stiff. Add 2 cups powdered sugar. Beat in vanilla. In another bowl, cream the shortening, adding a little of egg white mixture at a time. Add milk and remaining powdered sugar alternately. Beat well. Spread filling between two cookies.
Note: This a fairly large recipe and the amount it makes varies depending on how large you make each cookie; you use two cookies to make one whoopie pie, so that's why the quantities are big. You can easily halve this recipe if you want to try it.
 Lovina Eicher is an Old Order Amish writer, cook, wife and mother of eight. She is the co-author of three cookbooks; her new cookbook, The Essential Amish Kitchen, will be published in 2017. Readers can contact Eicher at PO Box 1689, South Holland, IL 60473 (please include a self-addressed stamped envelope for a reply) or at LovinasAmishKitchen@MennoMedia.org.